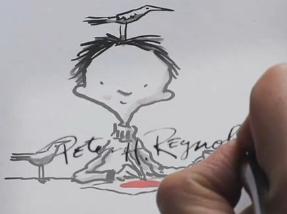 Who said the voting ended last November?
Entrepreneur Magazine has just announced the five finalists for its prestigious Entrepreneur of 2009 Award, which recognizes those individuals in the small business community whose work is consistently "passionate, ambitious and downright genius."
Please excuse the midsummer lobbying, but I urge you to cast your vote for Peter Reynolds, the award-winning author and illustrator and founder of FableVision, the landmark educational publisher and media company located at the Boston Children's Museum. Through its brilliant educational software, and innovative books, films and professional development strategies, FableVision is committed not only to making every classroom in America a center of creativity, but also to inspiring kids to reach their fullest potential while helping to make the world a better place.
While all of the nominees in this year's lineup have put their hearts and minds to the task of applying 21st century thinking to the world's ongoing challenges--from recycling technology to energy-efficiency--Peter and FableVision have tapped into what is ultimately our nation's--and world's--greatest resource: our children.
Click below to see a little more about Peter, then cast your vote for him here. As we all learned last November, it feels pretty good to know you're making a difference.
* * *
NOW ON SALE!


Dear President Obama: Letters of Hope From Children Across America (Beckham Publications Group, Inc.)
By Bruce Kluger and David Tabatsky
Foreword by Linda Ellerbee