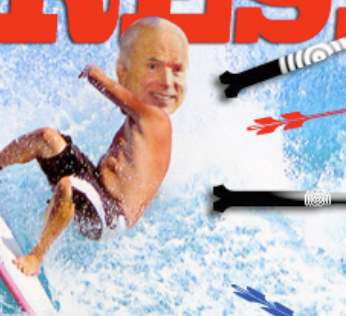 And now a word (and a few pictures) from an old pal, New York graphic artist Ken Chaya.
"I have always thought that politics and big wave surfing were a lot alike. Both employ the first three keys to human success and domination: perfect timing, crucial decision-making, and creative story-telling. The fourth key is important, too: taking the free ride.
"I have worked as a graphic designer for most of my tax-paying life. Recently, while enjoying another dose of the daily entertainment of the current presidential campaigns, I suddenly realized it was high time to put my talents to use for the good of our country. Independently, and without party affiliations, consultants, advisors, lobbyists or, sadly, fund-raisers, I proceeded to design a campaign poster for each of the three leading candidates. (Apologies, Ralphie Boy.) Not just any old trunk-or-donkey, rah-rah '[Last Name] in '08' three-color yawn. But, rather, a fresh, bold, exciting design style that says 'Yo, Dude, water boarding doesn't have to be a bummer.'
"Forget bare-knuckle and hard-ball politics. My fellow Americans, I now give you BIG WAVE POLITICS: Who is Riding the Mo?"
Click here for Ken's 2008 Presidential Cowabunga Campaign.
Surf''s up!