Question: Do people really want the "IP Transition" as told by AT&T?
Short Answer: No one cares.
Answer: AT&T chose two locations, Carbon Hill, Alabama, a rural community, and Kings Point, Florida, (sometimes referred to as Delray Beach) for their 'IP transition' trials, which is supposed to replace the "legacy", old version of phone service (commonly called "TDM") and bring new capabilities using "Internet Protocols", (IP).
And yet, over the year AT&T lost residential and business customers in both trial locations.
What is rather disconcerting is that after a year+ of bombarding the locals with messaging, meetings, 'education', you name it, the answer is a resounding -- no one cares. And when I say bombarding, as we will discuss, in Carbon Hill, AL, from January to August 2015, there were 27 events, including meetings at the Carbon Hill Community Center or the senior tech training meeting held at the Carbon Hill High School.
Note: Wikipedia states: "Carbon Hill is a city in Walker County, Alabama, United States. At the 2000 census the population was 2,071." And in 2013, the population was 1,996. According to AT&T, there are 4,388 total residential and business 'locations'.
Unfortunately, it also exposes serious issues about America's current broadband, Internet, wireless, and telecommunications policies and we need to rethink this 'transition'. It has been more of a 'con' to a) remove regulations, b) raise rates, and c) force-march customers onto the company's more expensive, inferior wireless services than bringing new technologies, much less high-speed Internet to America. -- I'll return to this in a moment.
How Bad is It?
This chart is from AT&T's latest Kings Point, Florida trial, second quarter 2015; the latest data. Though AT&T has redacted all of the numbers, let me go through some of the details. (I reverse engineered the charts by superimposing a 'grid' and counting the notches.)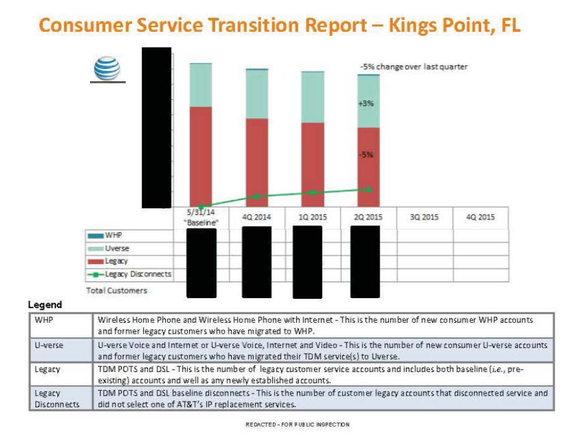 Right off you can see that there has been a steady decline of AT&T's customers. Then, at the top of the columns we have a sliver of a dark green line that represents the number of customers that clamored to get AT&T's IP transition trial's -- Wireless Home Phone service -- a replacement of the wireline phone. Unfortunately, it can't handle many services, such as fax or data services, like alarm monitoring, and it has problems delivering E911 emergency services. This was a caveat about the capabilities that was part of AT&T's FCC 2014 filings about the trials.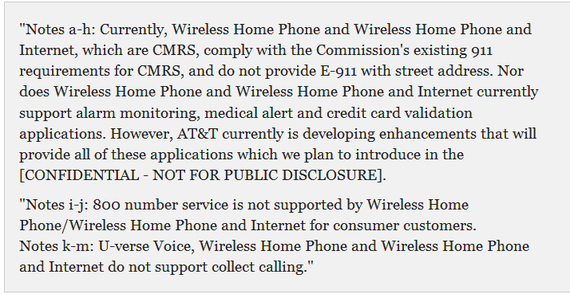 But the kicker is that "Wireless Home Phone" is the equivalent of "Voice Link", the notorious wireless service that Verizon attempted to use to replace the wires in Fire Island, New York in 2013 after Hurricane Sandy and it caused a minor revolt. No wonder it shows that after a year of pushing the service, virtually no one wants it.
But the worst part is the green line on the bottom showing the number of customers that had phone or DSL Internet service from AT&T and then disconnected the service and didn't use AT&T's IP services. Note: "POTS" is "Plain Old Telephone Service".

In an accompanying letter, AT&T claims that from May 2014 through May 2015, West Delray Beach accounts declined 20 percent and IP increased 20 percent over the entire year.

Besides the fact the locations have different names, " Kings Point" vs "West Del Ray Beach" (or that the company spelt the name wrong and it should be "Delray Beach"), the IP services appear to be mostly U-Verse double and triple play.
Scorecard Summary:
Reverse engineering tells a different story.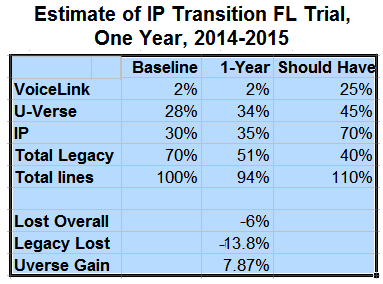 Rough estimates about the IP transition trial (using the AT&T charts), after one year, in the Kings Point Florida yielded:
The total number of customers declined 6-7 percent, and it should have gone up.
Wireless Home Phone limped at around 2 percent, at best -- based on AT&T's claims it should have hit 25-50 percent or more by now.
U-verse already existed in the area and went up only 8 percent of the 'total lines'.
And of the existing 'legacy' customers, after a year of the trial, AT&T lost 14 percent of the 'legacy' wireline customers in the Florida trial who had phone or DSL service or both. We also don't know whether those who left AT&T went to Comcast, the incumbent cable company, or whatever other providers there are serving this area.
And while our accounting may be skewed based on the variances of the chart vs actual deployments, there was nothing to indicate that a large number of customers clamored for these IP services -- and virtually no one took the Wireless Home Phone.
Moreover, the number of residential and small business customers leaving AT&T or accepting Wireless Home Phone, etc., didn't vary greatly between trial locations.
(A note of caution about AT&T's accounting. In the 'baseline', the legacy phone lines represented about 70 percent of total lines, so a drop of 20 percent is a great deal more than a 20 percent increase of "IP services", which only represented 30 percent of the total. - I.e., if there were 1000 lines, there would be 700 legacy lines to start and a loss of 20 percent would be 140 lines. Conversely, IP-based lines would start with 300 lines and only increase 60 lines for 20 percent.)
AT&T Blankets the Place and Still No One Really Cares.
The really sad thing is that AT&T has been blanketing these places with staff, outreach, etc. From January to August 2015, in Carbon Hill, Alabama there were a total 27 events; 15 events from just January to April, 2015 and 12 more events between May and August 2015 -- for a population, counting businesses, of 4,400 locations. Here's some description of the events from the AT&T IP trial first quarter report about Carbon Hill.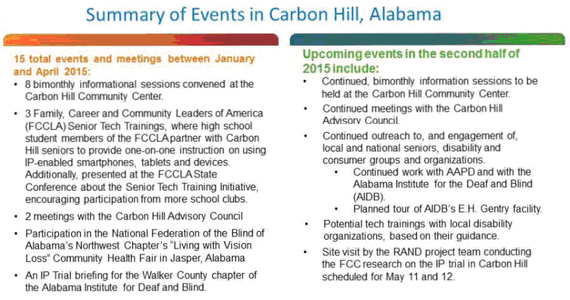 AT&T also blanketed the small business community with mailers (even a Christmas mailer), and calling ("outbound") small business in the trial areas, with the result - "we have had difficulty reaching the decision maker". This is from 4th Quarter, 2014 trial summary.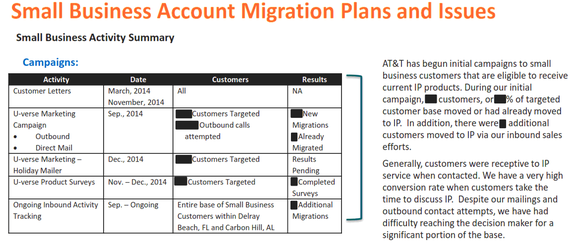 And for their national public relations agenda, AT&T has hired "consumer" groups and as previously highlighted, non-profits representing the disabled communities to let people know just how important the IP transition really is.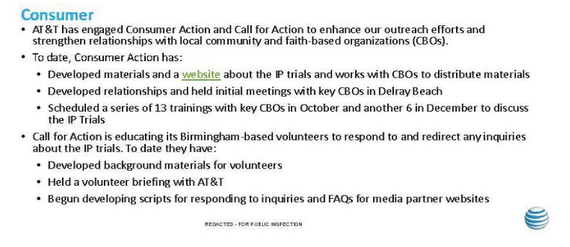 Both of these consumer groups have been on the FCC's Consumer Advisory Committee (CAC) for over a decade. We complained about these 'pay-to-play' groups that are tied to the phone and cable companies, as well as the influence of these companies, many of whom have been members of the Committee for over a decade as well. Verizon has been on the FCC CAC since the Committee's inception in 2000.

AT&T Supplies Information about the Issues: REDACTED.
This chart, redacted, lists the issues, which include problems with "Wireless Home Phone" (WHP) or the non-trial services. We have no idea as to the extent of the issues based on this info.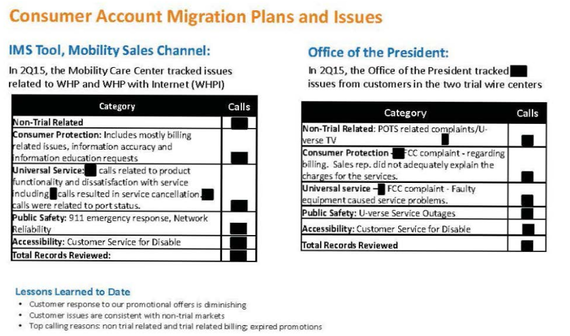 Note the "Lessons Learned" in second quarter 2015 details that the responses are diminishing.
The IP Transition 'Con': Shut Off the Copper-- Force-March to Wireless.
AT&T's plan is really simple - Using something called the "IP Transition", tell everyone that there's new technology that is the future, if only regulations and consumer protections were removed.
Though I paraphrase and expose the subplot, here is what AT&T claimed were the original goals for Carbon Hill: 55 percent all wireless, U-verse representing 41 percent, leaving 4 percent of the area where the company still can't offer service and it is marked "TBD"(to be determined).
As we pointed out, the IP transition has been and continues to be a 'con' to shut off the copper networks (sometimes called "TDM") and replace it with the companies' wireless products, not because it is better but because the companies get to make more money.
In fact, at the FCC there have been changes to allow the companies to 'shut off the copper' and the only question that remains is - how to notify customers? This is from AT&T's transition trial documents.

Pots and Pans summarizes a current FCC Order:
"One of the primary results of the order is notice to customers. Notice is of two types - notice to end-user customers and notice to other carriers. The new requirement is to give a three-month notice to residential customers when they are going to lose copper and give a six-month notice to business customers. Phone companies would be allowed to retire and remove copper with no notice as long as no customer service is discontinued, reduced, or impaired."
The FCC even put up a page to let you know that they allowed the phone companies to just shut off your service--in the name of progress.
"You are a consumer and your phone company mailed you a letter informing you that it plans to discontinue your service soon. What should you do?"
A Boom for the Trial Areas' Business?
Though we don't have any data on exactly how much money AT&T spent on these trials -- this ain't cheap. However, probably the best part isn't about the phone or broadband or Internet or wireless service, but about the benefit the people in these towns are getting from the new business -- from the AT&T staff doing the meetings or those coming to town to influence, and all of whom are buying hotel rooms, eating in the food establishments and bars, etc.
Conclusion: Why Should You Care?
These trials prove that we now need to rethink all of our communications policies and ask:
How far have we fallen?
How did we fall so far as to let these companies, the state-based utilities, not properly upgrade or maintain these networks? (Oh, did you forget that they were still utilities?)
And how is it that U-verse is based on using the same 20-50 year-old copper wires that are part of the state utility, and yet AT&T is claiming that putting "IP" over the exact same wire should change its regulations?
And why should AT&T et al. be allowed to shut off customers where the utility company doesn't even want to do the basic maintenance and upgrade to, say U-verse?
And as these companies promised in the past, why haven't these networks been upgraded to fiber optic networks by now?
And why are there no states investigating whether their state laws were changed over the last 20 years to have customers fund network upgrades that never happened?
There are also a host of other questions we should ask, especially about the ties of AT&T's wired utilities and AT&T Wireless. We'll save that for another time.
Here is some of AT&T's hype about these so-called IP transition trials. It's called Meeting Consumer Demand.
Report: "AT&T Wire Center Trials: Data Collection and Reporting for 2nd Quarter, 2015"