According to the FCC:
"On November 12, 2013, AT&T Chairman, President & Chief Executive Officer Randall L. Stephenson stated that the Company would limit its fiber deployment to the "2 million additional homes" that are "commitments to the DirecTV announcement" and that any other fiber deployment would depend on the outcome of the Commission's Open Internet Proceeding."
And the FCC actually called AT&T's bluff and asked to see the deployment plans.
AT&T responded: The public doesn't really need to know the details. We'll just redact everything and supply blank pieces of paper for the public.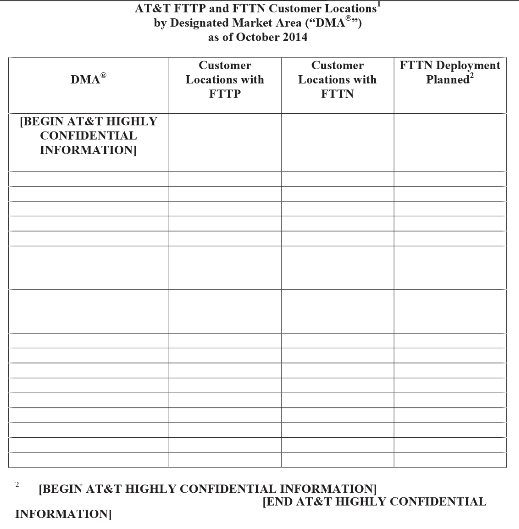 At the bottom of this page we find a footnote to the missing information.

It states that the numbers presented do not represent 'homes' but "locations", which includes businesses. But it also says that, well, technologies continue to change so the deployments may not be fiber-to-the home, (FTTP), but fiber-to-the-node, (FTTN). I.e., AT&T is including U-Verse, which is a copper-to-the-home network using the existing legacy copper wires and the fiber optics wire are somewhere within ½ mile from the actual location.
Amusingly, according to Re/code and others, last week AT&T stated that it was only kidding about not doing the fiber deployment. Re/code's headline says it all "AT&T Says It Still Plans to Expand High-Speed Internet in DirecTV Acquisition."
And should we trust AT&T? Of course we should. They are the phone company!
If I was cynical I would say that AT&T didn't want the FCC to actually audit their commitments in detail as they were just kidding all along and made up the deployment announcement and plans, just like they have done in the past. And while in some articles AT&T claims to have completed Austin Texas, upgrading it with fiber optic 'Gigapower', Stop the Cap and others detail that customers in Austin have had problems getting the reported speeds or that they can't get the service.
Should we believe AT&T's 'commitment' to rewire cities with fiber optics? In a previous article "AT&T's Top 13 Broken Promises. DIRECTV Merger? 'Giga'-Me-a-Break!" we highlight 13 'broken promises' (and we are calling for investigations of AT&T's previous commitments). For example, in the DirecTV-AT&T merger it was revealed that 25% of customers in AT&T's 22 states can not get broadband and yet, in the AT&T-BellSouth merger, AT&T claims that it fulfilled the obligation to have 100% of their territory capable of broadband (albeit slow at 200kbps in 1 direction). Where's the investigation by the FCC of this discrepancy?
The article supplies the statements and filings so that you, the reader, can corroborate what we found.
For a full discussion see the new book: "The Book of Broken Promises: $400 Billion Broadband Scandal & Free the Net".

To Summarize:
1) AT&T-Bellsouth Merger was to have 100% of 22 States Capable of at Least Minimal Broadband Speeds by 2007. It would appear that 25% didn't get upgraded.
2) SBC Was to Compete for Wireline Service Out-of-Region in 30 Cities by 2002 -- Never happened.
The Mergers Killed the Fiber Optic Deployments in America.
Then we have the closing of fiber optic broadband deployments that were underway in almost every state SBC (now-AT&T) took over.
3) Pacific Telesis -- was to spend $16 billion on 5.5. million homes in California by 2000. After the merger in 1997, SBC shut down everything being built and never spent about $15 billion.
4) SNET, Connecticut -- was to spend $4.5 billion and have 100% of the state completed by 2007; SNET started rolling out cable services over fiber in 1996 and after the merger everything was abandoned, starting around 1998.
5,6,7,8, 9) Ameritech -- claimed it would have 6 million households wired by 2000. Illinois, Indiana, Michigan, Ohio and Wisconsin all had commitments to build out fiber optic networks, and some states included schools and libraries. Cable services were rolled out and after the merger with SBC, all of the fiber optic networks were sold off to WOW.
10) In Texas, one of SBC's (Southwestern Bell) original states, committed to spending $1.1 billion on educational institutions, etc., as part of projects funded by the Telecommunications Infrastructure Fund -- with speeds 45 Mbps, starting in 1995, and had made commitments to supply fiber optics to some communities -- never happened.

11) Closing the Networks to Competition -- Promise Them 100 Mbps Fiber Optics in 2002. In order to close the networks to direct competition, which were opened under the Telecommunications Act of 1996 that allowed Internet, broadband and even cable competitors to offer service using the in-place (or what were to be upgraded wires), then-SBC told the FCC that it would roll out 100 Mbps fiber-to-the-home services if only the FCC got rid of those pesky competitors.
12) Re-verse: The "Copper-to-the-Home" Service -- As soon as the ink was dry on the closing of the networks, AT&T announced they were doing 'fiber-based services', which was a euphemism for-- a 'copper-to-the-home' service, with fiber optics in a box within ½ mile of the location.
13) AT&T's Press Release: "AT&T Eyes 100 U.S. Cities and Municipalities for its Ultra-Fast Fiber Network." -- In this latest round of using broadband as a 'carrot' to push through the AT&T DirecTV merger and get more deregulation, AT&T's new plan includes "GigaPower", fiber optic-based cities.
However, when we checked the press release of the cities that were being discussed to be upgraded, we found only 1, Austin Texas, was serving customers as of April 21 2014.
And about Texas; SBC (now-AT&T) claimed in a July 1996 press release that they would have 47,000 homes in Richardson Texas with fiber optic services in 1996.
"SBC is building a traditional cable network in Richardson, Texas that will be in service in the fourth quarter of this year (1996). It also is constructing a broadband network that will allow the company to offer cable and interactive services to up to 47,000 Dallas area households in 1996."
Conclusion: AT&T must be investigated for its previous failures to fulfill basic commitments in prior mergers, especially the AT&T-BellSouth merger and the FCC should audit the new proposed fiber optic plans, not just take AT&T's word for it. And the states should go back and examine whether customers have been paying extra for decades for these upgrades based on commitments never fulfilled.
Let the investigations begin. I leave you with the last redacted page of AT&T's FCC filing.