One Month of HD Viewing: $1,050.00 for Netflix: $3,225.00 for Cable TV.
America is getting a big, fat downgrade, but don't bother to tell the FCC or the media. I'll get back to this in a second.
Do the Math:
The average Netflix customer is watching 46.5 hours a month. (TDG research)
The average cable viewer is watching about 142 hours a month. (Nielsen)
According to Netflix, the video programming uses 1GB per hour for "standard definition" video and 3GB per hour for "HD".
Fact: AT&T and Verizon are planning on shutting off the copper networks to about 50% of their territories and forcing customers onto their own wireless broadband plans.
Fact: Here's the pricing for AT&T and Verizon's data plans ("GB") -- As of July 2015.
AT&T Mobile Share Value Plan



Verizon Wireless Broadband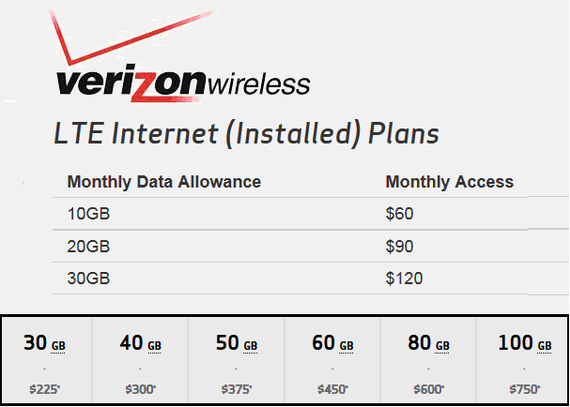 Slower, More Expensive, & No Competition
All over the place, we are hearing that there is a 'transition' afoot to deliver next generation networks. FCC Chairman Tom Wheeler's FACT SHEET on the "IP (Internet Protocol) Technology Transition" states:
"Phone and Internet providers are increasingly replacing their legacy copper networks with next - generation networks that enable greater broadband speeds, efficiency, capacity, and a wealth of innovative features."
And the USTA, the association for the incumbent phone companies, claims that this is about fiber optics and Internet technologies.
"Modernizing legacy communications networks is a key goal for the country and our members are working to install fiber and Internet protocol technologies throughout their networks. The FCC's proposed update to facilitate these technology transitions should be a helpful step in ensuring that consumers and businesses understand and move through the transitions to newer broadband, voice and data services."
And AT&T's IP Transition trial in Carbon Hill Alabama claims that "Customers are demanding higher speeds and more capacity, and a vibrant, competitive environment exists to provide robust, innovative options".
This is all a con. The 'IP Transition' is not about technology; it is designed to remove regulations and obligations and to shut off the copper networks so that the wireless companies, AT&T and Verizon, can sell you more expensive services.
Install Fiber? No. The Plan is to Shut Off the Copper and then Force Customers onto Wireless.
Verizon announced it is no longer upgrading its copper networks to fiber optics, leaving about 50 percent uncovered. And in Pennsylvania and New Jersey, Verizon has gone to each state to get rid of requirements to offer wired, very fast broadband for slow, expensive wireless, claiming it is a substitute for the wired networks.
AT&T's entire U-Verse cable TV service is based on a copper-to-the-home service, not fiber optic, and history tells us that AT&T's announced plans for fiber are just a 'broadband carrot' to push through the AT&T-DirecTV merger; most of this is just fiber-to-the-press-release. Even AT&T's new fiber optic 'Gigapower' announcements will only bring 15 percent of the 77 million locations to a fiber optic future (if they were actually deployed).
Secret "Special Access": But the kicker is -- even though AT&T and Verizon are shutting off the copper-based wired networks, at least Verizon was able to get the local phone customers to pay for the fiber optic-wires-to-the-cell-towers, which are not being shut off. In fact, AT&T and Verizon have monopolies on these wires in their territories so they even control the costs competitors have to pay for using these networks (at inflated rates). I.e., AT&T and Verizon control T-Mobile & Sprint's bottom-line costs.
How Much Does a 'GB' Really Get You?
A "GB", Gigabyte, is a measure of the size of the file or in this case, it is the capacity you have of how much you can download or upload. Verizon has a chart of what you can do with 10GB.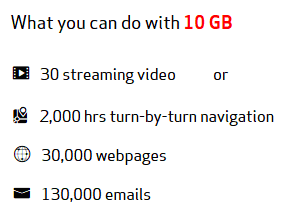 But this chart is a bit disingenuous. Let's go through a month of programming for Netflix and cable TV.
The following chart examines the costs to a customer if they just watched the 'average' monthly viewing on Netflix, or what it would cost if you were to watch the average amount of cable TV viewing, as told by Nielsen.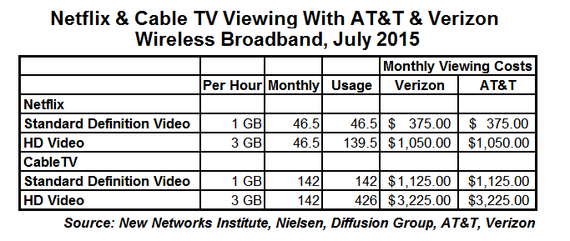 (Note: We rounded some of the usage information and didn't include cable VOD. We also rounded up to the nearest 10GB size, i.e., 46.5 hours would require 50GB.)
Netflix Information
Netflix states that their movie-TV show watching uses 1GB per hour, 3GB for HD video, which is currently the standard:
"How can I control how much data Netflix uses?
"Watching movies or TV shows on Netflix uses about 1GB of data per hour for each stream of standard definition video, and up to 3GB per hour for each stream of HD video."
I rummage through Netflix and it looks like most movies are about 1 hour & 30 minutes to 2 hours long. -- The first "Terminator" was 1 hour, 47 minutes, "Almost Famous" - 2 hours, 3 minutes, "Expendables III" - 2 hours 3 minutes, "The Butler" - 2 hours, 12 minutes and "So it Goes"-1 hour, 33 minutes.
Let's use 1 hour & 45 minutes as the average. 10GB allows for, let's call it 7 movies at 'standard definition', while at 'HD' quality you get to watch just 2 movies.
Unfortunately, based on Verizon's pricing, the customer will pay $60.00 for that 10GB. And this does NOT include the equipment or other charges, taxes, fees and surcharges, etc.
According to The Diffusion Group, the average Netflix user watches about 1.55 hours of movies or TV shows daily. Using 30 days a month, the Netflix service at 'standard definition' would cost $375.00, while HD would run $1050.00 a month.
Cable TV Viewing
According Slashfilm, Nielsen, one of the bibles of media measurement, claims that the average American watches about 142 hours of cable TV a month.
"Nielsen reports that Americans watched an average of 142 hours and 38 minutes of live TV per month during that same period, plus another 14 hours and 13 minutes of DVR and VOD programming. That translates to about 4.75 hours of live TV and 14 minutes of DVR/VOD per day."
This equates to a customer paying $1,125.00 a month to watch cable TV, as if it was a regular cable service, and a whopping $3,225.00 if you want to see the shows using the current HD standard. - I repeat, this is for one month!
The bottom line is that while Verizon and AT&T are claiming wireless broadband is the future and is a new technology, truth be told if this is the future, we're hosed. (I note that I was surprised to see that the companies are charging identical amounts. Real competition would suggest one company would be cheaper.)
And let's not forget 'overages', i.e., after the customer uses more data than they signed up for, they get gouged.
Overages

AT&T Overages: If your plan is for 10GB a month, but you go over, you'll have to pay an additional $15 per 1GB or worse, if you are on a 500MB plan (about 1/2GB) and you use too much, you have to pay an additional $20.00.

NOTE: It is hard to say whether AT&T even allows customers to use the networks past a certain point.
Verizon Wireless broadband overages are equally as piggy. Verizon charges $10 for each additional 1GB if you go over your plan capacity

And Now the Con
AT&T has two 'IP Transition' trials going on, including a rural area, Carbon Hill Alabama. AT&T writes:
"We believe all consumers and businesses deserve the opportunity to be connected by the best network technology available... Wireless phones connect two-way video conversations, enable instant online shopping and deliver information from around the globe. Telemedicine improves health care. Distance learning helps students of all ages connect to learning opportunities. Entrepreneurs create jobs and operate successful businesses with virtual offices. These all depend on reliable connections being available wherever you are."
In Carbon Hill, AT&T has filed to shut off 60% of working phone lines, to be substituted by wireless.
Even the Wireless Home Phone Isn't a Real Substitute.
AT&T's Wireless Home Base is a wireless service that is like the infamous "VoiceLink", a wireless service that Verizon pushed after the Sandy Storm as a replacement of the copper-wired phone service.
AT&T writes that there are some things their service can't do.
"Q. Will AT&T Home Base™ work with a fax machine or home alarm system?

A. AT&T Home Base is not compatible with fax machines and home alarm systems. It is also not compatible with wireless messaging, credit card machines, medical alert/monitoring systems, IP/PBX Phone systems, or dial-up Internet service."
The fine print reveals it is dramatically worse than a copper-based phone as it even has a problem with E911 emergency service.
AT&T WIRELESS HOME PHONE FINE PRINT
"Now there's a low-cost alternative to traditional home phone service. AT&T Wireless Home Phone service uses a mobile device to give you home phone service at a better price.

Wireless Home Phone ("WHP") is a Commercial Mobile Radio Svc. It is mobile & may be used in the US w/ home phone equip. For emergency calls, provide your location address to 911 operator. WHP device req'd., actual model may vary. Some models req. battery at all times to operate. For details, see your device User Guide. All models have a backup battery to operate during power outage. However, a landline phone requiring separate power (e.g., cordless phone) connected to WHP device will not make/receive calls (incl. 911) during power outage. Landline home phone equip. not incl. Provides voice svc only. Not compatible w/ security systems, fax machines, med. alert & monitoring svcs, credit card machines, IP/PBX Phone systems, or dial-up Internet. May not be compatible w/DVR/Satellite systems, please check w/ your provider. DSL customers should contact provider before transferring a phone number to ensure uninterrupted Internet svc. Qual. plan req'd. $20.00/mo plan for unlimited nationwide calling. $20.00/mo when WHP device is added as a Designated Device to an AT&T Mobile Share Value svc plan for unlimited nationwide calling. Texting excluded. WHP device is free w/ 2-year contract. Prices subj. to change. Subj. to Wireless Customer Agmt. Credit approval req'd. Activation fee applies. Coverage & svcs not avail. everywhere. Geographic, usage, taxes & other charges, & restr's apply & may result in svc termination. Early Termination Fee: After 14 days, up to $150. Restocking fee: up to $35. Other Monthly Charges/Line: May include taxes & federal & state universal svc charges, Reg. Cost Recovery Charge (up to $1.25), gross receipts surcharge, Admin. Fee & other gov't assessments which are not gov't req'd charges. ©2014 AT&T Intellectual Property. All rights reserved.
How, exactly is this the "best technology available"? How do "entrepreneurs set up virtual offices"? Can you imagine mom & dad's shock when their child has been distance learning using this wireless broadband service and they get the bill?