When you gather the most interesting people in the theatre business at this moment in time to talk to leaders in the arts and corporate sector, it is remarkable to witness the common threads that tend to emerge, especially the importance of community engagement.
Last week's tenth edition of the National Corporate Theatre Fund's Broadway Roundtable provided an unmatched glimpse into on the mind of today's leading players in theatre both on-stage and off.
This distinctive event, organized with great support from UBS, draws interest as a result of the panel of interdisciplinary artists and experts, and this year's was very intriguing: Olympia Dukakis, fresh from Elektra at ACT in San Francisco; Heather Hitchens, Executive Director of the American Theatre Wing; Santino Fontana, who opened a couple of days later as Prince Charming in the new Rogers & Hammerstein's Cinderella; Molly Smith, Artistic Director of Arena Stage in Washington, D.C.; Daryl Roth, producer of many Pulitzer and Tony Award winning shows, whose Kinky Boots started performances that weekend; and Paul Downs Colaizzo, the writer of Really Really, one of the Off Broadway sensations of the current season.
While we never know who will finally wind up on the panel, inevitably a common thread tends to emerge. Last year, as we launched our Impact Creativity campaign for arts education, that topic really came to the fore. This year, it was easy to see that creativity and community would be the common threads. As the creator and co-organizer of the Tony Awards, the American Theatre Wing gives back to the national theatre community on and off Broadway, in and out of New York, through grants and programs like their "Working in Theatre" video series. Heather explained that this is all about the theatre industry being one big ecosphere and very interdependent.
Daryl Roth told us about how seeing the film of Kinky Boots at Sundance several years started her on the journey of producing this musical version, which at its core is a story about people finding their true identity. For all of her shows, especially The Normal Heart a couple of years ago, community outreach has been critical to not only building the audience, but also making sure the play or musical has a maximum impact.
This issue of identity and finding a place in the world takes many nasty turns in Paul Downs Colaizzo's Really Really. He described how grateful he was that a regional theatre, Signature in Arlington, Va., took a chance on the play last season and enabled it to make a move to New York with the benefit of a prior production. Written six years ago when he was 21, the play chronicles a group of college students grappling with the consequences of an alleged date rape. Class, gender, harrowing stakes in today's new economy all combine to propel the characters in surprising directions. Really Really marks the arrival of a new generation's voice on the theatre scene.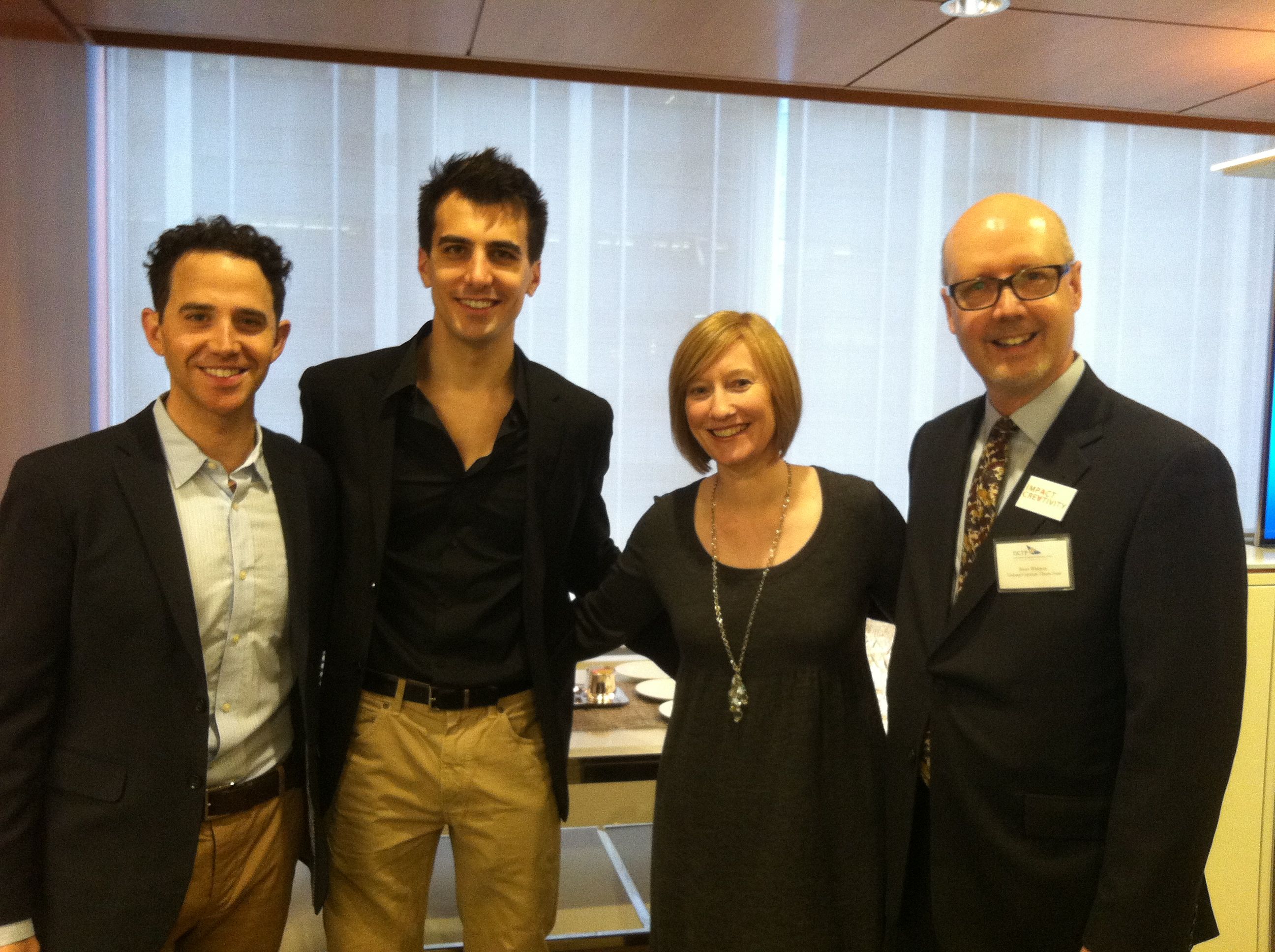 Santino Fontana, Paul Colaizzo, Heather Hitchens and Bruce Whitacre at the NCTF Broadway Roundtable

Molly Smith just announced an amazing season next year at Arena. I asked her what most drove her decisions, and she said it was all about history this time. This is especially true when it comes to The National Civil War Project they announced, along with three other theatres last week. With plays about Paul Robeson, Camp David and more, the season illustrates Arena's sense of place and time in Washington.
For individual artists like Olympia Dukakis, an embracing view of engagement also comes through. As a past theatre manager, acting teacher and nationally prominent film and television star, she said one of her real concerns right now is how American actors are performing the classic Greek plays. "They imitate the British," she says. She also wants actors to have more technique and grounding so that they are not just vehicles for a given director's vision, but bring something fundamental to their characters in their own rights. When I asked why she keeps coming to the theatre in these classic roles, she said, "I want to be shaken. I don't do it for fun."
Santino Fontana recounted how the mentoring and training at The Guthrie Theater in Minneapolis grounded him and launched his career. The diversity of plays produced--Greek, Shakespeare, contemporary -- offered great preparation. He did his undergraduate degree at the Guthrie's program, and then stayed on for two years to act at the theatre before moving to New York, where he has since won acclaim in Sons of the Prophet, Billy Elliott, and The Importance of Being Earnest.
Since last week, Paul's next play has been announced at Signature Theatre in Arlington; Santino opened to positive reviews in Cinderella; Kinky Boots has had a bravura first few performances, and the theatre world keeps turning. We think about the economics, the management, and the education, all about the theatre so much. It's a privilege to spend some time reveling in the art itself. Thanks to UBS, and thanks to our panelists.