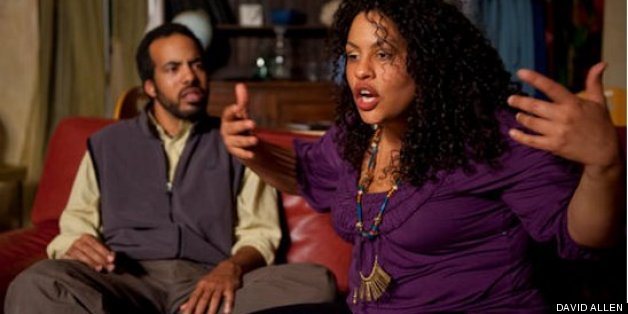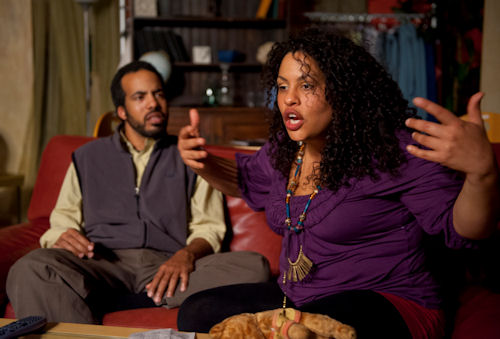 David E. Moore (left), Amy Marie Haven (right). Photo Credit: David Allen
"In the dream, there was a stage set and I could see the stage clearly. Onto it walks this girl. She's very strangely dressed, it was kind of off, there were a lot of beads and a dress that she might have worn when she was 16. It would just make you look and say 'huh?' The girl sits down and looks directly at the audience. Then she stands up and goes right down towards the audience and says 'This is how my mother dressed me for my funeral.'"
Those are the words of Ann Brebner describing a dream that served as part of the genesis for the latest AlterTheater Ensemble production The Dead Girl which she also wrote and directed.
Ann Brebner is a local icon in the San Francisco Bay Area and Marin County. She is a veteran theater director, playwright and author.
AlterTheater's ninth season honors Ann who will celebrate her 90th birthday in August. AlterTheater is known throughout the San Francisco Bay Area for its high quality original productions that boast incredible casts, and delivering them in a unique and intimate setting.
Beyond the haunting imagery described in Ann's dream comes a show that is a character story and takes place all within one locale. The story takes place after a devastating loss that forces a multi-racial family to rebuild with the help -- and sometimes hindrance -- of an unexpected visitor.
"Though it wasn't a conscious decision -- the story became one about grief," Ann said.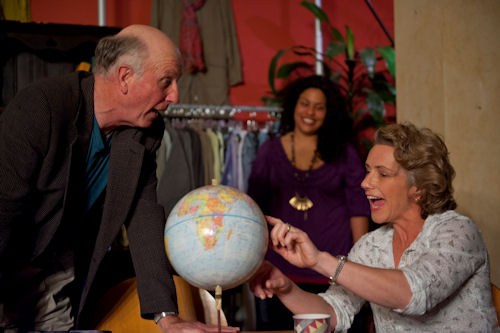 Charles Dean (left), Amy Marie Haven (middle), Emilie Talbot (right). Photo Credit:David Allen
The Dead Girl lends itself to a truth that is not widely seen in any medium of the performing arts. It is successful at telling a story that it is seldom seen on television, film, or the stage -- the stories of biracial people and interracial relationships. It still seems to be a point of discomfort for some reason -- it is a reality.
"Hey guys, look ahead 50 years people," Ann said. "You're really out of touch. The characters in this play might have all been green people, we could have all been green or pink -- it doesn't really matter, not at all."
"I grew up in New Zealand; in the years when I was growing up there it was completely integrated. I was horrified when I came to this country in 1952. I was horrified by what I saw and heard -- it has always troubled me. "
The production features an integrated cast in a time where television, film, theater and music are still very segregated -- segregation fueled by racial stereotyping.
The cast in the production has constantly noted that they are proud to be performing in a play that doesn't require them to perpetuate those stereotypes.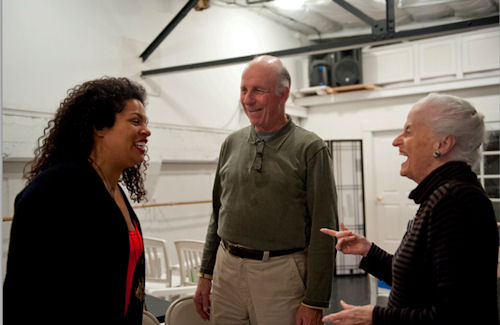 Director/playwright Ann Brebner (right) adjusts a comedic moment during rehearsals of her new play, The Dead Girl, with Amy Marie Haven (left) and Charles Dean (middle). Courtesy of AlterTheater
"The point is that people are people -- everyone who is a person is a complete person with a soul, a heart, feelings, abilities and disabilities and everything that makes you human. I can't understand how people can see an exterior and pass judgment."
Ann worked carefully with two other veteran stage actors that are part of the AlterTheater Ensemble to add dimension to the biracial characters in the play.
"Matt Jones and Rebecca Frank were wonderful in their help. I told Matt about the dream that I had and wanted to talk to him about what was going on in my head. They both came over and we spent the day together just talking about the relationships, what they as children of a white and a black parent feel, what the dynamics are, what their attitudes are, and how it worked in the family."
"I hope that in some way there is something from the play that will be a shared experience for the audience. I don't know which piece, but there should be some feeling of having shared something that they may or may not ever talk about."
The Dead Girl, starring Charles Dean, Amy Marie Haven, David E. Moore and Emilie Talbot can be seen May 1st through the 19th in downtown San Rafael, a suburb of San Francisco, California. Visit the website for schedule, directions and ticket purchase here.