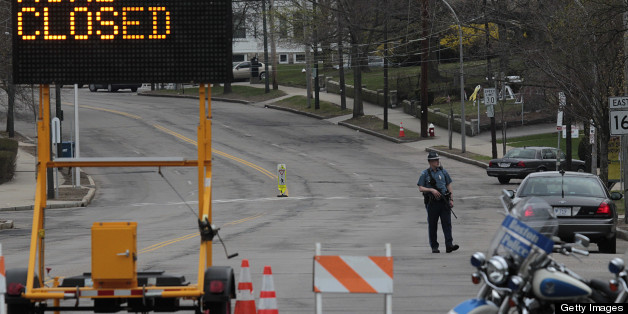 People talk about the pride Bostonians have in their city, but because I don't go to sports events, I hadn't really witnessed it until seeing the reaction to the Boston Marathon bombings. The talk of "finishing the race," the "Boston Strong" ribbons, the disbelief that someone would tarnish the beloved "Marathon Monday," demonstrate the strength of identity here. Others have written about how the history, the weather, and the love of the Red Sox unite people here. Maybe it's easy to have a shared sense of belonging because this area is geographically small. I've only lived here for eight months, and yet I know all the places involved in the unfolding manhunt. If you go out for an evening in Boston, chances are you'll be in or near the area of the bombings, whereas I've lived in other cities where it would be difficult to identify the main part of town.
Maybe we've gotten better at handling these crises, or maybe Boston is more on its game, but the coordination of the response here is amazing. The speed with which medical care was triaged and directed to Boston's plethora of nearby hospitals astounds me. Much as interviewers seemed to want uncover stories of chaos, everyone said how surprisingly organized it all was. Maybe it helps that every other person here is a medical resident or fellow or research assistant who aspires to go to medical school.
Now, they have shut down Boston and multiple surrounding suburbs with surprising speed. Do other entire metropolitan regions ever get shut down like this, or is it something about the cohesion here that makes it possible? And why do I take such pride in that? Maybe, without even realizing it, I've developed that Boston pride. Maybe it was that fifth month of winter, when a high of 45 felt luxuriously warm. (The comment of one friend about today's lockdown: "Shame that such a gorgeous day need be spent indoors!" Yes, spring has only just sprung here in New England.) Maybe it's that every time I try a restaurant, my colleagues know exactly where it is and gleam with pride and tell me what they like to order there. Or maybe there's no rational explanation for Boston pride, but, especially right now, it feels good to soak it in.
HuffPost Readers: Were you or someone you know in the area affected by the bombings or the manhunt? If you have any information to share, or want to tell us what you experienced, email openreporting@huffingtonpost.com. Include a phone number if you're willing to be interviewed. Let us know if you wish to remain anonymous.
PHOTO GALLERY
Notes From The Lockdown