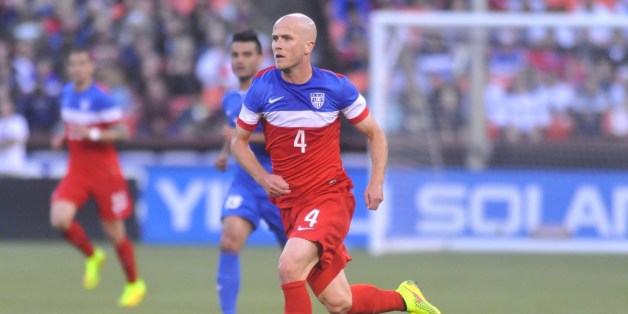 The United States men's national soccer team will open their 2014 World Cup Monday night (6 p.m. EST, ESPN) in Natal, Brazil against Ghana, the team that eliminated the Americans from the World Cup in both 2006 and 2010. The two Group G underdogs should both be looking for a win and three points with matches looming against Portugal and Germany. Here's what you can expect from each side as play unfolds:
Can the U.S. Defense Stay Sharp for 90 Minutes?
Leading the line for Ghana will be veteran striker Asamoah Gyan, breaker of American hearts in South Africa in 2010.
That goal illustrated well Gyan's ability to trouble central defenders with his off-ball movement and to transform a mundane punt forward into devastation through a momentary burst of speed and skill. Ghana will also hope to have speedy Majeed Waris, who picked up a thigh injury in their final warmup match, fit by kickoff. If healthy, the 22-year-old Spartak Moscow striker will join Gyan up front and offer a change of pace that will demand constant vigilance from American defenders.
On the other side, the U.S. has the quality and athleticism to deal with an attack of Ghana's caliber, but have been marred by inconsistency. The Americans have, throughout 2013-14 and historically in both previous losses to Ghana, shown a penchant for one or two disastrous lapses in concentration per match. This plays to the Africans' strengths, who will look to be opportunistic and unpredictable in applying sudden pressure. Whether it's communication covering diagonal runners, marking on set pieces, or passing out of the back, the United States defenders must avoid the obvious and preventable mistakes.
Jozy Altidore and Clint Dempsey vs. Ghana Defense The obvious weakness of the Ghanaian side is in the back. Likely central pairing Jonathan Mensah and John Boye are vulnerable and should present the Americans with chances if put under consistent pressure. Meanwhile, the team lacks elite goalkeeping talent and coach Kwesi Appiah failed to settle on a clear number one in the course of the team's qualifying campaign and warmup friendly matches.
Jozy Altidore's two goals against Nigeria, the first of which was an excellent team goal and the second a long-overdue show of the striker's individual power and quality, had to have been a huge boost in confidence for the American squad and coaches, denials aside. Altidore can often disappear from matches, but can also be a hugely influential physical presence when active and engaged. Getting the striker involved early should be a priority for the U.S.
Clint Dempsey scored against Ghana in 2006 and drew a penalty in the 2010 match. He'll look for late runs into the box as Altidore pulls defenders out of position. Ghana also has a reputation of being foul-prone, while Dempsey and Altidore have turned getting hacked down into an art form. Expect set pieces to provide at least a few key opportunities for the U.S.
The Midfield Battle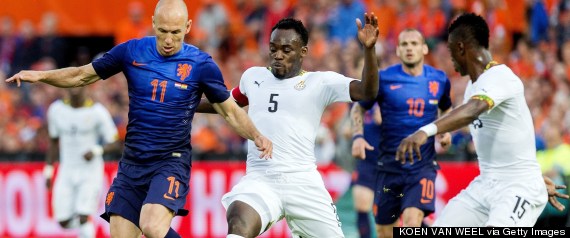 The real battle for control of the match, dictation of play, and thus service to the strikers will occur in the center of midfield, arguably the strength of both sides.
With elite players like Sulley Muntari, Michael Essien and Kevin Prince-Boateng who have proven themselves on the highest levels of European club soccer, Ghana has talent to spare in this department. One of this trio may not even start, and the player many would consider the team's most talented playmaker, Juventus' Kwadwo Asamoah, has been spending time recently deployed as a left back. Regardless of formation, Ghana should look to outnumber the Americans in the center of the park, forcing bad giveaways, and looking to strike quickly on the counter through the middle.
If the recent Nigeria game is any indication, and I suspect it is, the U.S. will deploy Kyle Beckerman along with Jermaine Jones and Michael Bradley in order to match the Ghanaian's numbers and quality in midfield. This group's ability to pass out of trouble, maintain positional discipline, and quickly transition from offense to defense and back will be key for the Americans to dictate play enough to probe the weaknesses of the Ghanaian defense.
Jurgen Klinsmann will also have to carefully consider his substitutions in this area. Recent patterns would suggest that he'll bring on a more creative player like Mix Diskerud in the second half, and such a move may be automatic if the U.S. needs a goal, but an overly adventurous change could create just the sort of space Ghana needs to assert control.
Prediction:
On paper, Ghana is the (slightly) better team. But Klinsmann's squad has shown signs that they are peaking at the right time. The tournament has had plenty of goals so far and, although both teams will likely start out cagily, two suspect defenses mean this match should continue the scoring trend. USA 3, Ghana 2.