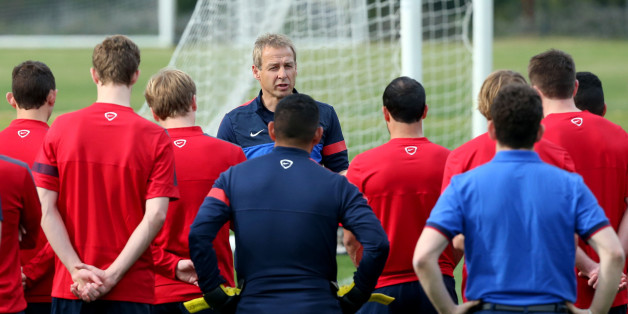 Much of the chatter from American soccer fans, press and coaches leading up to Wednesday night's friendly match against Mexico (11 EST, University of Phoenix Stadium, ESPN) has revolved around narrowing the player pool to the final roster of 23 who will make the World Cup this June. Both sides have called up only North America-based talent, with the U.S. further limited by injury and an uncooperative Mexican club team. This gives several individuals on the fringes of the squad an opportunity for a final audition, but Jurgen Klinsmann and his staff would be remiss to make roster selection the lone focus of the outing. Here are three storylines to watch Wednesday in Phoenix.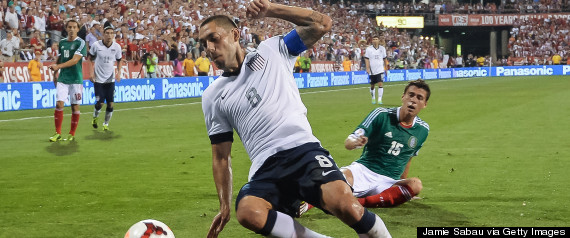 1. The form of the "spine"
Much ink was spilled in the wake of recent comments by Klinsmann referring to Tim Howard, Michael Bradley, Jermaine Jones, Clint Dempsey, and Jozy Altidore as the "spine of our team." Howard, Jones and Altidore were obviously not called in this time around, yet the nonexistent form of Altidore and the inconsistent playing time of Jones since his move to Besiktas certainly factor in to the picture here.
Right now the U.S. has few if any players performing at a level that make them automatic, no-brainer selections to the starting 11. Howard and Bradley still merit this distinction, although the midfielder needs to show that his game remains razor sharp in the wake of his move back to MLS. The Toronto FC man should be given a fair amount of freedom to run forward and create, likely partnered with either Kyle Beckerman or Maurice Edu in the center of the park. Meanwhile, Dempsey, poster boy for Nike's pre-World Cup ad campaigns, remains mired in a terrible slump for both club and country. So far, Klinsmann hasn't wavered in his selection as a central withdrawn forward, but another ineffective match against mediocre competition might and should force the boss to reevaluate. Playing alongside Landon Donovan with the option for positional interchange may help, as could working behind a different center forward leading the line.
As much as Klinsmann has emphasized building depth, he's yet to see that added competition for roster spots translate to greater performances by those at the "top" of the team sheet. In short, if the U.S. is to show well in Brazil, it's much more likely to be because of an in-form Clint Dempsey than whoever is selected as the third defender off the bench.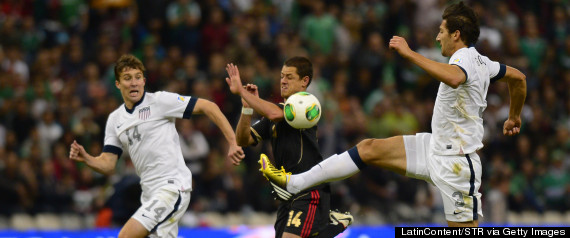 2. Forget the fullbacks, can Besler and Gonzalez end the conversation over who starts in the middle?
Once again, the U.S. will come into a game playing a makeshift back line. With DaMarcus Beasley unreleased by Puebla and Brad Evans injured, Michael Parkhurst and DeAndre Yedlin look likely to start in their places at left and right back. Both players could prove that they're deserving of at least an invite to the pre-World Cup training camp, however, either player seeing much of the field in Brazil would be a shock and therefore shouldn't be the chief defensive concern of Klinsmann or U.S. fans heading into the spring.
Omar Gonzalez and Matt Besler played an integral part in the successful run of last summer, but their relative inexperience, the steady consistency of Clarence Goodson, and the persistent question of what exactly to do with Geoff Cameron seem to leave Klinsmann unconvinced that the duo should be included when he thinks of the aforementioned "spine." A diminished yet dangerous Mexico team provides a perfect opportunity to put in the kind of solid defensive performance that helped the rest of the American squad get on such a roll last year.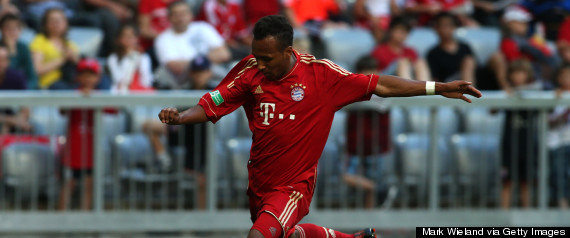 3. Julian Green's debut
In the grand scheme, this match may only be remembered for one reason. Expect the 18-year-old Bayern Munich reserve star to debut with a late substitute appearance. It likely won't be enough time to see a lot from his game, but that shouldn't take anything away from the massive coup that Green's commitment represents for U.S. soccer. Since confirming that he'd play for the U.S. less than two weeks ago, the youngster has said all the right things. His apparent humility, obvious respect and affection for Klinsmann, and solid club foundation at Bayern offer much hope that Green will be more than the latest in a long line of young American stars to wash out under the weight of expectation. Although his choice to play for the U.S. likely booked his ticket to Brazil, the pressure is off for the time being. Wednesday night in Phoenix, and in Natal on June 16, the burden to perform will be squarely on Green's older, more experienced teammates.
The U.S. doesn't need a result from this particularly meaningless match, but they need clarity, and they need confidence-building performances that will demand not just inclusion in the traveling party but selection in the starting 11.