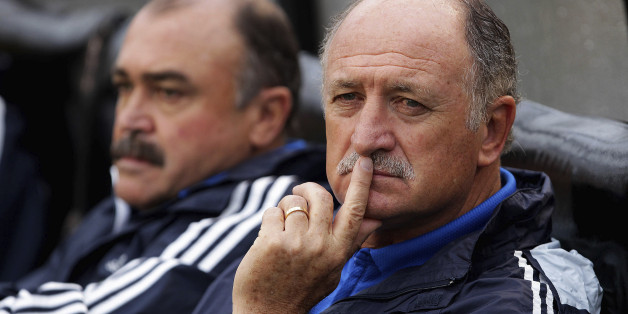 With two games under its belt, Brazil has one ugly victory and one maddening tie. The victory, against Croatia, was marred by an own-goal and an egregious dive in the penalty box. The tie, against Mexico, revealed a surprisingly stodgy Brazilian team. Brazilian top brass are panicking: it is widely believed that only a sixth World Cup championship will persuade Brazilian citizens that hosting the event was worth the trouble and expense, buttressing national pride and confirming Brazil as the country of futebol.
In other words, Big Phil has them right where he wants them. Coach Luiz Felipe "Felipão" (Big Phil) Scolari has made an illustrious career of galvanizing overmatched squads, instilling us-against-the-world passion to silence detractors and win championships. The challenges of this World Cup play to his strengths. Understanding Big Phil explains why Brazil remains a favorite, despite shortcomings on the field.
Two moments exemplify Big Phil's approach. The first occurred in the locker room of Palmeiras, from São Paulo, when Big Phil was coaching that team through the semifinals of the 2000 South American club championship. In a post-game address secretly recorded by reporters, he fumed about the namby-pamby play of his squad in the first of a two-game contest against Corinthians, a cross-town rival led by the dazzling Edílson: "How is it possible that on my team, no one stepped up to spit on Edílson?" He then urged his players to kick, elbow and "eat the ears off" the opposition in the upcoming game. His players took the advice to heart, beating Corinthians in a bruising rematch and moving onto the final.
The second came after Portugal's victory over England on penalty kicks in the quarter finals of the 2006 World Cup. Big Phil, coaching Portugal, was the first to storm the field after Cristiano Ronaldo's winning kick, leading his players in an impromptu celebratory conga line. The first moment captures Big Phil's willingness to get ugly and play dirty, his drive to win at all costs. The second captures his enthusiasm: he is emotionally closer to his players than any other big-time coach. He instills in them a belief that they can -- they must -- win against all odds, and in return they give him everything they have.
Big Phil does not disdain talent when it is available. Coaching Brazil to victory in the 2002 World Cup, he had Ronaldo, Rivaldo and Ronaldinho at his disposal, and he opted for an unorthodox alignment of three defenders, five midfielders and two attackers, emphasizing creativity over aggressive tackling. Edílson was one of those creative midfielders -- no hard feelings on either side.
But he is at his best coaching teams with more spirit than talent. He rose to prominence coaching Grêmio, a club team from Porto Alegre, in the mid-1990s. Big Phil molded a middling squad into the toughest out in Brazilian soccer, winning several national and South American titles and taking Grêmio to the finals of the World Club Championship.
The current Brazil team has much in common with those Grêmio sides. Neymar notwithstanding, this is one of the least talented Brazil squads in memory. But it is already playing with more grit and cohesion than the star-studded teams of 2006 and 2010. And it bears noting that, technically, at least, Brazil has not yet yielded a goal to the opposition.
Brazil still has plenty of firepower, and it is playing at home, under the gaze of scandalously favorable referees -- so far, at least. But in Big Phil's world it is more important to feel like an underdog than actually to be an underdog. After the Mexico game, his players are probably feeling hungry and defiant, with a chip on their shoulders. As they watch Dutch and German highlights, they must recognize that they won't win this Cup on style. That is just the way Big Phil wants it. And it may be their only chance.