The usual gang of idiots over at MAD Magazine have been churning out Star Wars parodies as cheap cash grabs since the beginning. Well, actually, since slightly after the beginning. Their crystal ball for 1977 was broken (or maybe it was their heads), and they had no idea Star Wars was going to be a hit, so their first take on the space saga didn't come out until 8 months after the original film hit theaters.
So, for their January 1978 issue of MAD, they produced this beautiful piece of art by Jack Richard that almost got them sued: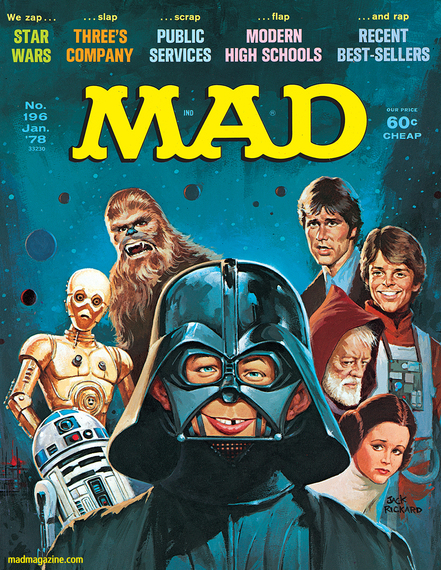 It went over well and they continued to mine Star Wars for all it was worth until the prequel trilogy ended in 2005. I'm sure they cried as much as I did that we'd never again see a new Star Wars film, but for completely different reasons.
When it was announced new films would indeed be made to continue the Star Wars saga, MAD must have seen dollar signs in fits of giddiness. And now we, the Huffington Post-reading public, get to see the fruits of those dollar signs exclusively.
For their newest issue, hitting stands February 24, 2015 (February 13 for subscribers), the creatively bankrupt band of idiots over at MAD have given us one more dip in the Star Wars pool with their first cover dedicated to this new era of the greatest space film saga of all time.
Ladies and Gentlemen (and readers of MAD): I present to you the cover for issue #532 of MAD Magazine, their latest shameless cash-in: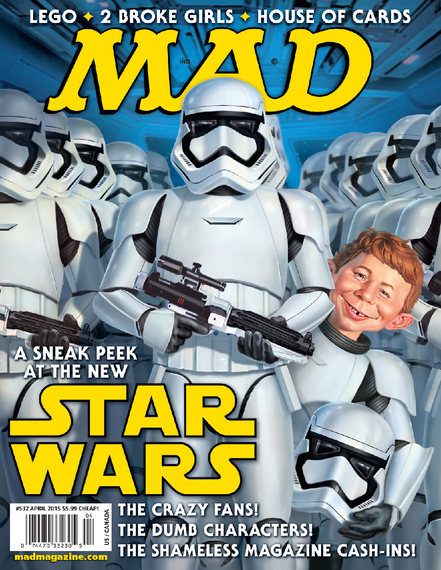 --
Bryan Young is the author of "A Children's Illustrated History of Presidential Assassination" and "The Serpent's Head," the editor-in-chief of the nerd news and review site Big Shiny Robot!, and is the co-host of the Star Wars podcast, "Full of Sith."