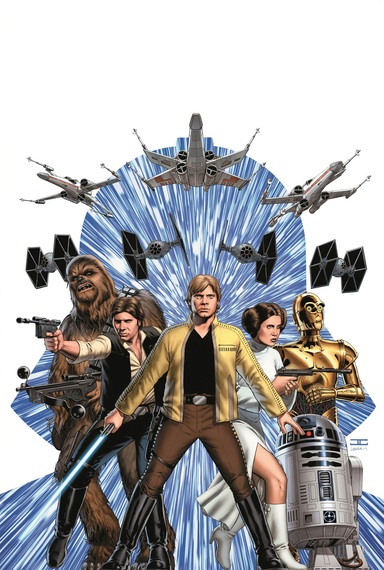 Wednesday sees the release of the first new Star Wars comic since Marvel took the license back from Dark Horse Comics and I was beyond curious to see how Marvel would handle the relaunch. Dark Horse explored this post Episode IV territory fairly recently with Brian Wood's take on the series, and it was anyone's guess how this might or might not sync up with the sort of stories we've been getting.
But Jason Aaron takes us right into the thick of things, bringing us classic Star Wars action by plopping us into middle of a plot we're not entirely sure of. With the destruction of the first Death Star fresh in their minds, the rebels are looking to make any gains they can in the fight against the Empire and here we are in the midst of it.
The story line is reminiscent of the original plot of The Empire Strikes Back by Leigh Brackett, where Han Solo is the only person who can negotiate a trade because of who he is and who is connections are. Unlike that original draft of the screenplay, this is all a ruse that leads to a daring action adventure, highlighting every one of the original core cast. It feels like what the sequel to A New Hope would have been had they not jumped ahead so far to the events of The Empire Strikes Back.
While it's fair to say we're not getting anything new in the grand scheme of Star Wars mythology with this first issue, we're getting a story that feels like it has earned its place. It brings us to familiar territory while still feeling very fresh.
John Cassaday's art lends itself well to Aaron's script, and we're given a comic that's easy to recall the voices, sounds, and cadences of the classic Star Wars trilogy.
And it ends with a helluva cliffhanger, which means that it's bringing us the best of the storytelling offered by the comics medium mixed with the things that people like best about Star Wars. I find that difficult to complain about.
Now, we can only hope they offer this level of loving care and detail to comics set in the prequel era. Because that is something I want to see.
Marvel's Star Wars #1 by Jason Aaron, John Cassaday, and Laura Martin. It comes to comic book stores everywhere on Wednesday.
--
Bryan Young is the author of "A Children's Illustrated History of Presidential Assassination," the editor-in-chief of the nerd news and review site Big Shiny Robot!, and is the co-host of the Star Wars podcast, "Full of Sith."