This video is part of the collaborative series, "Love Stories: Binational Couples on the Front Lines Against DOMA," produced by the two of us for The DOMA Project and The DeVote Campaign
Long before immigration reform was the hot topic it is today, Judy Rickard and her wife, Karin Bogliolo, were in the trenches spreading the word about the harsh reality for same-sex binational couples trying to remain together in the U.S.
Self-proclaimed "Golden Girls," they first met online and struck up a romance nearly a decade ago when Karin, a British citizen, was in Oregon visiting friends. When they finally met face-to-face for their first date (to a PFLAG dance!), they knew it was meant to be. They kissed, their teeth "crashed," and they have been together ever since.
There was no easy path for them to establish a home together in this country, however, because our immigration laws do not allow lesbian and gay Americans to sponsor their same-sex partners for green cards. What lay ahead were years of exhausting and expensive travel between continents, often after not seeing each other for months at a time. Finally, unable to endure this way of life any longer, Judy took early retirement so that they could be together wherever they were, though in their hearts they both wanted to permanently settle in California. In the meantime, instead of simply relishing their retirement and waiting passively for laws to change in their favor, they have become central figures in a community of like-minded activists relentlessly speaking out to raise awareness of policy changes that would help all same-sex binational couples, including those separated and those fighting for every day together in this country.
Although they have been domestic partners in California since Valentine's Day 2007, in March 2011 Judy and Karin decided to celebrate their love and lifelong commitment to each other by getting married in the state of Vermont. Judy recalls, "We eloped and had a sweet wedding with a justice of the peace and three teary-eyed staff at our bed and breakfast who all were captivated by our story."
Karin adds, "The witnesses were so taken by our plight that they bought flowers and champagne for us and sent us to a wonderful restaurant for dinner that night and picked up the tab!" Ultimately, they knew that the Defense of Marriage Act (DOMA) would force the federal government to deny the existence of their marriage, but they were prepared to fight back and hold government agencies accountable for discriminating against them.
Judy and Karin joined The DOMA Project, a group of lesbian and gay Americans who decided to confront DOMA by demanding green cards for their foreign-born spouses. Recently, they were among the first same-sex couples to be granted a "green card interview," which took place in September 2012 at the Citizenship and Immigration Services office in San Jose, Calif. The interview went well, with the officer reviewing the evidence of their long relationship. While their case has been held for further review, they continue to challenge President Obama, Attorney General Eric Holder and Secretary of Homeland Security Janet Napolitano to issue a formal "abeyance" policy. This would ensure that green card petitions filed by same-sex binational spouses are not denied but put on hold until either the Supreme Court or Congress gets rid of DOMA. The president has declared that married lesbian and gay couples like Judy and Karin must be treated equally under the law, most recently in his proposal for immigration reform. Now they expect him to follow up with action to protect them from being torn apart.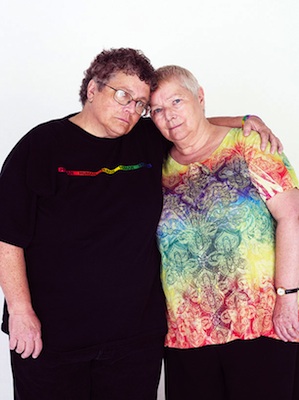 Photo by David W. Ross
Karin will soon celebrate her 73rd birthday. She was born in Nazi Germany during World War II; her birth certificate bears a swastika. Her war-widowed mother later married an occupying British officer and moved her family to England, where Karin spent the remainder of her childhood. Ultimately, she married and raised a family of her own. That marriage ended, and years later Karin came out as a lesbian. Now she is a grandmother fighting for the right to live in the United States legally with her wife; meanwhile, Germany is one of approximately 20 countries that provide for the immigration of same-sex partners, ironically. Karin's story is a testament to the potential for extraordinary progress to happen in the span of a lifetime; it is also a reminder that progress in the fight for social justice requires constant vigilance and cannot be taken for granted.
Judy grew up in San Jose, Calif., long before it was Silicon Valley. She has been a gay rights advocate since the 1970s. Over the years she would occasionally meet same-sex binational couples struggling to remain in this country. They would tell her of the roadblocks they encountered trying to be together and explain why they often felt forced to leave the country. She, like so many others, even in the LGBT community, thought this could not be right. There had to be a way. It was only when she fell in love with Karin that she experienced for herself the enormity of the challenge, and she immediately got to work fighting to change it. Her book Torn Apart: United by Love, Divided by Law (Findhorn Press, 2011) details the experiences of many lesbian and gay binational families, including her own.
Because they refused to be silent when they fell in love, because they refused to just leave the country when they wanted to live here, because they refused to subject themselves to one more terrifying interrogation by immigration officers at an airport, because they are grandmothers with boundless energy who will not stop fighting until they and others facing their struggle can live happily ever after, Judy and Karin truly are the "Golden Girls" of the fight for immigration rights for same-sex binational families.
Los Angeles-based writer and filmmaker Brynn Gelbard started the DeVote Campaign in 2010 after having to cancel her wedding because of the passing of Proposition 8. For more, visit devotecampaign.com, facebook.com/devotecampaign and twitter.com/devotecampaign.
In 2010, with his law partner, Noemi Masliah, Lavi Soloway launched the DOMA Project, a campaign to stop the deportations, separations and exile of binational lesbian and gay couples. For more, visit www.domaproject.org, facebook.com/thedomaproject and twitter.com/gaybinationals.
Follow Lavi Soloway on Twitter: www.twitter.com/lavisoloway