This video is part of the collaborative series, "Love Stories: Binational Couples on the Front Lines Against DOMA," produced by the two of us for The DOMA Project and The DeVote Campaign.

President Obama, meet Becky and Sanne, and their 2-year-old daughter, Willow. Becky, who was born in this country, is a middle-school teacher. Sanne comes from the Netherlands, the first country in the world to allow same-sex couples to wed. Sanne could have sponsored Becky as her spouse for the Dutch equivalent of a "green card." Instead, they chose to live in America, where federal law refuses to recognize their marriage at all, including for immigration purposes. Fighting for their right to be here together as a family has become part of their daily lives.
Becky and Sanne settled down in Becky's home state of North Carolina, where, last spring, a majority of voters passed an amendment banning same-sex marriage (and all other legal forms of same-sex unions). Gay and lesbian couples were already barred from marriage by law in North Carolina, but 61 percent of voters decided to enshrine discrimination in the state constitution anyway.
Perhaps you are wondering why Becky and Sanne chose to live where they do, considering that most North Carolinians do not see them as devoted and loving wives and mothers worthy of equal protection under the law. For them, it was a no-brainer. First, they wanted to raise their daughter near the friends, family and mountains they love. Plus, there was no way that they were ever going to live overseas and wait for change to happen before following their hearts home. Rather, they were determined to be in the thick of the fight for equality, advocating for the kind of world where any parent, gay or straight, would want to raise their child -- one characterized by respect and equal opportunity.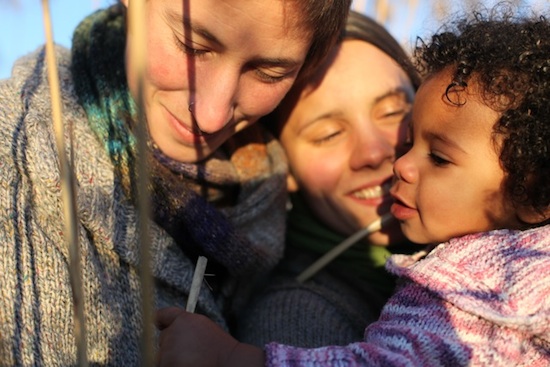 Becky and Sanne are living their lives unapologetically and by example where change is needed most. They are literally on the front lines, sharing their story with whomever will listen, making their case in the most influential court in the land: the court of public opinion. They are as strong and positive as people in their position could ever be. But they are struggling with not knowing whether they will be able to reap the benefits of their tireless work.
After all, the Defense of Marriage Act is still in full effect, ensuring that even though these upstanding and dutiful women are married, Becky cannot sponsor Sanne for a green card to live and work in the United States, as is possible for opposite-sex couples. Without a green card, Sanne has no legal status in the United States, despite having entered legally. Raising a family solely on Becky's modest middle-school teacher's income is almost impossible. Both women are desperate to "root down" and plan their future, for themselves and for the well-being of their beautiful daughter. Instead, even the most basic decisions, such as whether to splurge on a new kitchen table, are soured by the inevitable question: "What if?"
When you announced that your administration would no longer defend DOMA in federal court, Becky and Sanne hoped that you would take steps to ensure that they were recognized as deserving of the same rights and protections of all American families -- especially the right to be secure in calling this country home. Like so many other binational same-sex couples, they know that you can implement interim solutions offering them at least a temporary reprieve from the anguish and uncertainty that haunts their every day. Now more than ever, executive branch action in defense of families like Becky and Sanne's is imperative.
As president, you have championed equality for gays and lesbians, including the right to have our marriages treated equally under the law by the federal government. In your recent inaugural address, you noted that "if we are truly created equal, then surely the love we commit to one another must be equal as well." The love that Becky and Sanne share is inviolable, strong and precious. It is equal, and it must be protected.
Taking no action is inconsistent with the ideals fought for by brave citizens at Seneca Falls, Selma and Stonewall. If we are to carry on the fight for civil rights, every day counts. Becky and Sanne are doing their part. As president, you can ensure that their green card petition is not denied but put on hold until either the Supreme Court strikes down the Defense of Marriage Act or Congress passes an immigration reform bill that includes the gay partner provision you put forward.
You are the president who spoke of change. These are your faithful warriors. Help them get to the Promised Land.
Los Angeles-based writer and filmmaker Brynn Gelbard started the DeVote Campaign in 2010 after having to cancel her wedding because of the passing of Proposition 8. For more, visit devotecampaign.com, facebook.com/devotecampaign and twitter.com/devotecampaign.
In 2010, with his law partner, Noemi Masliah, Lavi Soloway launched the DOMA Project, a campaign to stop the deportations, separations and exile of binational lesbian and gay couples. For more, visit www.domaproject.org, facebook.com/thedomaproject and twitter.com/gaybinationals.
Follow Lavi Soloway on Twitter: www.twitter.com/lavisoloway