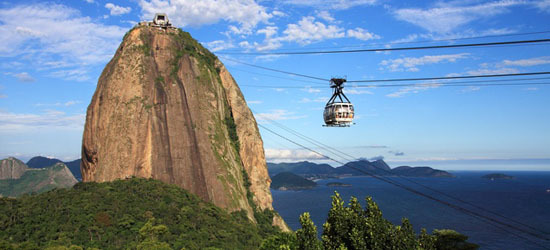 Photo Courtesy of Dreamstime. Article by Kaeli Conforti of Budget Travel.
Cable cars and aerial trams around the world give you access to brilliant panoramic views without having to go through the effort of hiking a long, winding trail up a mountain or trekking through the wilderness in search of the perfect vantage point. We scoured the globe to find the most travel-inspiring views, whether you're seeking a relaxing ride in Rio or want to try capturing a different angle of the New York City skyline. All you have to do is sit back, relax, and enjoy. And don't forget your camera!
Click here to see photos of the world's most beautiful cable car rides!
Sugarloaf Mountain Aerial Tram: Rio de Janeiro, Brazil
Sugarloaf Mountain has always been a major Rio de Janeiro landmark -- the city itself was founded at the mountain's base in 1565. The Sugarloaf Mountain Aerial Tram was built in 1912, turning Rio de Janeiro into a major tourist destination. Able to carry up to 65 passengers at a time, the cable car offers two rides -- first the 722-foot climb to Morro da Urca, then the 1,300-foot rise to the Sugarloaf Mountain summit -- and 360-degree views of Copacabana, Ipanema, Guanabara Bay, and the Corcovado Mountains, as well as a peek at the statue of Christ the Redeemer that this area is known for. Take a lunch or shopping break mid-way at Morro da Urca and visit the Bondinho exhibit at the mountain's summit for a look at the role Sugarloaf Mountain has played throughout modern Brazilian history.
How to ride: Tickets cost $27 for adults and $13 for children ages 6-12; children six and under ride free. Cable cars depart every 20 minutes between 8 a.m. and 9 p.m. Click here for directions from touristy Copacabana and Downtown Rio de Janeiro.
Table Mountain Aerial Cableway: Cape Town, South Africa
Treat yourself to 360-degree views of Cape Town, the Helderberg Mountains, Blue Mountain Beach, Sunset Beach, Devil's Peak, Camps Bay, Robben Island, Signal Hill and Lion's Head, the Cape Town Stadium, and the 12 Apostles with a ride on the Table Mountain Aerial Cableway. Cable cars depart every 10-15 minutes and make the 3,559-foot climb up the 260-million year old Table Mountain in under five minutes. More than 20-million visitors have taken a ride since the Cableway opened in 1929. At the top, buy a souvenir, dine in a restaurant while enjoying gorgeous mountaintop views, opt for a short nature walk through Table Mountain National Park or try a longer hike along the top of the mountain down to the Kirstenbosch National Botanical Garden or the Silvermine Nature Preserve. Sip wine while watching a magnificent sunset, or if you're feeling especially gutsy, Abseil Africa offers the opportunity to rappel down the side of Table Mountain, sure to be a memorable experience, if you're brave enough to do it.
How to ride: The Table Mountain Aerial Cableway is located 15 minutes from the city center on Tafelberg Road in Cape Town. Adults pay $20 for a round-trip ride while children ages 4-18 pay $10 when tickets are ordered online; children under age four ride free.
Skyline Gondola Queenstown: Queenstown, New Zealand
First opened in 1967, the Skyline Gondola Queenstown offers 220-degree panoramic views of some of New Zealand's best natural highlights including Coronet Peak, Walter Peak, Cecil Peak, The Remarkables, and Lake Wakatipu as you rise 1,476-feet over Queenstown. A variety of activities are available once you reach the top of Bob's Peak -- try a scenic nature walk or take advantage of one of the many area bike trails. The Skyline Queenstown Luge is open year-round, and you can choose between the easy-going scenic track with simple turns and dips, and the advanced track with steeper hills and sharper turns. A special section of the mountain is reserved especially for stargazing -- there is no light to obstruct your view of the universe, and with access to telescopes, you'll be able to spot planets and an endless array of stars. For a unique cultural experience, catch a performance of Kiwi Haka, a show celebrating traditional Maori music, dance, and legends. Activity prices may vary -- check the website for ticket packages that combine gondola rides, dinner, and the Kiwi Haka performance.
How to ride: Skyline Gondola tickets cost $26 for adults and $15 for children, or you can pay $74 for a family pass for up to four people. Gondolas run from 9 a.m. thru 9 p.m. while the luge is open from 10 a.m. thru 5 p.m. in the winter and until 9 p.m. during the summer months.
Roosevelt Island Tramway: New York City
Originally built in 1976 as a way to help Queens residents reach their offices in Manhattan, the Roosevelt Island Tramway is now a part of New York City's transportation system, making it the only commuter cable car in North America. The Tramway carries up to 125 people at a time and crosses 3,100 feet at 16 miles an hour in less than five minutes, all while providing scenic views of the Queensboro Bridge, the East River, and the Upper East Side. After crossing from Roosevelt Island, the Tramway leaves visitors at 2nd Avenue between 59th and 60th streets, allowing easy access to subways that connect you to the rest of the city, or on a nice day, opt for a 15-minute walk through the Upper East Side to Central Park. The best part: the Roosevelt Island Tramway is all yours with the swipe of a regular New York City Metrocard, the same card used to ride subways and buses throughout the five boroughs. In other words, you'll get a memorable ride with stunning views for $2.75, the cost of a subway ride.
How to ride: Trams operate from 6 a.m. to 2 a.m. Sunday thru Thursday, and from 6 a.m. to 3:30 a.m. on Friday and Saturday. Please note that morning rush hour takes place between 7 a.m. and 10 a.m. with evening rush hour between 3 p.m. and 8 p.m. Prepare for large crowds during those times and plan accordingly.
Click here to see three more of the world's most beautiful cable car rides!
More From Budget Travel:
10 Best Budget Destinations for 2014
10 Stupidest Things Americans Do Overseas
40 More Passport Stamps Worth Bragging About
13 Travel Products You'll Need This Winter
11 Bucket List Adventures You Can Actually Afford
Want the inside scoop on the hottest travel deals? Sign up for our free e-newsletter and follow us on Twitter, Facebook, Pinterest, and Instagram.