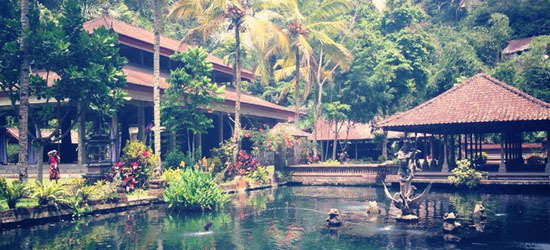 Photo and article by Milda Ratkelyte, contributor to Budget Travel.
Known as The Island of the Gods, Bali is Indonesia's most popular tourist destination. Once a secret of surfers, Bali has now become one of the world's biggest tourism hubs. From its wave-pounded coastline of dramatic cliffs and black sand beaches, on through the swaying green rice terraces of the lowlands and into lush, dense jungles of its interior, Bali truly has something for everyone. Bali is also home to some of the world's best hotels and resorts and the good news is that there are a bunch of amazing hotels available that will not empty your pockets. As a frequent traveler to Bali, here is my personally tried and tested list of five amazing hotel stays under $100 a night.
Indigo Tree, Ubud
Imagine walking on warm stone paths, surrounded by coconut trees leading to a beautiful turquoise pool, uncovering the views of lush green jungles and rice fields in the horizon gently touched by the rising sun. That was my first experience at Indigo Tree in Ubud, Bali. Tucked away from all the hustle and bustle of Ubud, Indigo Tree is located about two miles from the Ubud Royal Palace and the Ubud Traditional Market. While there is free Wi-Fi throughout the entire property, this is not your typical resort so don't expect luxurious toiletries or fine dining restaurants. However, the beauty lies in the warmth of hospitality provided by Indigo's small resort team. Every morning you will be spoiled with a hearty and healthy breakfast and, upon request, you will be home-cooked mouthwatering local dishes served in a beautiful open air lobby overlooking the pool. From $70 a night.
Sri Bungalows, Ubud
SRI means the Goddess of the Rice, a symbol of prosperity. Sri Bungalows is located at the heart of Monkey Forest Street, only five minutes away from the famous Monkey Forest and Ubud Central Market. If you are looking for an authentic Balinese style accommodations, Sri Bungalows is perfect with its elegantly peaked thatched roofs, ceramic tiles, and bamboo and wood decorated bedrooms. The property is surrounded by the lush gardens, and vast coconut and banana plantations while the swimming pool overlooks rice paddies. The hotel is within walking distance to the center of Ubud, the arts and culture centre of Bali where you can check out local artist exhibitions, traditional dances, boutique clothing and cosmetics shops, antiques shops, and amazing array of restaurants ranging from healthy vegetarian options to hearty Balinese cuisine. From $55 a night.
Tony's Villas, Seminyak
Located in the midst of bustling Seminyak area in Bali, an area famous for its white sandy beaches, boutique cafés and shops, Tony's Villa is tucked among the lush greenery and away from the city noise. With its open air lobby featuring huge white plush sofas to chill on while watching the sun set over a cascading water pool with floating white and pink frangipani blossoms, it's a perfect spot to relax. Narrow stone-paved paths lead to private villas, each featuring a small front patio. What I loved most about the rooms at Tony's Villas was the huge windows, which in the morning brought a lot of natural light in--the perfect way to wake up. This is a great spot for couples, friends, or families. It's just 10-minutes walk to Seminyak's main street and a five-minutes walk to the famous Potato Head Beach Club, where you can spend a lovely day in the sun sipping unique crafter cocktails in an infinity pool overlooking the ocean. At the same time, it's so secluded that you feel like in the middle of the rainforest with nothing around you, providing the kind of privacy and exclusivity that many wish for. From $70 a night.
Ananta Hotel, Legian
Charming, warm and relaxing are three ways to describe the Ananta Legian Hotel. Located on the world famous Legian strip featuring boutique restaurants, shops and cafés, as well as stunning and serene beaches, the hotel boasts a unique design which balances an elegant act of artistic and pure simplicity. It takes you back to the Roman times with its huge rising pillars and pyramid shaped glass lobby. All the rooms overlook the huge pool located in the center of the hotel. That's where you can enjoy your hearty breakfast every morning as well. Try out Ananta's rooftop bar, where you can wind down to the feel of the sea breeze, the sound of the waves, and the relaxing cool colors of nature surrounding you while you sip refreshing cocktails. Ananta is also famous for its extraordinary hospitality which can be seen by the large amount of compliments on guest reviews. From $70 a night.
Horison Seminyak Hotel
The Horison Seminyak Hotel is located about 30 minutes away from Ngurah Rai International Airport and only a 10 minutes stroll from the Double Six Beach, famous for its gentle waves, expanses of white sand, and brilliant sunsets. The Seminyak strip, full of various dining options, boutique stores, arts centers, and bustling clubs and bars, and is just a stone's throw away as well. The hotel's deluxe pool view rooms are very spacious and bright with heaps of natural light coming in through the floor-to-ceiling windows, while each features a terrace overlooking the pool--a great spot to relax in the evening as you watch the sun set over the rice fields on the horizon. Hit the breakfast buffet at the Mantrimanika, located on the ground floor of the hotel, and grab your seats next to the pool, where the view of the sun rising reflecting on the still pool water is stunning and a great way to start your morning. From $70 a night.
This article was written by Milda Ratkelyte, the travel community manager at AsiaRooms.com. She is currently exploring Asia and capturing the best moments in stories, photos, and films.
More From Budget Travel:
The RIGHT Way to Pack Your Luggage!
13 Travel Products You'll Need This Spring
OOPS! How Not to Embarrass Yourself in a Foreign Country
10 Flight Attendant Secrets I Wish I'd Known Before My Last Flight
10 Best Budget Vacations for Spring
Want the inside scoop on the hottest travel deals? Sign up for our free e-newsletter and follow us on Twitter, Facebook, Pinterest, and Instagram.