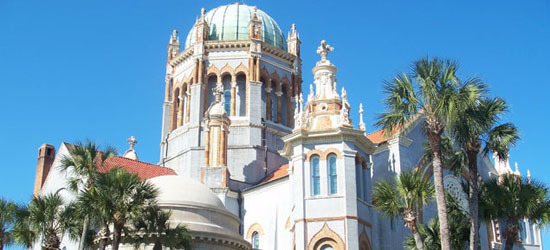 The Memorial Presbyterian Church in St. Augustine was built by railroad magnate Henry Flagler.
Photo Courtesy Ebyabe/Wikimedia Commons. Article by Kaeli Conforti of Budget Travel.
Whether it's a grand cathedral the length of two football fields or a stunning chapel that has been hand-crafted deep in the forest, the most beautiful churches in America are as diverse as the country itself. From coast to coast, we found six of the most architecturally inspiring churches. No matter what your religious affiliation is, everyone can find enlightenment in the towering domes, mosaic artworks, and impressive sculptures, not to mention the stories behind these buildings.
Click here to see photos of America's most beautiful churches!
The Cathedral Church of St. John the Divine, New York City
The Cathedral Church of St. John the Divine is well worth the 20-minute subway ride from Times Square. The Episcopal Cathedral takes up an entire block and is tall enough to hold the Statue of Liberty. In fact, the only church that beats it in size is St. Peter's Basilica in Vatican City. The limestone-granite structure is impressive enough to rival any European church -- but it didn't begin looking quite the same as it does now. When architects George Heins and Christopher Grand Lafarge first built the structure in 1892, they designed it in Romanesque-Byzantine style. Several fires and a couple of decades later, Ralph Adams Cram took over the structure and transformed it into the French Gothic style we see today. The Great Rose Window above the bronze doors on the Cathedral's Amsterdam Avenue side is the largest stained-glass window in the U.S., with more than 10,000 pieces of colored glass. Make time to stroll around the 13-acre grounds too -- in addition to the cathedral's impressive Peace Fountain, which depicts the battle between good and evil, white peacocks roam the grounds too and if you're lucky you'll spot one.
Visit: The Cathedral is open daily from 7 a.m. to 6 p.m. Several guided tours and workshops are available from $10 per person. 1047 Amsterdam Avenue at West 112th St., 212/316-7490, stjohndivine.org.
Washington National Cathedral, Washington, D.C.
There is no shortage of churches in Washington, D.C., but none quite so noteworthy as Washington National Cathedral (officially called Cathedral Church of Saint Peter and Saint Paul). Not only has this religious institution been the site of 21 presidential funerals -- from William McKinley in 1901 to Gerald Ford in 2007 -- but national heroes such as Helen Keller and Woodrow Wilson are interred here. As befitting our capital, the 517-foot-long building is an imposing ode to worship. The design is Neo-Gothic through-and-through, from its limestone exterior with its steep arches to its stained glass windows and flying buttresses. It took 83 years to build and was only officially finished in September of 1990. The modern completion led to a surprising detail -- a sculpture of Darth Vader at the top of the west tower (a contemporary representation of evil). Standing in for good, you'll find a more traditional approach to religious sculpture -- 288 angels. Head up to the Pilgrim Observation Gallery near the Wisconsin Avenue entrance for magnificent 360-degree views of Washington, D.C.
Visit: The Pilgrim Observation Gallery is open Monday thru Friday from 10 a.m. to 5 p.m., 10 a.m. to 4 p.m. on Saturday, and from 1 p.m. to 4 p.m. on Sunday. Several guided tours are available for from $10 per person, including an inside look at the Cathedral's art and architecture among other behind-the-scenes tour options (online reservations are required). 3101 Wisconsin Ave. NW, 202/537-6200, nationalcathedral.org, requested contribution of $10 per person.
Thorncrown Chapel, Eureka Springs, AR
Located deep in the heart of the Ozark Mountains, Thorncrown Chapel sits on top of 100 tons of local stones, allowing it to blend almost entirely into its natural surroundings. The 48-foot-tall structure also has 425 windows to let in views of the forest growing around it. Arkansas native Jim Reed originally purchased the land as a place to put his retirement home, but instead decided to create a peaceful spot where travelers could worship in a natural setting. Native pine was used to build the structure, and every piece of wood was literally carried in, since using large trucks would disturb the integrity of the forest.
Visit: Thorncrown Chapel is open to visitors April thru November from 9 a.m. to 5 p.m., but it's smart to call ahead in case it is closed for a special event. 12968 Highway 62 W, 479/253-7401, thorncrown.com.
Memorial Presbyterian Church, St. Augustine, FL
Built in 1889 by Henry Flagler as a memorial to his daughter following her untimely death due to childbirth complications, Memorial Presbyterian Church is Florida's oldest Presbyterian Church. The design was inspired by Venetian Renaissance style (namely St. Mark's Cathedral) and the church features a 150-foot tall copper dome with a 20-foot tall Greek Cross at the top. Inside, the great Baptismal Font was carved from a solid chunk of Siena marble while the floor is modeled after a classic Venetian floor pattern using different sized square and rectangular tiles. The choir performs from behind an ornately carved screen, and every pew, door, and panel is carved from a rich mahogany from the Dominican Republic. Flagler himself was the son of a Presbyterian minister and he later designed the stained glass windows you see today depicting the lessons of the Apostles' Creed. The bell tower and the five pillars that surround the church actually predate the structure -- they were incorporated from another building that housed this congregation that dated back to 1826.
Visit: Free guided tours are offered Monday thru Saturday from 9 a.m. until 4 p.m. Sunday services are also open to the public. 32 Sevilla St., 904/829-6451, memorialpcusa.org.
Grace Cathedral, San Francisco, CA
Grace Cathedral in San Francisco's Nob Hill has a look reminiscent of the Notre Dame Cathedral in Paris. The elaborate stained glass windows were inspired by biblical stories -- the Passion, Crucifixion, and the Beatitudes are depicted in the St. Matthew window and the story of Christ healing the paralyzed man is shown in the St. Mark window. The masterpiece is the window illustrating the Twenty-Third Psalm (The Lord is my shepherd, I shall not want). It was created in the medieval style of presenting the scene from the bottom up, so that it symbolically rises to heaven. Grace Cathedral is also home to an indoor and outdoor Labyrinth, recalling a tradition dating back to France's Chartres Cathedral in 1220 when people would walk the winding path of the design as a way to release their troubles, meditate, and return to God's healing power. The Cathedral has been hosting celebrated authors and scholars ever since it was completed in 1964 -- Dr. Martin Luther King, Jr. preached here in 1965 and crowds reportedly filled the Cathedral, front steps, plaza, and parking lot. Archbishop Desmond Tutu, Jane Goodall, Isabel Allende, Carlos Santana, Sandra Day O'Connor, and the Dalai Lama have all been honored speakers at Grace Cathedral's Gresham Hall.
Visit: Several free Cathedral tours are led daily by volunteers and you can download a free visitor guide from their website. 1100 California St., 415/749-6300, gracecathedral.org.
The Cathedral of Saint Andrew, Honolulu, HI
Located in Honolulu's historic district, the Cathedral of St. Andrew serves as a reminder of Hawaii's long Anglican (Episcopalian)-Hawaiian history. In 1861 the reigning royalty offered up a portion of their royal garden and Queen Emma herself later traveled to England to raise money and commission arches and limestone columns (the rest of the stones were quarried in Western Oahu). Hawaii's first Gothic vaulted Cathedral was finally completed in 1886 as a memorial to Queen Emma's husband, King Kamehameha IV. The colorful Great West window of the Cathedral was the largest hand-blown stained glass window ever built at the time. Queen Emma is also given credit for being the force behind St. Andrew's Priory School for Girls, which shares the property and doubled as Oxford College among other locations on the television show Lost -- the stained glass windows of the Cathedral's Parke Chapel and the Gothic arches of Davies Hall are also featured in a number of episodes.
Visit: Services at the Cathedral are given in English and Hawaiian (see the schedule here). Visit on Sunday at 8 a.m. for a chance to see The Hawaiian Choir sing traditional hymns, or on Sunday at 10:30 a.m. to hear The Cathedral Choir, which has been performing for almost 150 years. 229 Queen Emma Square, 808/524-2822, thecathedralofstandrew.org.
Click here to see six more of America's most beautiful churches!
More From Budget Travel:
Vote Now: America's Coolest Small Towns 2014!
10 Best Budget Destinations for 2014
40 More Passport Stamps Worth Bragging About
13 Travel Products You'll Need This Winter
11 Bucket List Adventures You Can Actually Afford
Want the inside scoop on the hottest travel deals? Sign up for our free e-newsletter and follow us on Twitter, Facebook, Pinterest, and Instagram.