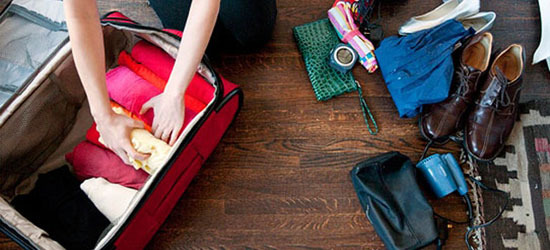 Photo courtesy of Michael Mohr. Article by Ryan Murphy, contributor to Budget Travel.
Sunscreen? Check. Extra socks? Double-check. There are some things you'll never forget to pack, whether you're headed to the Swiss slopes or the wilds of Africa. But your go-to packing checklist will only get you so far. Each unique vacation type -- from a rugged eco-tour to a weekend getaway to a Mexican beach escape -- comes with its own packing needs. Maximize your suitcase space by following our handy guide to what to bring and what to leave at home. You may be surprised by what we've uncovered!
CRUISE
Bring: An alarm clock
If you want to wake up for that oceanside sunrise, pack your own gear: Very few cruise lines stock alarm clocks in their cabins. The no-alarm rule isn't universal -- Euro River Cruises and One Ocean Expeditions, for two, offer cabins with alarms -- but most major cruise lines don't specify alarm clocks in their amenities. It's best to come prepared with something jangly and loud. (This rule is especially important if you're in a windowless interior cabin, where day and night hours look completely identical.)
Leave at home: Irons and other items with heating elements
When it comes to appliances, there's no hard and fast rule for what's allowed or prohibited on cruises -- each line sets its own policies. Some, like Norwegian, allow hair dryers and curlers, while banning hotplates, clothing irons, and "any other item that may create a fire hazard." Disney and Royal Caribbean add coffee makers to the do-not-bring list; Cunard merely prohibits "inflammable or hazardous items," leaving the actual definition of such items to their own discretion. The safest course of action is always to contact your specific cruise line before embarkation to avoid the embarrassment of having to bail your bag out of the ship's banned-items jail.
ECO-TOUR
Bring: Extra batteries or a solar charger
Your camera battery just died, and your back-to-basics eco-lodge has no outlets. To avoid getting caught with your power down, stock up on replaceable batteries for your camera, flashlight, and other gadgets if your tour operator can't guarantee charging solutions. If you're the type to take your cell phone everywhere, there are other eco-friendly solutions. Samsonite Luggage Window Solar Charger (shop.samsonite.com, $50) fits most cell phones and takes 13 hours of sun to juice up completely. For the iPhone junkie, Eton's Mobius Rechargeable Battery Case with Solar Panel (etoncorp.com, $80) is compatible with the latest 4 and 4S models, and since it doubles as a heavy-duty phone case, you'll get the power of the sun and defense against drops and dings.
Leave at home: Mosquito nets
Let's not gloss over the risks: According to the World Health Organization, 30,000 travelers become infected with malaria every year. Add in yellow fever, encephalitis, and dengue fever, and the little buggers are a serious concern in tropical and subtropical areas. Luckily, most eco-tour operators know the hazards and provide mosquito nets for guests -- making nets one less item to cram into your overstuffed bag. Instead, use that extra space for malaria prevention medication and an effective DEET-based insect repellent.
ROAD TRIP
Bring: A multitasking car charger
There's nothing worse than the strains of "On the Road Again" petering out halfway through your road trip because your iPod has lost its charge -- except maybe getting lost in the middle of the desert because your smartphone, and its mapping app, also conked out. Give yourself (and Willie Nelson) a hand and pack a reliable car charger for your music player, phone, and other electronics. ThinkGeek's Power Bullet Charger (thinkgeek.com, $15) amps up the juice with dual USB ports, allowing you to charge two devices at once from a standard car cigarette lighter. And when you reach your hotel, it plugs into a standard wall socket to keep the electrons flowing.
Leave at home: Caffeine pills
We know, we know -- Amarillo is almost on the horizon and you just need one last boost of late-night energy to make it. Unfortunately, while there's little risk in moderate caffeine use, popping those pills -- or slurping down energy drinks -- can make you a hazard to yourself and other drivers. According to the National Institutes of Health, caffeine intoxication can result in tremors, tachycardia (increased heart rate), and "psychomotor agitation." Pill concentrations vary, but the 200 milligrams of caffeine in over-the-counter Vivarin is equal to two and a half cans of Red Bull -- and too much of either can spell danger. Pull over and take a rest instead. Amarillo will still be there in the morning.
AMUSEMENT PARK
Bring: Ready-to-eat snacks
Every good penny pincher knows to pack his own snacks when visiting a pricey theme park. But remember: Not all foods are the same when it comes to theme park policy. Although Disney World allows you to bring in outside food, state law prohibits employees from "storing, preparing, cooking, or reheating any food" brought in by guests. That means everything must be completely ready to eat -- no instant oatmeal or Easy Mac! (Universal Resort has a similar policy.) Another item you'll have to provide yourself at Disney: chewing gum. Walt reportedly hated the goopy stuff and banned its sale within the parks. Draconian? Your shoes won't think so.
Leave at home: A first-aid kit
It's tempting to over-prepare for an emergency, but the House of Mouse and other major amusement parks have you covered when it comes to basic health issues. Each Disney theme park has first-aid stations staffed by certified nurses who are equipped to fix minor scrapes and internal ailments. You'll find a wide array of free products, from Tylenol to Tums to bandages, in addition to blood pressure checking stations. Universal Resort, Six Flags, and Cedar Point offer similar first-aid stations at their parks, so there's no need to fill up your pack with pills you may end up not even needing.
MEXICAN VACATION
Bring: Eco-friendly sunscreen
Chances are, you won't forget sunscreen on your beach vacation. But you may need to do a little research ahead of time to make sure you're bringing precisely the right kind of lotion. Chemicals in your sunscreen can have a negative effect on fragile coral reef ecosystems, and some Mexican eco-parks, including Xel-Há and Xcaret, are protecting them by banning sunscreens that contain certain compounds. Before crossing the border, look for lotions that are light on the questionable chemicals, such as paraben, cinnamate, and benzophenone. Opt instead for eco-conscious brands like Burt's Bees (burtsbees.com) and Tropical Seas (tropicalseas.com).
Leave at home: Charitable donations (unless you've planned ahead)
Many American travelers hope to turn their trip abroad into an opportunity to help out; a popular plan is to bring clothing to donate to a local orphanage or charity. But know before you go: According to the U.S. Department of State, Mexico's customs regulations prohibit the importation of used goods, including all textiles. So that pile of clothing you're intending to hand out in Tijuana might not make it south of the border. Donations of medicine and other items are allowed, but they must be approved and arranged in advance with Mexico's customs department. You can still do good -- just arrange it beforehand instead of hoping for negligent border patrol officials.
Click here to see the right way to pack for three more vacations: a weekend getaway, an all-inclusive resort, and a ski trip!
More From Budget Travel:
Budget Travel Video: America's Most Beautiful Sunsets (Plus Deals to Get You There!)
30 Places Every Kid MUST See
Airlines' Dirtiest Secrets!
13 Travel Products You'll Need This Spring
Budget Travel Video: Secrets of Hawaii's Big Island!
Want the inside scoop on the hottest travel deals? Sign up for our free e-newsletter and follow us on Twitter, Facebook, Pinterest, and Instagram.