By Kristin Rooke, CPT
With Thanksgiving just behind us, my guess is that you have some leftover turkey in the fridge. If you're looking for a healthy way to use your Thanksgiving leftovers, I recommend giving these healthy tacos a try.
While this recipe originally used ground turkey, in this case you'll be using your leftover turkey meat. Just shred the meat and then follow the cooking instructions to create a delicious post-Thanksgiving meal that won't weigh you down.
Leftover Turkey Tacos
Servings per recipe: 1 large meal, or 2 smaller meals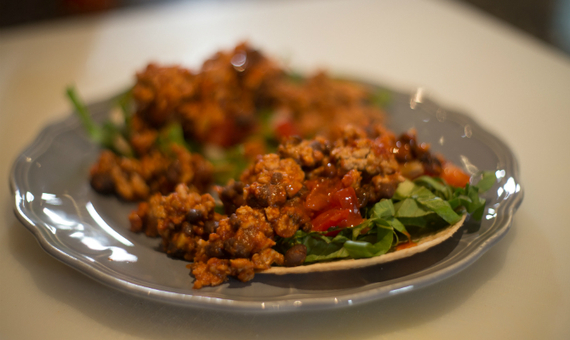 Ingredients:
Instructions:
2 Corn Tortillas
1. Heat the olive oil in a skillet over medium heat. Add the garlic and turkey meat, and cook until the meat is browned. Add the black beans and tomato paste, and stir until it's hot. Turn off heat, and let sit for 5-minutes.


2. For the pico de gallo, combine the chopped tomato, chopped onion, lime juice, and a pinch of salt in a bowl. Gently mix it all together.


3. Heat the tortillas, and put them on a plate. Layer each tortilla with lettuce, ground turkey & black beans, pico de gallo, and shredded cheese. Enjoy!

6 oz Ground Turkey
½ cup Black Beans, rinsed
1 clove Garlic
2 tbsp Tomato Paste
1 tbsp Olive Oil
1 cup Lettuce, shredded
½ cup Tomato, chopped
¼ cup Yellow Onion, chopped
½ Lime
To Taste: Salt & Pepper
Optional: Hot Sauce
| | | | | |
| --- | --- | --- | --- | --- |
| Nutrition Info: | 612 calories | 59g carbs | 55g protein | 19g fat |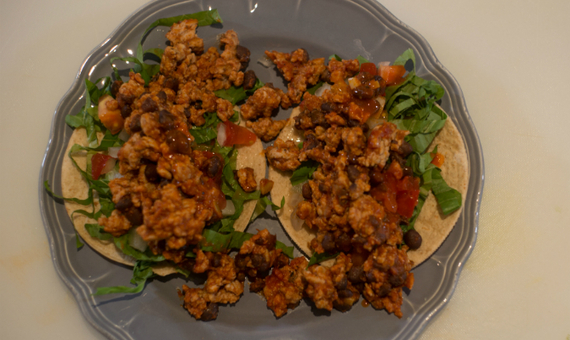 If cheese isn't your thing, you can absolutely substitute ½ an avocado instead. Avocado is a great source of healthy fats, and adds a delicious creaminess to these tacos.
Give these turkey tacos a try, and let us know what you think!
More From BuiltLean: