This was McDonald's Corp. CEO Don Thompson's pledge during last week's Q1 earnings call: "Throughout the year, we will feature even more compelling new products in the United States, especially in our four key growth categories of chicken, premium beef, breakfast and beverages."
And from where will these great new menu items come? Said COO Tim Fenton, "We're doing more with existing products we had in different countries and ... we're finding out that great products travel really easily across country borders." He cites recent imports Chicken McBites (from Australia) and the CBO (from Europe).
Assuming McDonald's is serious about its intention to further raid its global menus for LTOs, I offer this modest proposal: Import these 12 ready-to-market items to the U.S., all of which have appeared on McDonald's menus somewhere roughly in the past year. I'm excluding items that don't have a chance to succeed with Americans, such as the Chicken Curry and Sweet-and-Sour McNoodles from Austria or kiwi-on-a-stick from Italy. The 12 items I've selected could increase customer traffic, which is what Thompson says McDonald's must do in a zero-growth eating-out marketplace. Those four key categories are breakfast, premium beef, chicken and beverages, you say? Here goes:


BREAKFAST
◊ Is it possible McDonald's in Malaysia has a cooler breakfast menu than the U.S.? What would Ray Kroc say to that? The "Mega Indulgent Weekend" breakfast menu in Malaysia includes a Chicken McMuffin with Egg. Add that to the U.S. menu; remove the boring Southern Style Chicken Biscuit. If you also want to add either or both the Double Egg McMuffin and the Double Sausage McMuffin now on offer in Malaysia, that's fine. But the breakfast menu needs chicken.
◊ Breakfast also could use something hearty with cult appeal of McRib. Something like the McMuffin BBQ Pork sandwich in Germany. Pork sausage, double cheese, lettuce, BBQ sauce and muffin. Hit.
◊ McDonald's has rolled out the McWrap here as a chicken item. Take a lesson from your stores in Poland and offer the Breakfast McWrap with eggs and bacon. It's big so it doesn't have to be sold in pairs as the little Steak and Egg Burritos are now.

PREMIUM BEEF
◊ Yes, the 1955 Burger. What is the delay here? This burger, introduced nearly three years ago in Germany, has been an LTO in just about every European market at least once. Some are on repeat visits. It's named for the year Kroc opened his first restaurant in Des Plaines, Ill. Don't you think it would sell in Des Plaines (at least when the current flood there subsides)? Beef, caramelized onions, bacon, BBQ sauce: We can handle it.
◊ The M. This is one of the first "upscale" burgers McDonald's added to its global menu when fast-casual's rise pushed it to improve quality perceptions. The M and its signature bake-shop roll is a hit in Europe and the UK, but has come to visit here. Let's do it.
◊ How about a mini burger? Not like the Snack Wraps where you cut up a burger patty and roll up the bits but a real one. The Le Petit McBaguette mini burger on a French roll has done well in France. Why wouldn't it score here as a premium-price snack?
◊ Flatbread is on-trend. Wendy's has it now with chicken; Burger King did a Lamb Flatbread in the UK; Subway has offered it for years. So consider the Greek Mac--beef, yogurt sauce, red onion, tomato and lettuce on pita bread--that's currently menued at McDonald's in The Netherlands. I predicted this would be the Year of the Bun; help me out here.

CHICKEN
◊ Two words: Chicken Box. Across Europe McDonald' offers customizable chicken-snack boxes. You can mix Chicken McNuggets, Chicken Sticks or Chicken McBites in a box of 3, 5, 10, 20 or whatever. Let's try it.
◊ "Two all-chicken patties, lettuce, cheese..." The Chicken Big Mac has floated around the McDonald's system for years, most recently appearing in Arab markets. You want a premium-price chicken item that benefits from an iconic name? Here it is.
◊ The current Spicy McChicken is small and not very spicy. Let's bring in the Spicy Thai McBistro Chicken, which is bigger and truly spicy. This sandwich is from Canada where they're more innovative with chicken (see the earlier McMini).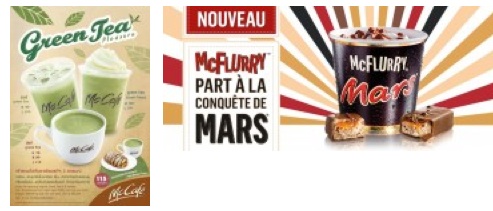 BEVERAGES, DESSERTS
◊ McCafé at McDonald's in Thailand has a line of green tea drinks, including hot green tea, Iced Green Tea and a Green Tea Cream Frappé. The iced and frappé versions would sell here and add some international flair to the beverages menu.
◊ In almost every market except the U.S., McDonald's uses the McFlurry as a key menu-promotion element. The McFlurry has been overlooked here lately. Correct that by offering the Mars McFlurry with candy-bar pieces that the Belgians are enjoying. The nutritionists will howl, but it's a limited-time indulgence. And nutritionists probably will buy one, too.