Giraffas was a small burger joint in Brazil when engineering student Carlos Guerra bought it 30 years ago. He kept the fanciful name and expanded it into one of the country's largest quick-service burger chains. The first of Giraffas Brazilian Steaks & Burgers' three U.S. locations opened in Miami in 2011 and more are under construction. Franchising begins in 2014. The menu focuses on burgers, priced from $7.90 for a Grilled Picanha Single up to $11.90 for the Giraffăo Filet Burger (with cheese bacon and egg). But steaks, pasta, fish and more also are offered. BurgerBusiness.com talked with Giraffas' U.S. Marketing Director Carlos Vanegas about Brazilian burgers and cracking the American market.
You must already be adept at marketing against McDonald's, Burger King and other American-style quick-service restaurant [QSR] brands since most of them operate in Brazil.
We've operated in Brazil for 31 years and have more than 350 restaurants there so yes, we've been around the block a few times. And in Brazil we happen to be a QSR concept. I mention that because we are establishing a different concept in the United States precisely for the reason you just mentioned.
In Brazil Giraffas is a QSR that appeals to national pride by saying we're the homegrown alternative to McDonald's, Burger King, Subway and all the other fast-food chains. But in the United States, however, we're a fast-casual concept. We've taken it up a notch in our food quality and our service offering.
Nobody's going to come into this country and try to compete with burgers against McDonald's on a QSR level. That's suicide. Our focus is on the fast-casual audience; a more demanding, more sophisticated audience that doesn't want to break the bank when they eat out and still wants to be served quickly.

You're certainly not QSR pricing.
No, we're not. However, for the level of quality we offer in food and service--which includes service speed--it's definitely a good value. Our lowest-priced burger is $7.90. That's a 5-oz. patty with two sides [toppings] and fries included. So you can have a good meal for around $9 or $10. That's not McDonald's pricing but it's not the $15 you pay at a [full-service] restaurant, either.
Are you an "ethnic" concept or a burger concept at heart?
To the best of our knowledge, we are the only Brazilian-theme fast-casual concept out there. Most Brazilian restaurants are the steakhouse concepts such as Fogo de Chăo where you eat until you drop and it's $50 or $60 a person. They're nice for special occasions but they're not an everyday option and not who we are.
But we see our concept as a hybrid of Brazilian and American cuisines. We say we are "A Brazilian twist on what you love to eat" such as burgers. The difference is that we make it from a very Brazilian cut of beef called picanha. It's a cut that doesn't exist in the U.S. so we're cutting the meat and grinding and pattying it ourselves in each individual restaurant for now. The picanha is the cap of beef rump steak. So it's a very small section of the bull. We use it for our steaks and our Grilled Picanha Burgers. So the meat is different, although we also have New York Strip and Filet Mignon steaks, too.
In that way it's not a full-on ethnic experience. You're not taking a trip to Rio but Giraffas evokes what Brazilian cuisine is all about. We've been very well received so far. The unit we opened in Pinecrest [Fla.] is sitting next to a Five Guys Burgers & Fries. At first we thought that was going to be an uphill battle but we have been selling burgers and our other menu items like crazy.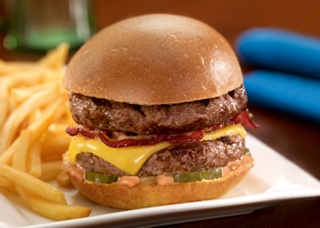 How has the reception been for all the quinoa dishes on your menu? I like quinoa but I was surprised to see that you have five quinoa-based salads?
Quinoa is a South American pseudo-cereal that has been a staple on native diets for hundreds of years. Brazil isn't in the Andes region of South America but we inherited quinoa and it became part of Brazilian cuisine and culture. Beyond that, it's one of the trendy foods out there. If you want to eat something that's filling and tasty and good for you, quinoa is the way to go! All that made us see quinoa as something that would be appealing to an American audience.
We make it our own way with corn and onions and Brazilian vinaigrette, so it's very much a Brazilian-style quinoa. And yes, it has been quite well received. So much so that initially we had it just as a side dish and in a couple of salads. But the quinoa salads have been so popular that we made it the centerpiece in all our salads except for the Chicken Filet Salad. We serve the quinoa in salads with steak, shrimp, chicken or salmon.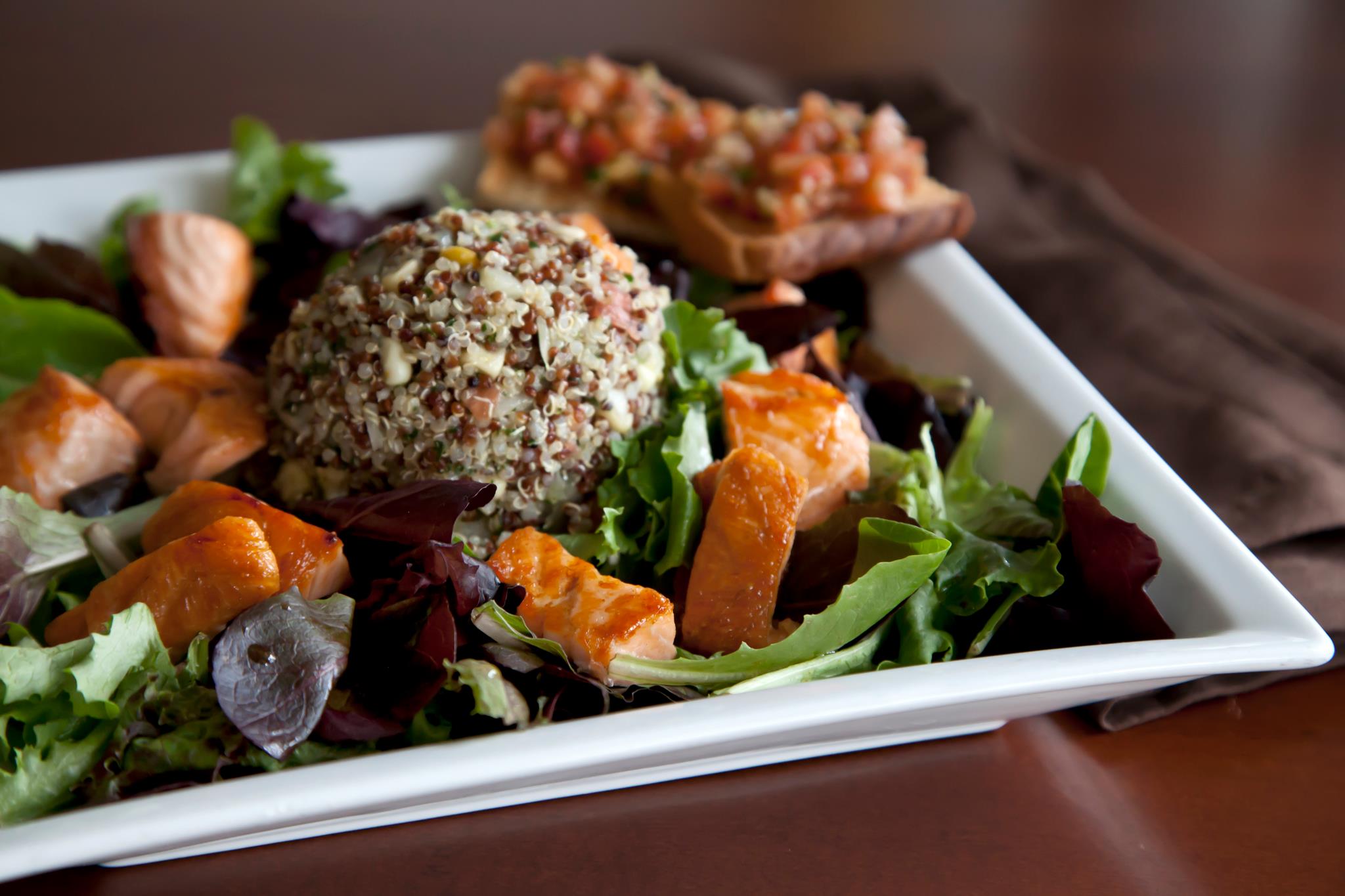 Did you consider offering breakfast?
At one point we thought about it. We tested a few ideas. Giraffas owns another restaurant in Brazil called Toastex. Brazilians born back in the '70s and '80s grew up eating grilled cheese sandwiches [at breakfast]. Giraffas owns the [grilled cheese] concept, which we're testing in Săo Paulo, Brazil, now. We looked at [offering grilled cheese breakfast sandwiches] when we opened the first Giraffas in 2011 but we figured that it's already hard to explain what Brazilian food is, so imagine trying to explain Brazilian breakfast. We put that on the back burner.
Might you reconsider it once you establish the concept?
We might. We do believe there's room for something new and different at breakfast in the U.S. For now we'll stick with our bread and butter, which is grilled foods. But once customers try our food they want to branch out. And Brazilian culture and cuisine are very diverse, like the U.S., with immigrants from across Europe.
That must explain the presence of several stroganoffs on your menu.
Exactly. Who would have thought of stroganoff as a Brazilian staple? But if you go to Brazil you'll find restaurants that sell nothing but stroganoff. Chicken stroganoff; shrimp stroganoff; beef stroganoff. We have stroganoffs [filet mignon, chicken and shrimp] but initially we're talking to people about our steaks and burgers.
But the trend spotters tell us that Americans are more open now to trying new ethnic foods. They're cautious enough that they won't try anything too far away from tradition but they are willing to try new things. Even with something as traditional as a burger, if you offer Americans something really new and different--whether toppings or, as with us, a different cut of meat with a different taste--people are willing to try it. So we think there is plenty of room for growth by us within the burger segment.
You have three Giraffas open now?
Yes, all within Miami-Dade County. We're opening our fourth and our first outside Miami in Broward County by the end of this month.

How many do you expect to have operating by year-end?
The goal is to have between eight and 12. For most we have leases signed, so I'm confident we'll have that number this year.
Past that will you move out gradually from Southern Florida or will you offer territorial licenses to speed toward a national presence?
You have to take baby steps. We started with Miami and negotiated with a group of investors from Brazil--who operate Giraffas restaurants there-to take ownership of all the locations within the state of Florida. The corporation I work for, Giraffas USA, doesn't own any and doesn't plan to operate any. We will remain solely a franchisor. The Brazilian group has the right to open 34 Giraffas in Florida over the next five years.
Beyond that we're putting together a franchising program that I'm fairly confident will be going in 2014. We'll be looking for investors, operators who already have experience. As a new brand, we prefer to go with folks who already know how to run restaurants successfully. We'll look to do deals similar to the one we have covering Florida.
We're looking at Washington, D.C., as a likely next target when we go outside Florida.
Because of its cosmopolitan, multinational population?
Absolutely. We'll always stay in diverse, cosmopolitan areas. We need diversity and an audience with high acceptance of new things. I don't see us heading to Wichita, Kan., right away, but maybe Los Angeles or Dallas or New York City. We're in the process of putting together that franchising program so we can launch it next year.
Give me a sense of your restaurants. How many seats do the first three average?
We can do different sizes but we wouldn't want to go below 60 seats and up to 90 or 95 seats. That's where we want to stay.
And the service model is fast casual with counter ordering and food brought to your table?
Correct. The epitome of fast casual. We have digital menu boards when you come in and paper menus to read as well. Because the food is Brazilian and we're a different concept, customers take a little longer than average to order. They ask questions.
But they order at the counter and get a number. They put that number in a wire, giraffe-shaped holder on the table and go get their beverage, whether a soft drink or a wine or beer.
Do you expect to have beer and wine available at all Giraffas locations?
That's the plan. Unless there are local restrictions. We don't want to be a sports bar and we don't people hanging around, but a glass of red wine is a nice option if you're eating a steak. Giraffas is an experience; it's top quality and a really great value. And it's why I think Americans really like this concept.