Since its national introduction in 1968, McDonald's Big Mac has been composed of "two all-beef patties, Special Sauce, lettuce, cheese, pickles, onions on a sesame-seed bun," according to the jingle. But later this month McDonald's will depart from that classic build with the limited-time addition of an Angus Mac variation (below) in Australia, where Angus burgers remain on the menu and continue to be popular.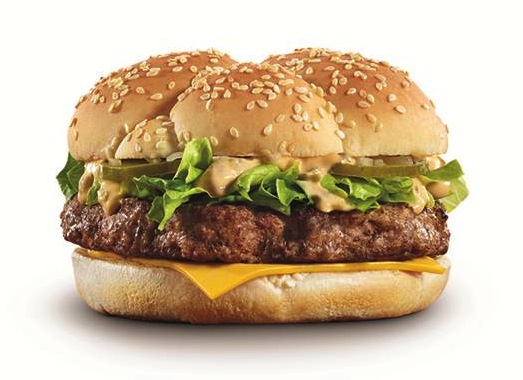 Taking the place of two-all beef patties will be a single Angus beef patty, a McDonald's spokesperson has confirmed to BurgerBusiness.com. The other key ingredients -- Special Sauce, lettuce, cheese, pickles and onions -- will be there, however, making it one of the few official Big Mac variations McDonald's has allowed. All of them have been introduced in international markets. In January of this year, McDonald's Japan brought back a four-patty Mega Mac (below) sandwich it has offered before. In Germany last year, McDonald's tried a 45% larger Bigger Big Mac.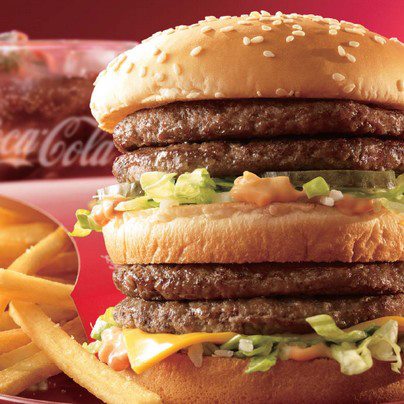 The Angus Mac will be on menus in Australia on August 28, just before Father's Day (celebrated there on the first Sunday in September). In keeping with the paternal occasion, McDonald's also will debut a slightly smaller Son of Mac. That gives McDonald's operators a less expensive burger to balance the premium-tier Angus Mac, priced at AU$5.95 (US$5.34). Special Father's Day cupcakes also will be made available, according to sources.
Angus Third Pounder burgers were removed from the U.S. menu in May of this year and replaced by upgraded Quarter Pounders. But the Angus Mac still could appear on the U.S. menu in the future: During McDonald's "Open Door" meeting in June, CEO Don Thompson told BurgerBusiness.com that bringing back Angus burgers as LTOs has not been ruled out.
McDonald's Australia has reported negative same-store sales this year, pushing it to develop new budget-friendly offers. As reported here earlier, that includes the current "Making Early Easy" promotion involving free breakfast items on successive Mondays through Aug. 19. Another current promotion also involves a giveaway: A free Coca-Cola glass with purchase of any large Extra Value Meal.