Applebee's is preparing to introduce a new burger platform, the "All-In Burger," on August 18 in its first major burger campaign since 2009's "RealBurgers" effort.
A clumsy social-media campaign is teasing the introduction. On Facebook and Twitter Applebee's has been directing attention to a YouTube video (below) showing how the new burger is prepared. Applebee's first made a show of acknowledging the validity of the video. On Facebook today, the chain "apologized" for the leak "& any cravings it might have caused." Crispin Porter + Bogusky is Applebee's ad agency. Janney Montgomery Scott analyst Mark Kalinowski advised clients today that the burger will hit stores next Monday.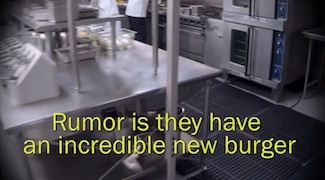 The "All-In" name refers to the smashing of the ground beef into its toppings -- chopped onion, bacon and pickles -- so that those ingredients are included in the patty. The burger also gets a slather of "signature sauce" and is served on a brioche bun. Earlier this year, Jack in the Box introduced the Bacon Insider, a burger with bacon blended into the patty and served on a brioche bun.
Applebee's 2009 "RealBurgers" campaign back a five-item line of premium burgers priced at about $9. The number of All-In Burger varieties and pricing aren't yet known.