With value positioning the dominant marketing strategy of the moment and snack occasions a top target, Arby's is planning to revive the value-priced mini sandwich. In April the chain will make a new three-item line of Mighty Minis sandwiches a local-option LTO for operators in select markets around the country, the company confirmed.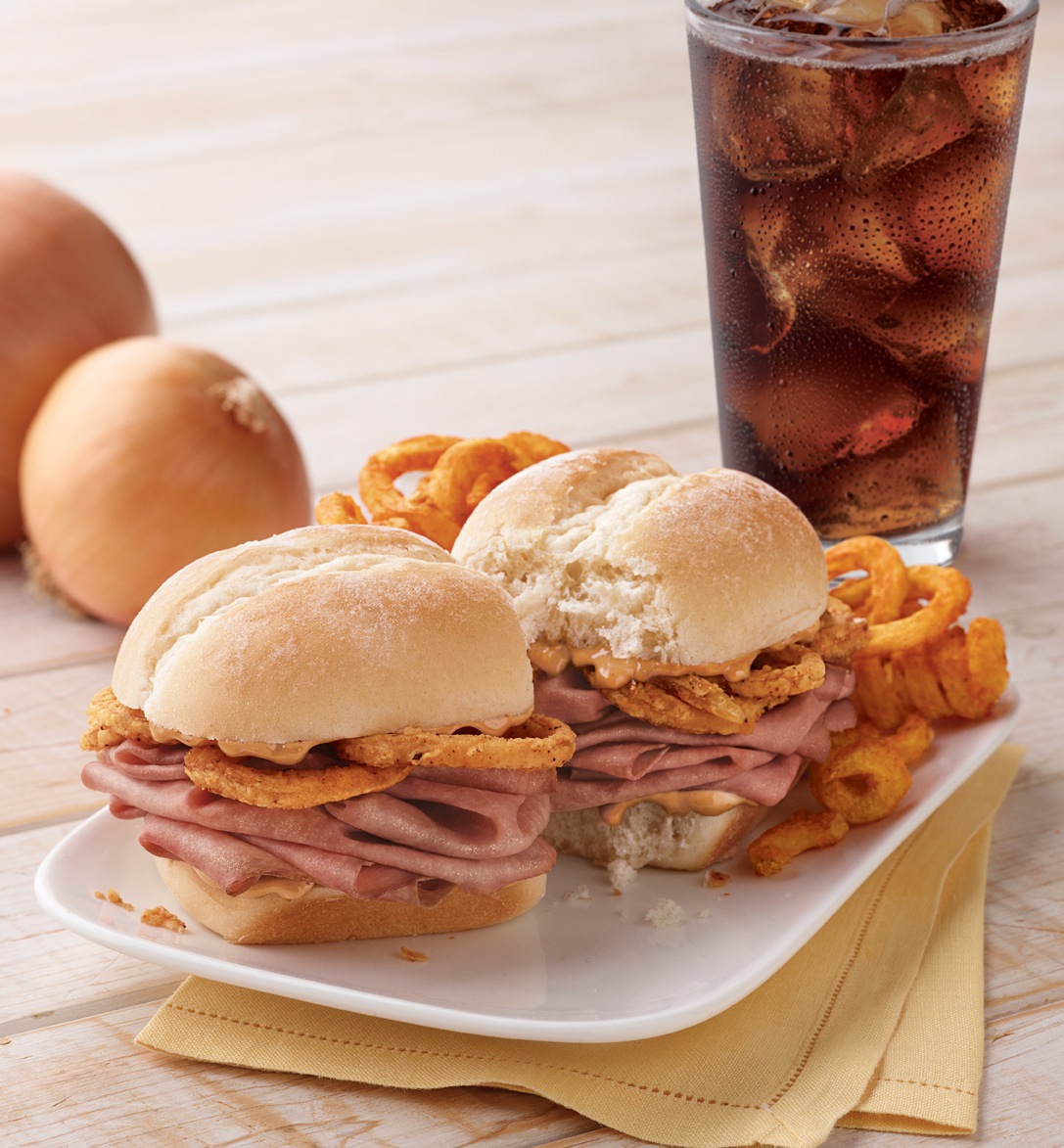 The line includes small sandwiches (shown at r.) with its signature sliced roast beef or hot turkey in three varieties: Spicy, Crispy Onion and Original. Offered in pairs, the Minis will be priced at two for $2.69 (or $4.99 for a combo meal). Where menued, the minis will be available for 60 days.
That price point is classic "barbell" menu strategy: If you add something at the high end, balance it with a lower-price entry item. Arby's is wrapping up the promotion of higher-price items, the Classic Reuben ($4.99) and Double-Stack Reuben ($6.99) sandwiches. The Classic has had a buy-one-get-one-free deal.
Value-priced mini sandwiches have been around at least since Burger King's introduction of Burger Bundles in 1987 (subsequently tried as BK Minis), and White Castle and Krystal minis go way back, of course. But the mini-burger idea gained new prominence in 2009 when Jack in the Box introduced its Mini Sirloin Burgers (purged from the menu in 2011). Steak 'n Shake was one of several that joined the mini-burger trend, adding Steakburger Shooters (which remain on its menu).
The mini-burger fad has since morphed into the popularity of small snack items such as McDonald's Chicken McBites, Sonic's Jumbo Popcorn Chicken and Burger King's new Loaded Tater Tots. Recent research by The Hartman Group finds that 52% of all eating occasions for Americans were snacking occasions in 2012. That compares with 49% in 2010.
Arby's Mighty Minis are similar to a tactic McDonald's has used successfully in France. There McDonald's offers a variety of "Petit Plaisir" (Small Pleasure) mini items priced at €2 or less. One of its most popular additions has been the €1.95 Le Petit McBaguette, a mini burger on traditional French bread. "In France, we needed to have stronger value...We strengthen our emphasis on value by featuring Petit Plaisir nationwide," McDonald's CEO Don Thompson told analysts during his Q3 earnings call last October. In Canada, McDonald's tried a half-chicken-patty McMini sandwich priced below $2