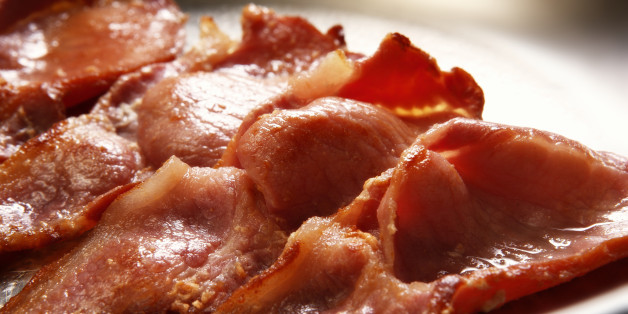 Americans' love for bacon isn't diminishing despite higher prices. The NPD Group reports that we ate about 1.1 billion bacon servings during the 12 months ended April 2014. That's a 6 percent increase in servings over the previous year, when we were hardly skimping on the bacon.
But between May 2013 and May 2014, the average retail price for a pound of sliced bacon increased 18.8 percent to $6.05, according to data from the Bureau of Labor Statistics. Over the same period the retail price for a pound of 100 percent ground beef increased 16.5 percent to $3.86. That means bacon is the priciest component of many burger builds.
Higher prices for beef, pork, cheese and baked goods may push QSRs over the unofficial $5 ceiling on sandwich prices. Jack in the Box priced its Bacon Insider -- a burger with bacon in the patty and on top -- just below that mark at $4.99 earlier this year.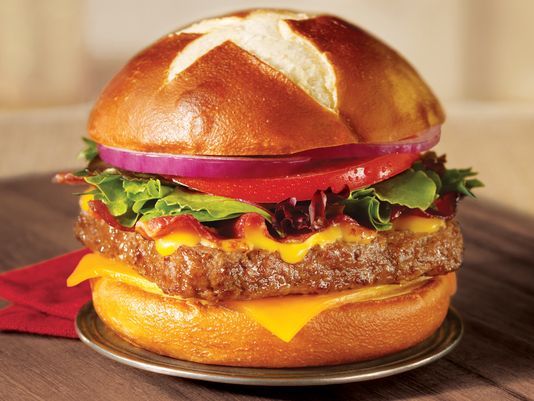 Wendy's will bring back its Pretzel Bacon Cheeseburger (above) and Pretzel Pub Chicken Sandwich over the July 4 weekend. This time the sandwiches will be $4.99, up 30 cents from last year. The chain told USA Today that any sandwich can be ordered on a pretzel bun for a 30-cent upcharge, but it's not the price of buns that's pinching burger bars' profit margins the most.
McDonald's has been testing a guacamole-topped burger in Denver for $4.79. Wendy's tested a pulled pork sandwich at $4.89. The $5 ceiling may crack soon (combo meals certainly have been higher than $5 for years, but entrées have not). Of course, $5 is a very popular number for value promos, too, as in the "2 for $5" deals at some QSRs.
Annie Roberts, vice president, NPD SupplyTrack, says the key drivers of bacon unit growth are "more consumers visiting restaurants for breakfast, and new and innovative bacon menu offerings, including new types of bacon."
New types? NPD says unit shipments of pork bacon increased by 2.3 percent during that 12-month period, but unit growth for turkey and chicken "bacon" showed single-digit growth (but a very small share of the market). Beef "bacon" had double-digit growth; duck showed triple-digit growth.
The restaurant categories with the strongest breakfast business -- quick service and family dining -- account for the largest shares of the bacon market and both increased their unit and sales totals in the past year.