Wendy's new Smoked Gouda Chicken on Brioche sandwich is the latest example of quick-service burger calling on cheeses as well as upscale buns to raise consumer perception of their products.
The premium-price ($4.79) sandwich (below) continues Wendy's menu skew toward chicken but breaks it away from Asiago, which has been its go-to cheese in the recent past. The build is lightly breaded chicken breast topped with sliced red onions, spring mix, creamy Dijon aïoli, caramelized onion sauce made from puréed caramelized onions and double-smoked Gouda cheese.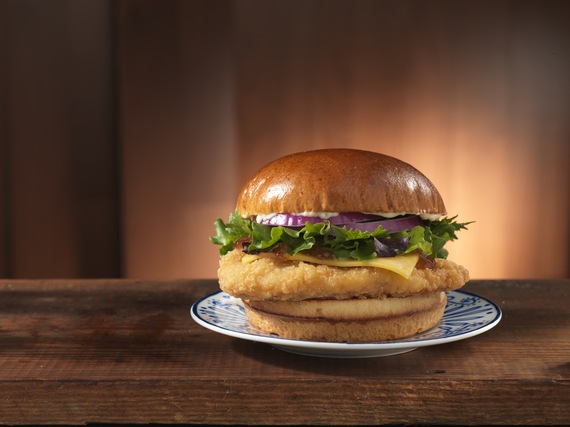 "At Wendy's, we understand our customers are seeking an elevated culinary experience through specialty and on-trend ingredients like natural cheeses and premium, artisan breads, all at a quick-service price, "Liz Geraghty, Wendy's Vice President, Brand Marketing, said in a release announcing the Smoked Gouda Chicken on Brioche arrival.
It follows the return of the Pretzel Bacon Cheeseburger (melted Cheddar) and Pretzel Pub Chicken (Muenster cheese) to Wendy's menu. Before that a variety of sandwiches--including the Tuscan Chicken on Ciabatta, Ciabatta Bacon Cheeseburger and Asiago Ranch Chicken Club--featured Asiago cheese.
McDonald's favorite cheese is white Cheddar, which is found on both its current promotional burgers: the $2 Jalapeňo Double and Bacon Clubhouse that it has been pushing since March.
In selected markets, McDonald's is testing the residual popularity of the Cheddar Melt, a quarter-pound burger with onions and melted cheese that it has had on its menu occasionally in the past but not in the past six or seven years, as far as I can tell. Merchandised as "Our Original Cheddar Melt," it's priced at $3.49 ($5.40 for a combo). McDonald's tests many menu options so there's no guarantee this one's headed for the big leagues.
And GrubGrade reports McDonald's is testing three-piece Mozzarella Sticks snacks in a few markets.
Whataburger also had brought back a cheesy favorite, returning the Green Chile Double Burger to its menu. This has not only double beef patties but also double cheese. Whataburger follows the two-cheese trend by putting Monterey Jack and American cheese on the burger. Culver's did the same with its recent Pepper Grinder Pub Burger, topped with Wisconsin Cheddar and Swiss.