Big King, the double-decker burger that Burger King revived in November as a Big Mac lookalike (below), is getting bigger. Now it looks like a Quarter Pounder.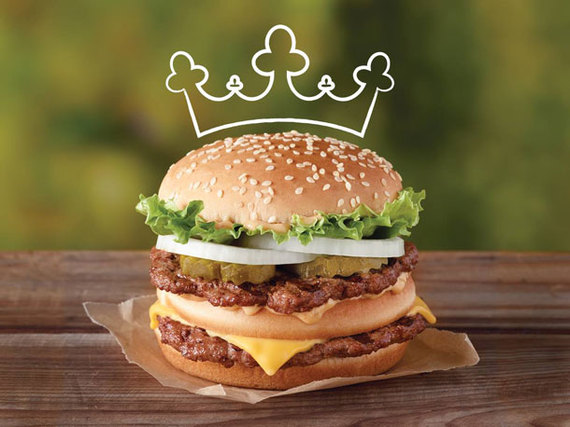 Burger King announces on Feb. 11 that it has beefed up the Big King so that its two patties now total a quarter-pound of beef. The rest of the build is lettuce, onions and signature King Sauce on a three-layer toasted sesame-seed bun.
The price -- $3.69 -- stays as it was despite the added weight. Also continuing is the "Two for $5" mix-and-match offer that Burger King has used to promote the Big King, Spicy Original Chicken Sandwich, Original Chicken Sandwich and Alaskan Fish Sandwich.
If the expansion to quarter-pound size was meant to be another jab at McDonald's, it comes when the leader already is smarting and sensitive to criticism. Earlier today McDonald's Corp. announced global comparative sales of +1.2 percent for January thanks to strong performances in Europe and Asia. In the U.S., however, last month's lousy weather helped produce lousy results: a sharp -3.3 percent decline in same-store sales.