Burger King is changing its french fries again, this time adding premium-price, healthier fries alongside those it introduced two years ago. The company calls this latest fry innovation "one of the biggest fast food launches" ever.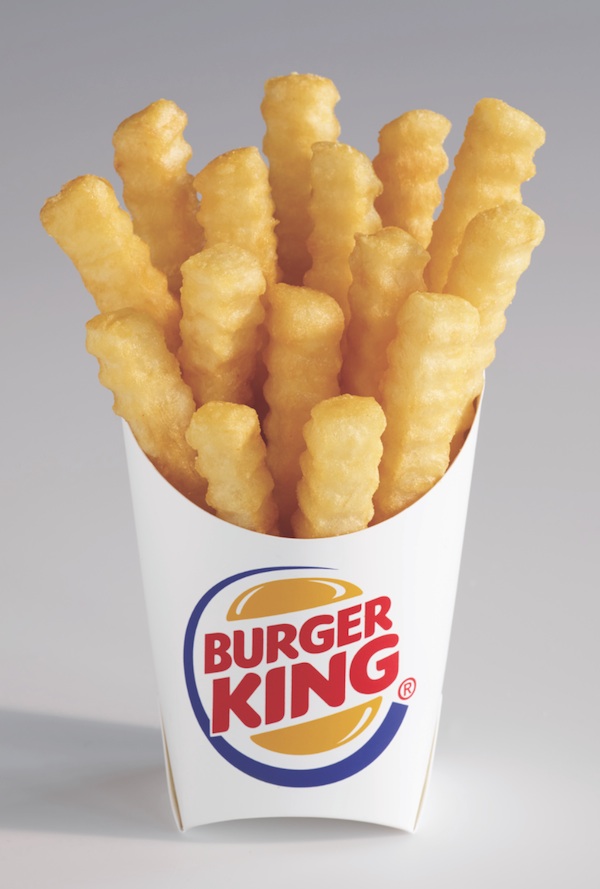 The new "Satisfries" will be on Burger King menus systemwide on Tuesday, Sept. 24, 2013. These are crinkle-cut fries that the chain claims are more healthful than the fries McDonald's serves: 40 percent lower in fat (6.3 grams compared with 11.2 grams per 70 gram serving) with 30 percent fewer calories (150.5 calories for Satisfries vs. 226.8 for McDonald's fries for a 70 g serving). With calorie counts now included on menu boards, any reduction can be a persuasive marketing tool.
Satisfries are priced about 20¢ to 30¢ higher than comparable servings of Burger King's "classic" fries (which remain on the menu), a spokesperson said. The new fries will be available in value ($1.29 suggested), small ($1.89), medium ($2.09) and large ($2.29) serving sizes.
The chain says its new Satisfries are made with thinly battered real whole potatoes. It claims the new product's recipe allows them to absorb less oil during frying, thus reducing fat and calories. The smallest (value) serving of Satisfries has 190 calories, 8 grams of fat 210 milligrams of sodium.
The Washington, D.C.-based Hudson Institute in February reported a study that found sales of french fries declined nearly 2 percent (or about 10 million servings a year) at five big restaurant chains between 2006 and 2011. "French fries are declining in both number of servings and share of total food servings among quick-service chains that have more than $3 billion in sales," the report concluded. It noted that lower-calorie beverages were outperforming traditional sweetened beverages at these chains.
"One out of every two Burger King guests orders our classic french fries and we know our guests are hungry for options that are better for them, but don't want to compromise on taste," Alex Macedo, Burger King President North America, said in a release announcing the product rollout. "When it comes to what we eat, we know that small changes can have a big impact. We see Satisfries™ as one of the biggest fast food launches and are excited to bring this great tasting french fry to our guests."
Fall seems to be the season for revamping QSR french fry offerings. Wendy's introduced its Natural-Cut Fries with Sea Salt in November 2010. Burger King followed in November 2011 by introducing its current thicker-cut fries (though not as thick as those Wendy's previously offered). In July 2011, McDonald's announced it would reduce the size of french fry servings in its Happy Meals for kids, with apple slices available as a substitute for the fries.