Burger King has accepted the challenge of making $1 menu items a key 2014 battlefield. The No. 2 burger chain this week expanded its budget lineup and rechristened it the King Deals Value Menu to get ready for the coming fight.
Added as limited-time $1 items are the Rodeo Crispy Chicken and Rodeo Burger (below), both of which are topped with barbecue sauce and crunchy onion rings. Both also are items Burger King has offered previously in Europe and South America.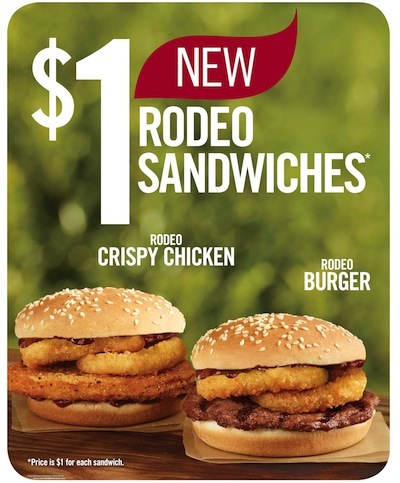 "We're launching the new King Deals Value Menu including classics and new favorites like the Rodeo Sandwiches all starting at just $1," said Eric Hirschhorn, BK CMO North America in a release. "We've seen an incredible response from our guests with our $1 menu items and we want to continue creating great tasting products that don't sacrifice on taste."
In Canada and the UK, Burger King has used the "King Deals" name for daily-discount menus where a different sandwich is spotlighted each day. In February, Burger King tested that tactic in selected U.S. markets, offering one of five different combo meals each weekday, with each priced at $4.99.
But in the U.S., $1 items are the preferred weapons for the ongoing battle for customers. In November, McDonald's rolled out its Dollar Menu & More, bulking it up with five new burgers priced from $1 to $2. It also is testing a "McDouble Menu" that spotlights its growing list of $1 and $2 McDouble burgers and chicken sandwiches.Wendy's recently added a Spicy Chipotle Jr. Cheeseburger (below) and Spicy Chipotle Crispy Chicken sandwich -- both priced at 99ᅡᄁ -- to its Right Price, Right Size value menu.