Talk about the bond between a brand and its buyer and this is what you mean. Joshua Baxter is a native of Kingsport, Tenn., but moved to Seattle six years ago. One of the things he says he misses most is Pal's Sudden Service, the 57-year-old, locally based quick-service burger chain known for its quirky robin's-egg-blue double drive-thrus topped with a giant burger, hot dog and soda (see Baxter at a Pal's below).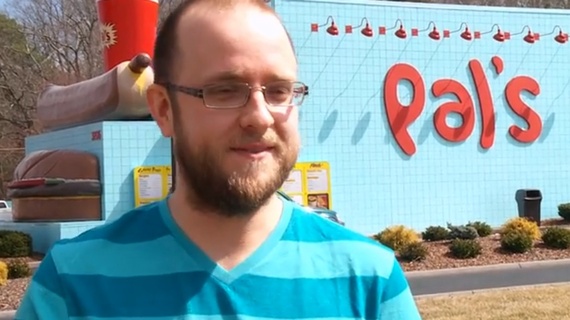 On visits home, Baxter often had eaten at several Pal's just to hold him until the next time. But before his most recent trip back to Tennessee, Baxter said he decided to go all out and plan a route that would take him to all 26 Pal's in a single run. The trip took a little more than 13 hours and took him 400 miles across Tennessee and Virginia. His wife thought the idea was, well, "a little out of the ordinary."
At every stop, "I definitely got a Frenchie Fry, and tea as needed," Baxter said. But he did more than gobble fries. At each Pal's he left $5, paying forward for the next Pal's customer. "I guess that was me making it a little more worthwhile," he said.
"Pal's is Pal's. There's no comparison," Baxter said of his journey.