Jack in the Box today will launch a Jack's Munchie Peel instant-win game promotion that it believes will resonate more strongly with Millennials than collect-all-the-pieces games...like, for example, the Monopoly game McDonald's is preparing to begin next Tuesday (9/30).
Jack's instant-win stickers are attached to the purple-boxed Munchie Meals it sells only between 9 p.m. and 5 a.m. Millennials are heavily represented in this daypart, which has been a driver of positive same-store sales since the special late-night-only menu was introduced a year ago. One in four stickers is an instant winner. Prizes include Neff apparel; Fandango movie tickets; flights on Southwest Airlines; music downloads; gas cards; and custom Jack in the Box snowboards and skateboards. For everyone 21 or over there also is a second chance to enter to win the grand prize: A two-night VIP experience for four in Las Vegas at the Hard Rock Hotel's MTV Real World Suite.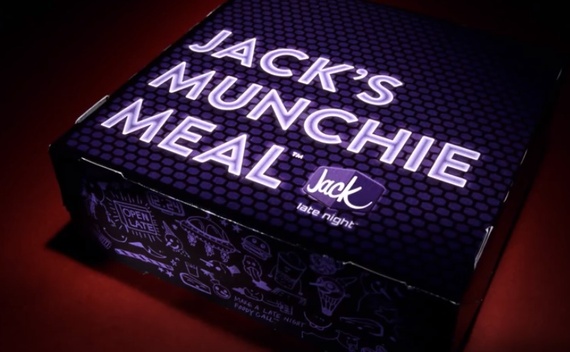 "Millennials really are the core of our late-night strategy," Jennifer Kennedy, Jack's director of innovation and social engagement, told BurgerBusiness.com in an interview. "Whether they're studying late or working a night shift they've been pivotal to the late-night daypart. So we wanted an instant-win game that appealed to them. We know that Millennials like to make a game of things, whether participating in online video games or through social networks or being the first to do or know or own something. We made Jack's Munchie Peel simple: You peel; you win."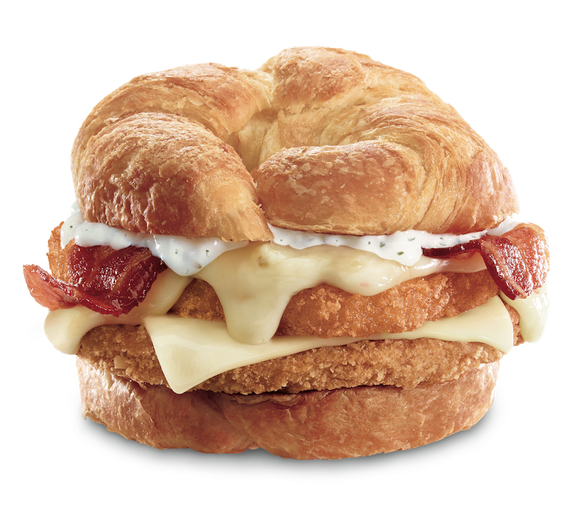 Game stickers also can win food prizes from the late-night menu, which includes a new sandwich targeted to late-night eaters. The new Chick-n-Tater Melt (above) stacks up a fried chicken patty, hash browns and bacon, topped with ranch sauce and three different cheeses on a buttery croissant. It's a savory complement to the spicy Hella-peño Burger (topped with sliced jalapeños, cheese-filled jalapeño poppers and cheesy taco sauce) added to the Munchie Meal lineup in June.
"We know Millennials are always looking to try something different," Innovation Manager Katherine Cerrito told BurgerBusiness.com. "The Chick-n-Tater Melt is the kind of savory product you're craving at midnight and not necessarily something you'd want for your lunch or dinner. Millennials like to try new things and share experiences on social channels. They can say 'Look what I have: A chicken sandwich with hashbrowns on top and it's amazing!'"
Other entrees include the Stacked Grilled Cheese Burger and Loaded Chicken Nuggets, and all Munchie Meals come with two tacos, "halfsie" fries (half regular, half seasoned curly) and a 20-oz. drink.
For its fiscal 2013--ended September 29, 2013--Jack in the Box said the 9-to-5 late-night daypart accounted for 15.3% of total sales (compared with 29.2% for dinner; 23.1% for lunch; 21.8% for breakfast; and 10.6% for snack periods) for the 24-hour concept. Year-to-date in fiscal 2014, the company says that late-night has been the biggest contributor to its sales growth. Through the first three quarters of this year, late night accounts for approximately 16% of the brand's sales.
"We've always been a late-night player and there was a long time when we owned that space. Over the years, we lost that positioning," said Kennedy. "In the past year, when we launched the late-night menu, it was about upping the ante and owning the space again, and it has been a great piece of our business."
The Jack's Munchie Peel game's appeal is not only its simplicity but its honesty, she said. "When brands ask too much of Millennials, it's not mutual appreciation, it's advertising; it's brands saying, 'We need you to do this for us,'" she said. "So ours is not about asking them to keep coming back to win. Whether they engage with Jack once a month or 10 times a month, we want them to feel they have an equal chance to win.
"I'm not sure that fast-casual is necessarily overshadowing quick-service restaurants," she added. "At the end of the day I think it's always about authenticity and who has it. We are who we are and we take great pride in having been a 'challenger brand' over the years. We just focus on being authentic and relevant, and that has kept the doors open for us with that base."
The late-night menu has its own advertising style and feel, with a Jim Henson Co.-created Jack puppet as the star. Santa Monica, Calif.-based Secret Weapon Marketing is the chain's ad agency.