KFC is selling fried fish in France, continuing the blurring of the lines separating restaurant menu categories. The chain's Boxmaster Fish wraps two fried-fish tenders, a fried hash-brown-potato patty, lettuce, tomato, cheese and peppered mayonnaise in a small tortilla.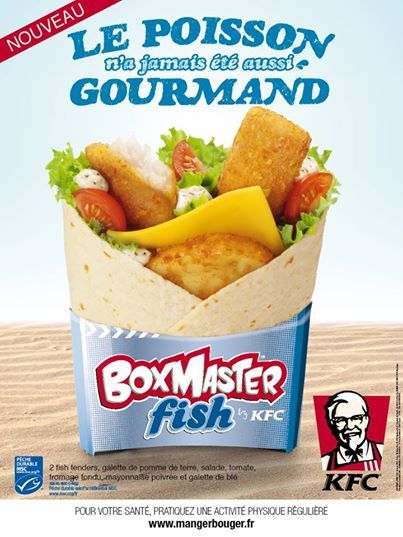 With restaurant customer traffic stagnant globally, concepts are willing to look anywhere--even outside their traditional menu borders -- for something that will spark consumer interest and sales. A recent example is Italian casual-dining chain Olive Garden's decision to add the Italiano Burger (its first burger) to its lunch menu. Last summer, McDonald's partnered with Barilla to put a line of pasta salads on its menu in Italy.
Outside the U.S., KFC menus tend to be a little wilder and focused on chicken sandwiches (like the Texan Grill it also has introduced in France) as well as on buckets of chicken. In Australia it has added an English Burger, a chicken sandwich topped with coleslaw, cheese and English mustard. Chili Cheese Fries are on the menu in Germany. In Spain, KFC has introduced the Tower Empire (below), a huge sandwich consisting of a breaded chicken fillet topped with a hash-brown-potato cake, salsa, mustard, lettuce, crispy onions and pickles, all within a sesame-seed burger bun.