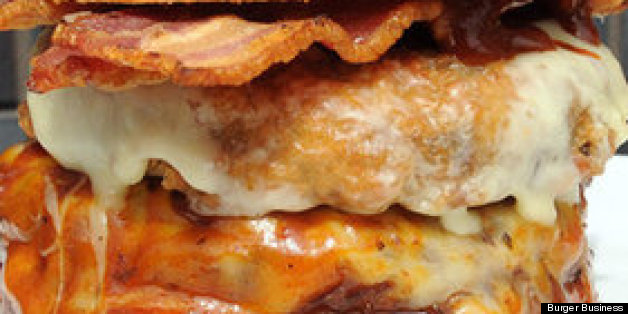 The Solita Bar & Grill in Manchester, England, is celebrating Andy Murray's triumph at Wimbledon with a Scottish-themed burger called The Murray, reports the Daily Star (source of the photo below).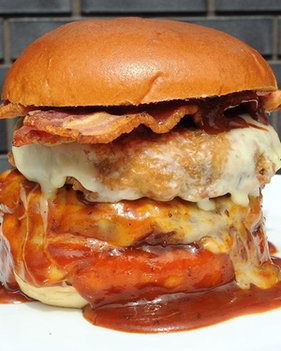 It wouldn't be Scottish without a bit of deep-fried haggis (traditionally assorted sheep offal cooked in a sheep's stomach) but there's more, of course. The Murray's beef patty is 6 oz. of Aberdeen Angus. On top there's Ayrshire bacon, Monterey Jack cheese and a barbecue sauce made with Scottish whisky and Irn Bru, a bright-orange Scottish soft drink. It weighs in at 1,100 calories.
See if Andy Murray's picking up the check because the burger's priced at £12.90 or $19.57 by itself. Mention it when customers tell you your prices are too high. And an extra £6.50 ($9.86) gets you a Murray Cocktail (whisky, Drambuie, lime and Irn Bru).
Said Solita Owner Franco Sotgiu, "The Big Manc is usually our biggest selling burger, but the Murray even outsold that on its first day. People are caught up in all the euphoria so we might keep it on for another week before we change."
The Murray may be outselling the Big Manc because that burger's priced at a whopping £15.90 ($24.90) That gets you two 6-oz. beef chuck patties with iceberg lettuce, house-made pickles, Monterey Jack and Big Manc sauce (ingredients undetermined). Solita's £12.90 ($19.57) Man-hattan Burger boasts an "oven bottom roll" with pastrami, melted Lancashire cheese, panko-breaded fried black pudding (blood sausage), Lancashire Sauce and Coney Island mustard.