McDonald's continues to refine the idea of boxed, multi-person meals overseas while it also begins to dabble with the idea in the U.S. In Austria, the chain has introduced a new better-value McBox Dinner meal, available with food for three or four people.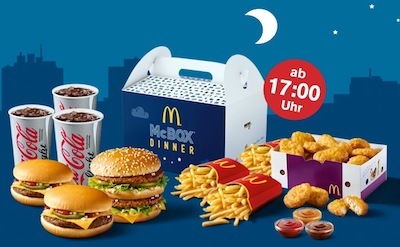 The four-person meal includes a 20-piece McNuggets serving, two Big Macs, two regular cheeseburgers, four medium fries and four 13.5-oz. fountain drinks. McBox is available after 5 p.m. Marketing materials claim McBox yields a 30 percent savings over a la carte pricing. TV advertising supports McBox.
In another effort to capture Austrian consumers who prefer to eat at home, McDonald's is rolling out home delivery in the country, according to the Austrian Times. Delivery was tested in one district in Vienna last fall then extended to a few other markets.
McDonald's began offering multi-person boxed meals (dinner and later, briefly, a lunch version called Mates Meals) in 2010 in Australia. A few Asian markets have offered boxed breakfasts and McDonald's in several European markets have tried multi-person meals.
In the U.S. McDonald's so far has tried only two-person boxes. The Kansas City, Mo., market offered two-person Blitz Box meals last fall and selected Western market offered two-person Mickey D's Value Pack meals last November.