If McDonald's is serious about importing more menu ideas from its stores around the world then breakfast could become much more interesting. Outside the U.S. the humble McMuffin is getting a turn in the spotlight.
Japan stores are offering a new stacked-up Mega McMuffin with double the sausage, as one part of the annual Big America All-Stars promotion. In Germany, the English muffin is the platform for a new McMuffin BBQ Pork breakfast item.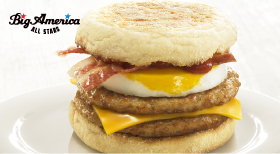 The intended hero of Japan's Big America promotion is the Texas Burger, which has a three-piece bun but only a single burger patty. With it are two types of mustard, barbecue sauce, fried onions, bacon and cheese. Coming next is an Idaho burger topped with a hash-brown potato patty. These are recycled ideas for McDonald's there, but extending Big America across the menu is new. Also included are American-style Ranch dipping sauce for McNuggets, a packet of "American BBQ" seasoning to shake on fries and a blueberry shake. Coming soon is a Maple Custard Pie.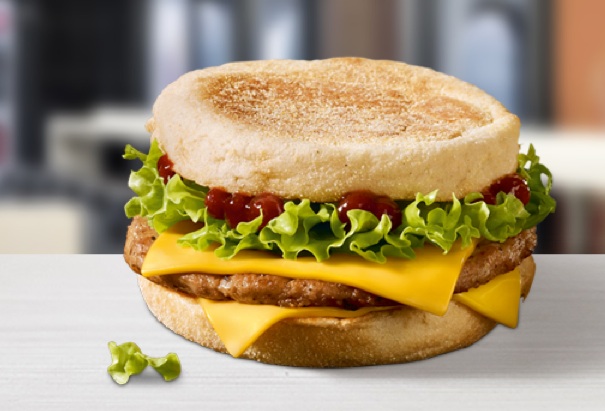 McDonald's Germany runs its own annual version of this promotion, called Stars of America. This year's menu lineup includes the return of the Bigger Big Mac (45% larger than the standard version). It last appeared last July. Also offered are the Steakhouse Classic burger and a Chicken Bagel. This last is a new pairing for Germany. Golden Corn Nuggets and a Caesar Snack Salad complete the lunch/dinner menu.
But the Stars menu has been extended to breakfast, where the McMuffin BBQ Pork (above) awaits. It is a very burger-like build of English muffin, barbecue sauce, pork sausage patty, iceberg lettuce, tomato and cheese.
McDonald's Corp. executives repeatedly point to Chicken McBites as an example of an overseas item that has been imported and vow that more will emigrate to pump up the U.S. menu. During the January analysts call, McDonald's COO Tim Fenton said, "Our pipeline for new products is much more robust than it was this time last year. We've got over 180 products. We can pull from our menu globally and we found that a lot of these products travel quite well."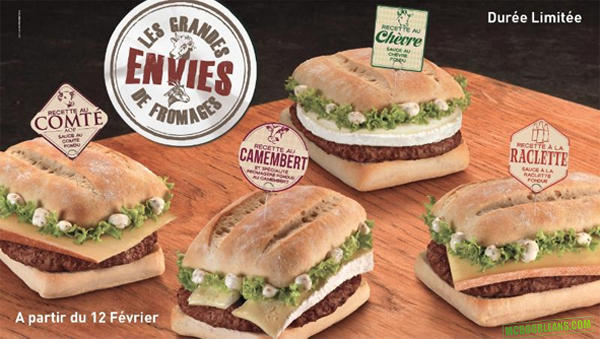 That array of overseas products includes a few other interesting additions, including the appearance this week of a Spicy Thai McBisto Chicken Sandwich in Canada. Next week, McDonald's France unveils its annual lineup of burgers topped with French cheeses (above). This year's menu includes burgers with Comté, goat cheese, raclette and Camembert. If that last one sounds good, jet to Kuwait where McDonald's has introduced Camembert Cheese Bites.