In Japan, McDonald's is taking both the "limited-time offer" and "premium price" concepts to new extremes. The chain's "Quarter Pounder Jewelry" promotion is three gem-stone-themed Quarter Pounder burgers, each of which is available for one day only. And the price for each burger is a McDonald's record ¥1,000, or nearly $10.

You've already missed your chance the enjoy the first of these specials, the Gold Ring Quarter Pounder. It was available only on July 6. Its quarter-pound beef patty was topped with thick-cut bacon, Monterey Jack cheese, a thick pineapple ring and barbecue sauce; all served on a kaiser bun.
There's still time to get to Japan and get in line for the second special, the Black Diamond Quarter Pounder. Available July 13, its toppings are black-truffle sauce, Emmental cheese and grilled onion and mushrooms with a brioche bun.
On the menu on July 20 alone will be the Ruby Spark Quarter Pounder with pepper-Jack cheese, avocado, jalapeňo and slices of chorizo. This will be served on a French-style roll.
TV spots support the Jewelry promotion, an extension of the ongoing "Bite!" campaign for Quarter Pounders. Regularly priced Quarter Pounder varieties on the menu are BLT and Habanero Tomato.
McDonald's isn't the only chain trying on the upscale jewelry idea. In Switzerland, Burger King is promoting a new "Gold Collection" menu. This includes a Double Steakhouse Hot & Spicy burger with jalapeňo slices and a Double Steakhouse BBQ Cheese with bacon.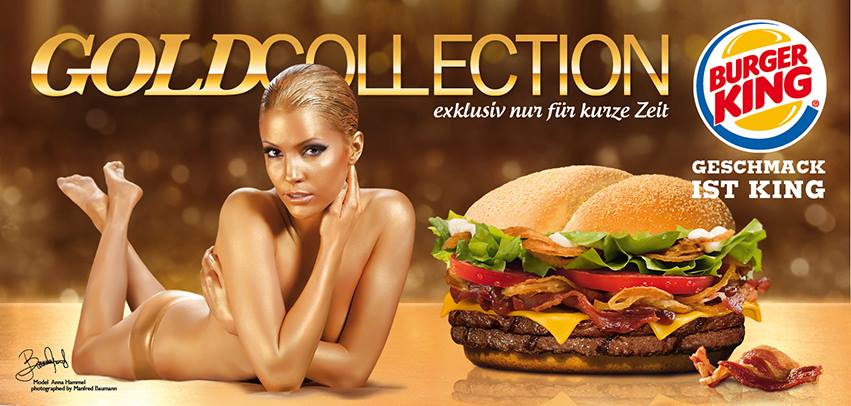 Touted as "grill luxury at its finest," BK's Gold Collection is being advertised with the latest in a series of seductive model photos by Manfred Baumann. A flashback nearly 50 years to James Bond and "Goldfinger," this photo shows model Anna Hammel painted gold head to toe. But that paint job didn't end so well, did it?