McDonald's is testing a new twist on its Dollar Menu & More in selected stores in Georgia. The $4.99 McDonald's Combo Bag invites customers to choose one sandwich from among four Dollar Menu & More options: Double Cheeseburger; Bacon Cheddar McChicken Bacon McDouble; or Bacon Ranch McChicken.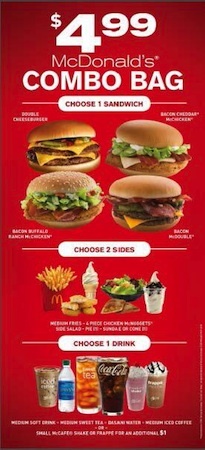 Next customers choose two sides from among medium fries, a 4-piece Chicken McNuggets pack, a side salad, pie or sundae/cone. They complete the meal with a beverage, choosing from among a medium soft drink, medium sweet tea, bottled water or medium iced coffee. A small McCafé shake or frappe can be added for an additional $1.
The Combo Bag isn't a flashy innovation. But it is in line with the company's belief that it needs to simplify its menu and operations and focus what CEO Don Thompson calls the chain's "foundational elements." In the Q2 conference call on July 22, Thompson said the first of those core elements is value. "We are evaluating the relationship between pricing and quality perception across our menu board and that's because value is one of our grand pillars. So we must continue to fortify our position within this key consumer attribute."
As QSRs' promotional focus shifts to side dishes, will consumers perceive McDonald's Combo Bag as a better value than Burger King's "2 for $5" offer or KFC's "$5 Fill Up Meals"? That's what McDonald's is testing in Georgia without adding any new menu items. If the value perception isn't there, McDonald's will try something else because standing still clearly isn't an option.