McDonald's for the first time has brought to the U.S. the multi-person boxed meal idea it first tried in Australia in 2010. In the Greater Kansas City market, the chain is heralding the start of the NFL season with a the Blitz Box, a boxed meal that includes two Quarter Pounders with Cheese, two medium fries and a 20-piece serving of Chicken McNuggets. The Blitz Box is priced at $14.99.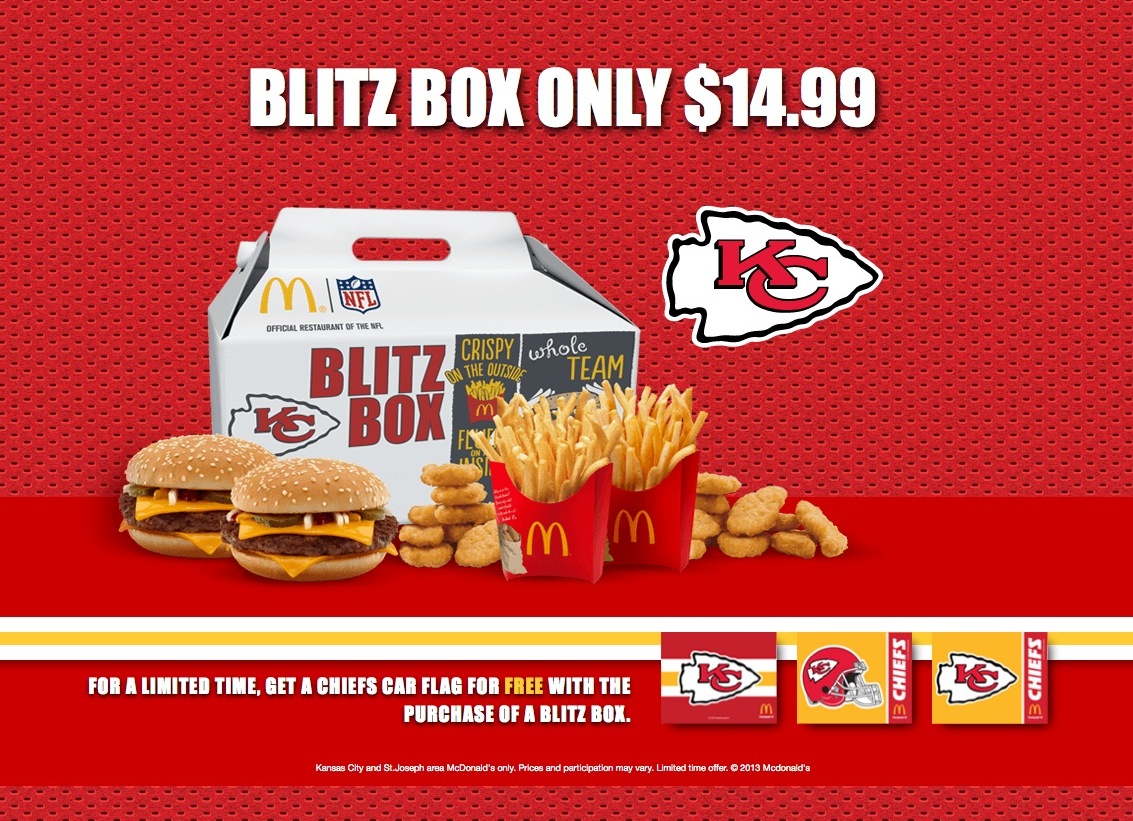 A McDonald's spokesperson said the Blitz Box promotion is tied to the Kansas City Co-op's sponsorship of the Kansas City Chiefs and that at this time it is only a local promotion. But watch for it to reappear in other markets, if not nationally at some point.
Boxed meals are SOP for KFC and the rest of the chicken category, which has been putting chicken-for-many in buckets and boxes for years. But the burger category has been slow to adopt the idea, likely because cold chicken is fine but cold burgers are not. But now the tight marketplace has convinced McDonald's to give it a try. Others will follow because the boxed meal takes the best part of the combo meal -- inclusion of higher-profit sides and beverages -- and doubles or triples that element. Operators love that.
McDonald's introduced the multi-person Dinner Box meals in Australia in March 2010. These have various combinations of cheeseburgers, Big Macs and Quarter Pounders with fries and Nuggets. It subsequently tried a chicken version and a two-person Mates Meal version for
lunch in 2011.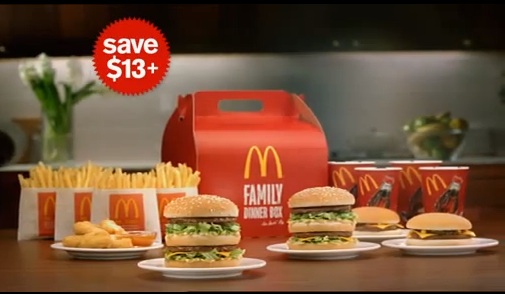 At McDonald's Open Doors media event in June of this year, CEO Don Thompson said he saw an opportunity to try that tactic in the U.S. because it fits how people use QSRs.
"There's a trend in eating now to bundling," Thompson said then. "It used to be you'd see teens eating meals separately. Now you'll see them getting two or three fries and burgers for four or five and putting it all in the center to share."
McDonald's has tried a Family Breakfast multi-person box in Malaysia and a McBox family meal box in Czech Republic.
I have to mention that last November not only did BurgerBusiness.com correctly forecast that this would be the "Year of the Bun," it also predicted that "2013 finally is the year that multi-person boxed meals come to the burger category."