In an interview with BurgerBusiness.com earlier this month, J.M. Owens, president of the Greater Atlanta McDonald's Operators Association, said that one challenge keeping McDonald's from offering breakfast all day is simply space limitation: There isn't enough grill space in a standard McDonald's kitchen to prepare two menus -- breakfast and lunch/dinner -- at once.
In Rockford, Ill., northwest of Chicago, McDonald's is testing a late-night solution to that problem. As configured there, the "McDonald's After Midnight" program pares down both the breakfast and lunch/dinner menus, offering a selection of both between midnight and 4 a.m. At that hour, the kitchens shift to the full breakfast menu (including, in Rockford, the Egg White Delight McMuffin), and breakfast only, until 10:30, when the kitchen shifts from breakfast to burgers as at most McDonald's.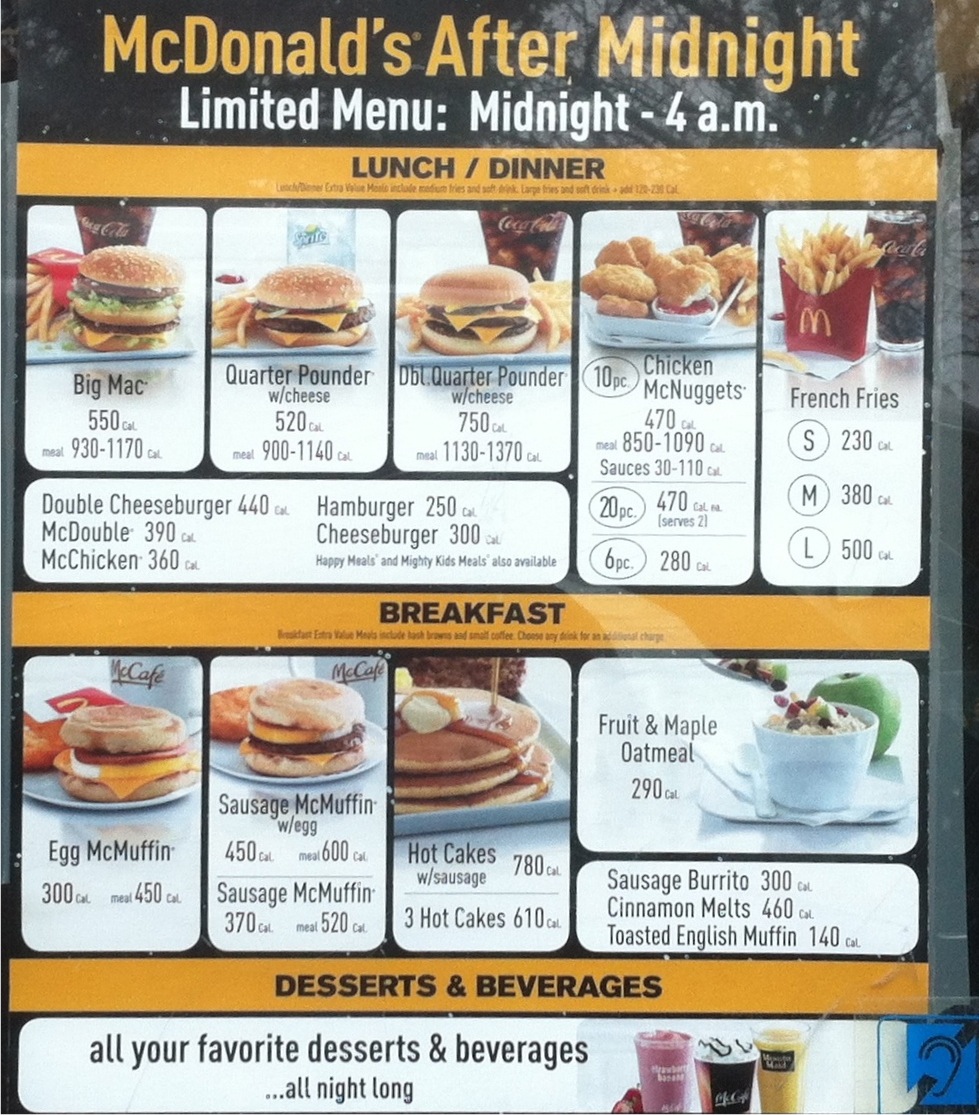 This differs from the "Breakfast After Midnight" test that McDonald's ran last summer in selected Ohio stores and that reportedly now is in some Southern California locations as well. That program doesn't try to juggle both dayparts at once. Rather, participating stores simply offer a limited breakfast menu from midnight to 4 a.m.
The more ambitious "McDonald's After Midnight" test in Rockford offers a breakfast menu that includes the signature Egg McMuffin, Sausage McMuffin with Egg and Hot Cakes with Sausage for the hungry; adds Fruit & Maple Oatmeal for the awake but health-conscious; and includes a Sausage Burrito, Cinnamon Melts and Toasted English Muffin for budget diners.
The limited lunch/dinner menu has iconic burgers (Big Mac, Quarter Pounder with Cheese and Double Quarter Pounder with Cheese) and 6-, 10- and 20-piece Chicken McNuggets. Fries? Small, medium, large. A selection of McCafé beverages and desserts also is included.
By limiting both menus to a few "best of" products, McDonald's may have found a way to keep everyone happy, at least from midnight to 4 a.m. Those who crave a Sausage McMuffin with Egg at 3 p.m. will have to wait for another test solution.
But McDonald's Corp. CEO Don Thompson told analysts this month that "you'll see some news about breakfast" in 2013, so it's clear the company feels the pressure to maximize this very profitable daypart. Jack in the Box already makes its whole menu available around the clock. Wendy's decision to back-burner breakfast expansion for at least the next few years eliminates one possible morning competitor, and Burger King hasn't shown an inclination to further extend breakfast or its late-night hours. Even the Rockford-style compromise on breakfast would quality as major news if it were rolled out.