There's no question that Burger King's new Bacon Cheddar Stuffed Burger isn't really a stuffed burger: a true Juicy Lucy-style stuffed burger has fillings in the center of the burger. BK simply mixes bacon and cheese into its ground beef patty. But at least those are traditional burger condiments. In Germany, McDonald's this week has introduced a similar burger that will not be on any list of items the chain should bring to the States.
McDonald's doesn't bill its El Chili con Carne as a stuffed burger, but, like BK, it mixes ingredients into the beef patty. What ingredients? Kidney beans and corn kernels. Like chili con carne. Sort of. "Chili con Carne like you've never eaten it" truthfully proclaims the burger's description on the McDonald's Germany website. "Ay, Caramba" it concludes.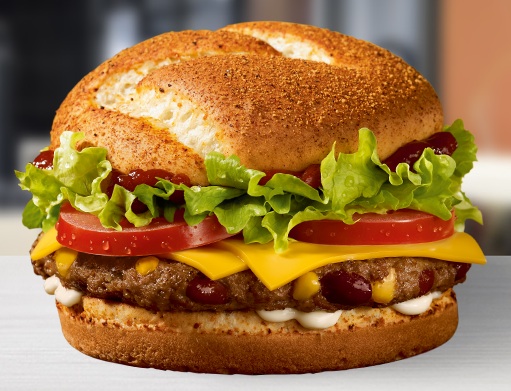 The El Chili con Carne Burger is part of McDonald's menu for "Los Wochos," a LTO promotional salute to Mexican foods it has done in past years. The menu also includes Los Beefos, which sound like a parody of Mexican foods. Los Beefos are described as "Juicy beef meatballs surrounded by a spicy breading. Together with a spicy tomato dip salsa--mucho fantastico!" Fantastico, indeed.
No promotional menu is complete without a chicken entrée, of course. The LTO's Chicken Fiesta sandwich has a breaded chicken patty topped with corn kernels, Cheddar, Mexican hot sauce and sour-cream sauce.
Despite being not at all Mexican, the often-offered 1955 Burger (topped with grilled onions, bacon and smoky barbecue sauce) also is included on the "Los Wachos" promotional menu. Perhaps it was just time to bring back this popular burger. Ay, Caramba.