McDonald's will relaunch its "M Selections" premium tier to its menu in Australia next month when it unveils new Chicken Schnitzel sandwiches on sourdough, a breakfast burger and brands it all with distinctive black packaging. A second phase to the campaign in late March will see the return of the Angus the Great burger and a recasting of the entire Angus line.
The upscale "M Selections" category was created in November 2009 and included the recently introduced premium-price Grand Angus, Mighty Angus, Chicken Deluxe, Chicken Bacon Deluxe, Chicken Tandoori Wrap and others. Marketing used the tagline "It's a little bit fancy." This came at a time McDonald's also was adding upscale menu items in Europe, such as France's "Le M" and Germany's "Der M" burgers on fancy rolls.
But in 2011, when Australia added an Angus the Third burger, the "M Selections" name was missing and it has been used only occasionally since. The ad tag, meanwhile, morphed into "Not schmancy, just a little bit fancy." The original "It's a little bit fancy" advertising tag will accompany the return of the "M Selections" name on March 5. DDB Sydney handles McDonald's in Australia.
Next month will be the first time McDonald's has branded the "M Selections" with its own black packaging. The planned rollout next month was confirmed by multiple sources: McDonald's did not respond to a request for confirmation.
The new Chicken Schnitzel & Citrus Mayo Roll and Chicken Schnitzel & BBQ Roll sandwiches arriving March 5 aren't necessarily permanent, but neither do they come with expiration dates. The "fancy" tier's new Angus & Egg Brekkie breakfast burger will stay on the breakfast menu only until late April. French Toast Fingers will be gone at the beginning of April.
The Chicken Schnitzel & Citrus Mayo sandwich has a breaded chicken patty with lettuce and citrus mayo on a 6-inch (sub-style) sourdough roll. The Chicken Schnitzel & BBQ tops the schnitzel patty with Swiss cheese, lettuce, red onion rings, McChicken Sauce ( a mustardy mayo) and Southern BBQ Sauce on the same long sourdough bun.
The Angus & Egg Brekkie Roll will be McDonald's first real breakfast burger. It combines an Angus patty, egg, Swiss and McChicken sauce on a kaiser bun.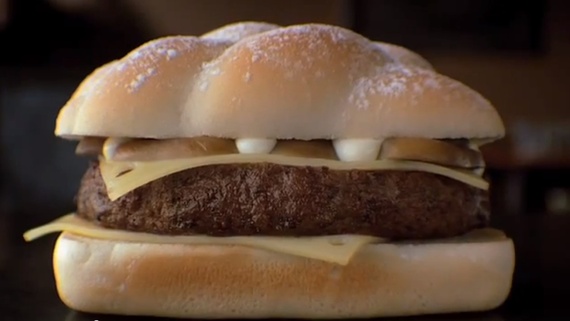 The Angus the Great (above) was an LTO in 2011. Chicken Bacon Deluxe, which also returns to the menu March 26, was eliminated in the purge of upscale menu items on McDonald's Australia menu in April 2013. Also dropped then were the Grand Chicken sandwich; Chicken Caesar wraps; and morning items NYC Benedict Bagel, Bakehouse Brekkie Roll and Rösti Brekkie Wrap.
The Angus the Great and Chicken Bacon Deluxe will be built on 4.5-inch bun that now will be used for all existing top-price sandwiches (such as the Grand Angus, Mighty Angus and McChamp premium chicken).
Since it removed the Angus Third Pounders last May, McDonald's has not had a true high-end burger on its U.S. menu. Executives said in the past that it was possible an Angus burger could return as an LTO.