The dawn of the Era of Upscale Burgers is often traced to Daniel Boulud's 2001 introduction of the DB Burger at his db Bistro Moderne in New York City. The burger had foie gras at its center and was priced then at $27. From then on it was accepted, even expected, that a fine-dining chef could craft a fine burger.
Given that, it's good to see that the notion of high-end-chef-created burgers continues to be celebrated. On Oct. 5, 2013, chefs from eight restaurants in Las Vegas's MGM Grand Hotel & Casino will be serving attendees their burgers during the Burger Bash that will be a highlight of the 4th annual Food & Wine All-Star Weekend (taking place October 4-6).
Their burgers had better be great because the judges will be three highly respected chefs led by world-renowned Joᅢᆱl Robuchon (executive chef at Joᅢᆱl Robuchon Restaurant, in the MGM Grand), named France's Chef of the Century by the Gault Millau restaurant guide among many other honors. Joining him at the judging table will be Michael Mina (creator and managing chef of Michael Mina restaurant in the Bellagio) and Ho Chee Boon (international development chef for Hakkasan in the MGM Grand).
MGM Grand has given BurgerBusiness.com readers an early look at the competitors:
L'Atelier de Joᅢᆱl Robuchon (separate from Joᅢᆱl Robuchon Restaurant): Executive Chef (and "Chopped" champion) Steve Benjamin's Le Burger (below) salutes French cuisine by topping a beef patty with a hearty slab of foie gras and caramelized bell peppers.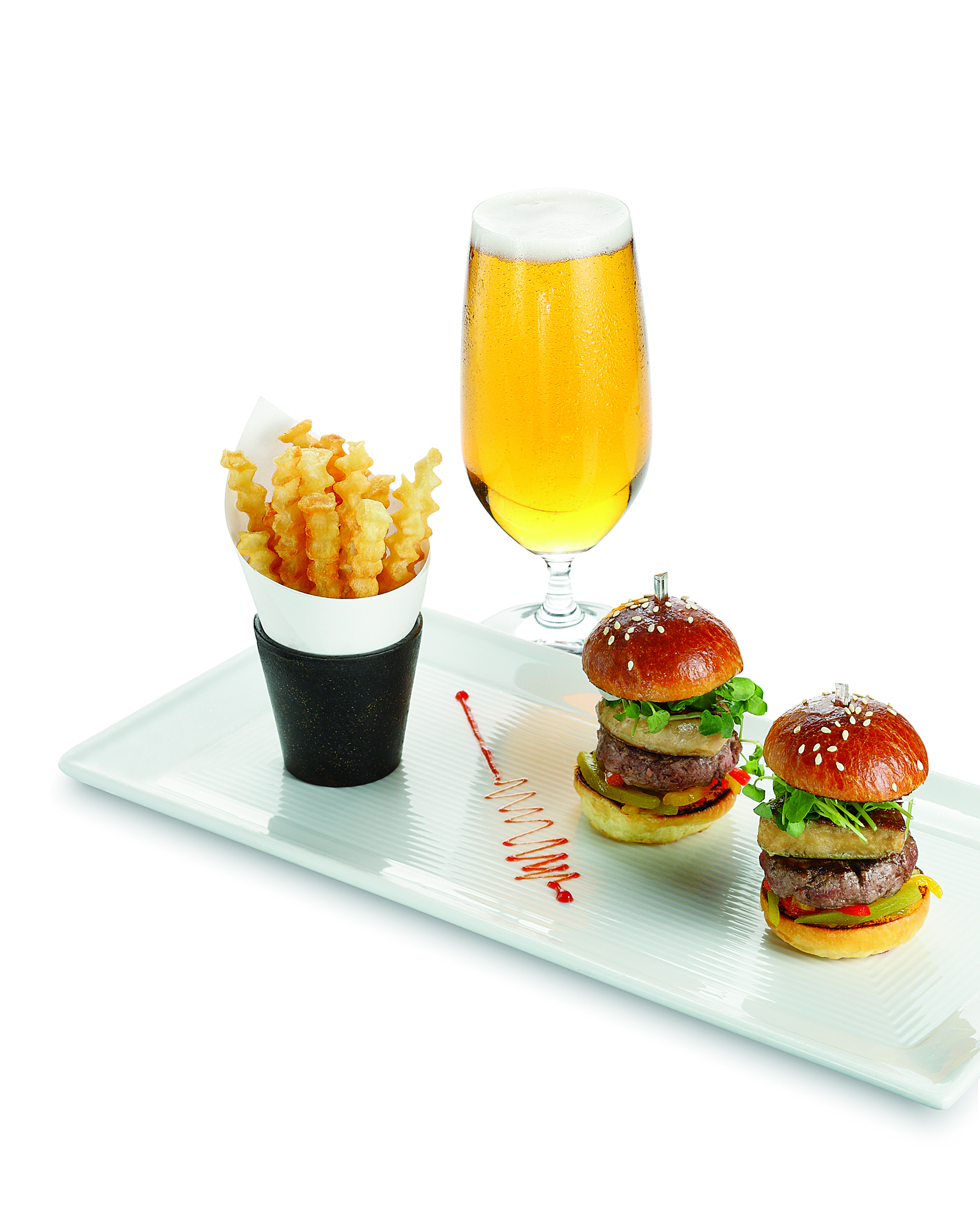 Avenue 24 Bar & Grill: Executive Chef Steve Barr puts his own spin to the Classic Slider concept with a patty of beef cheek that's topped with smears of Boursin cheese and tomato jam along with shallot cracklings. A salted caraway brioche bun completes the build.
Tom Colicchio's Craftsteak: Executive Chef Robert Kirchhoff's Grilled Beef Burger (below) is a pork belly patty joined by a slice of heirloom tomato, blue cheese and chipotle BBQ sauce.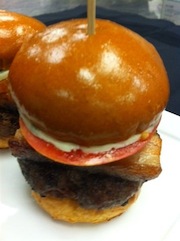 Emeril's New Orleans Fish House: Chef de Cuisine Heath Cicerilli created the Hand Ground Burger Steak (below) that will represent the Bam!-master's restaurant. Toppings begin with oxtail marmalade and continue through Havarti cheese and a crispy onion crust, all together in a hand-made potato roll.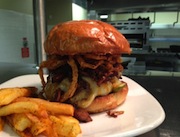 Fiamma Trattoria: Chef Ilse Poyato pays homage to his roots with Tuscan Sliders. These are house-ground prime beef patties with white Cheddar, red-onion pickle and a slice of prosciutto.
Michael Mina PUB 1842: Anthony Schutz, executive chef for the MGM Grand restaurant named for the year pilsner beer was invented, offers his signature Bacon Cheeseburger. A beef patty is topped with smoked Gouda cheese and melted American cheese, followed by lettuce, the pub's secret sauce, bacon and ... more bacon.
Shibuya: East and west merge in Executive Chef Heather Zheng's Nori Salmon Burger. A slice of salmon is the central protein. On top are wasabi relish and asparagus slaw.
Wolfgang Puck Bar & Grill: The sliders Wolfgang Puck serves at the annual Oscar Night Governors Ball are the stuff of legend. For the Burger Bash, Chef Michael Tiva has created Grilled Sliders that also will be talked about. Toppings include Gouda cheese, habanero-tomato chutney, IPA caramelized onion (Reutberger dunkel Bustard), arugula, Arrogant Bastard beer-battered cipollini. The burger is served on a pretzel bun.