This has been a year when burgers were again much talked about. But much of that talk was frothy but pointless -- cronut burgers, ramen burgers, did Burger King copy the Big Mac and such -- while the most important burger story of the year was largely overlooked. That was NPD Group's mid-year restaurant census that found not only that the number limited-service burger restaurants had grown at twice the rate of the total restaurant business but that non-chain independent burger LSRs increased at three times the industry rate. In a very difficult year for restaurants of all types, burger joints are doing just fine, thank you. The category's continued growth is testimony to the appeal of burgers and to the culinary creativity of the people who create, cook, and serve them. (Applause.)
Gathered below are a few of the highlights and stumbles of another very interesting year for the burger business:
BURGER OF THE YEAR (CHAIN)
Wendy's Pretzel Bacon Cheeseburger
BurgerBusiness.com doesn't do taste tastes or reviews so this choice doesn't reflect an opinion about how good the burger may have been. Rather, the Pretzel Bacon Cheeseburger (below) gets the nod because it was the year's most important burger. No other burger was more anticipated before its arrival or more scrutinized once it went on the menu board. Its popularity cemented 2013 as the Year of the Bun. More importantly, it proved that even when some other burger chains' premium-price burgers -- McDonald's Angus Third Pounder burgers among them -- were being axed, consumers still will step up for a higher-price burger if there's real value there.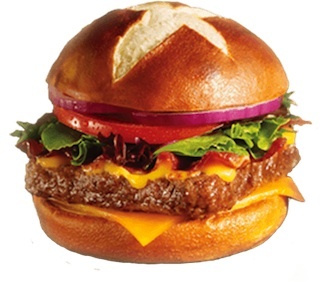 BURGER OF THE YEAR (INDEPENDENT)
The Weedeater; The Oinkster and Grill 'Em All
In May, Los Angeles' The Oinkster held a Burger Week celebration, featuring a different specialty burger on each of seven days. The Wednesday special was the Weedeater burger, one of the signatures of Grill 'Em All, a burger-truck-turned-restaurant in Alhambra, Calif. With that restaurant's usual loving excess, the half-pound burger (below) is topped with jalapeno bacon, Cheddar, Funyuns, garlic aïoli and seared pulled pork with Mosh Pit barbecue sauce. Oinkster even invited Grill 'Em All founders Ryan Harkins and Matt Chernus to come to the Burger Week party.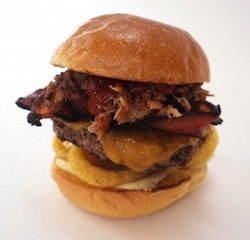 This example of one burger bar saluting another is one reason the burger category thrives. Burger joints are in touch with their constituencies and have a separate sense of community among each other that's not found elsewhere. Kudos to these two great restaurants.
BURGER OF THE YEAR (OUTSIDE THE U.S.)
Any burger from A&W Canada
In September, A&W/Canada (separate from the U.S. chain) announced it would only buy beef from cattle ethically and sustainably raised without added hormones or steroids. A&W is the only national chain in Canada that can make that quality claim. It's one thing for a single-location independent to serve all-natural beef or for a new concept to be built on that guarantee. More difficult and more significant is an established chain like A&W overhauling its buying habits, especially when it's done not as a result of protests and pressure but because a chain knows its customers want and deserve the change.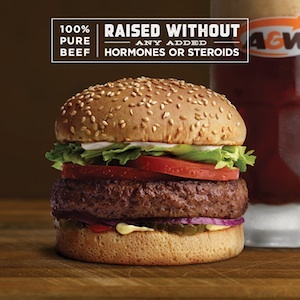 CONDIMENT OF THE YEAR
Sriracha Sauce
Move over aïoli, Sriracha is what's been hot in 2013. Its fruity heat has made the Thai hot sauce the new go-to condiment. And today (12/09) that king of creative burgers, Slater's 50/50, is introducing a Sriracha Burger at its six Southern California locations. The $10.95 burger (below) features Slater's famous 50/50 beef/bacon blend mixed with Huy Fong Sriracha and chili garlic sauce on a bed of Sriracha slaw. Topping that is Sriracha mushroom sauté, pepper-Jack cheese, Sriracha-glazed thick cut bacon ribbons, Sriracha mayo and...more Sriracha, all on a brioche bun.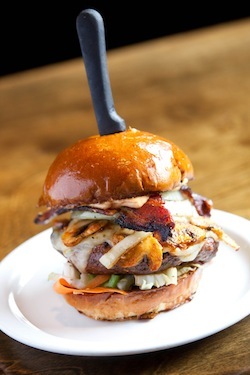 BEST ADVERTISING OF THE YEAR
Carl's Jr./Hardee's, "Reclaim Your Angus" Campaign
CKE Restaurants knows how to use its advertising budget to get maximum buzz and YouTube replay. Sometimes, unfortunately, that means taking the low road, as with its current "Great buns" ads that focus on women's derrieres to sell burger buns. But Carl's Jr. and Hardee's parent CKE know this is a competitive business and it competes well. When McDonald's dropped its Angus Third Pounder burgers, CKE CEO Andy Puzder was on YouTube in a flash feigning surprise reminiscent of Capt. Renault's shock at finding gambling at the casino in Casablanca.
"I've heard that McDonald's has stopped selling their Angus beef burgers, leaving many of you angry, frustrated and confused," says Puzder, seated behind a desk likes a statesman. With arch solemnity, he read a few actual angry tweets directed at McDonald's before taking a bite of a Carl's Jr. burger and saying "So if you're wondering where the beef is, we have it. And we'd never deprive you of it." He concludes with a limited-time offer of "our much larger, much higher quality 100 percent Black Angus burger for less than what you paid at McDonald's." It was a poster-worthy slam dunk over Ronald McDonald.
WORST MARKETING IDEA OF THE YEAR
Burger King, $1 Fry Burger
Burger King made two of the year's smartest decisions when it reversed its past dedication to multi-item, seasonal menu introductions and created lower-calorie Satisfries, but it also had 2013's lamest moment with its $1 French Fry Burger. Putting four french fries on a burger patty and calling it something new was just sad, especially because Checkers/Rally's already had done the idea much bigger and better with its $1 Fry Lover's Burger.
BEST BURGER MARKETING IDEAS OF THE YEAR
Crowdsourcing Burgers: Independents are making menu development a team sport, challenging customers to dream up the next Burger of the Month or just an LTO with their name on it. McDonald's does this with its "My Burger" competitions in Europe. It highlights the endless possibilities of burger building, and it's just plain fun.
Boxed Meals: The idea of boxing up burger meals for two or four people finally made it to the U.S. after McDonald's has successfully offered it elsewhere. The "Mickey D's Value Packs" boxed meals McDonald's offers in selected markets are likely the start of a new way for all chains to sell combos.
Dedicated Late-Night Menus: Jack in the Box's Munchie Meals, available after 9 p.m., has items -- such as a Brunch Burger -- you you can't get during the day. That makes the Meals a destination more than just an after-hours convenience. When McDonald's, Wendy's and others get their late-night plans together, watch for them to create late-night-only foods.