When it comes to beauty, there isn't a whole lot Kat Dennings won't try -- goth makeup and coffee hair dye included -- so when we dared the actress to channel her beauty icons for this month's Byrdie editorial, we knew she'd be game! With the help of hairstylist Gregory Russell and makeup artist Rachel Goodwin, Dennings seamlessly transformed into her favorite sources of inspiration, everyone from '60s screen siren Sophia Loren to '90s grunge god Eddie Vedder. Keep reading for Byrdie's exclusive story. Plus, Dennings talks the products she can't live without, her liquid liner tips, and the advice she'd give her younger self.
RELATED: Meet Orange Is the New Black's Gorgeous New Inmate: Ruby Rose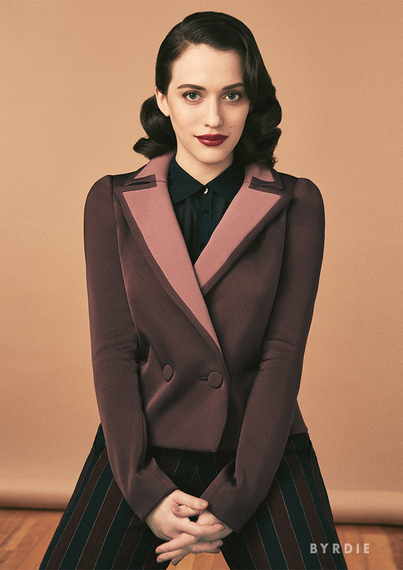 Katharine Hepburn
"Katharine Hepburn obviously was one of the earth's most inspiring female movie stars. When I was a young girl, I watched a lot of her films and thought she was such a badass. She just has this attitude towards publicity and fame and things like that, and she just rebelled against all of it and really paved her own way in the industry with what she wore and how she looked, and I just respect that so much. And I like to wear pants, and she liked to wear pants, and I thought why not?"
Makeup artist note: Goodwin used Burberry's Eye Colour Wet & Dry Silk Eyeshadow ($29) in #103 on the eyes and Kevyn Aucoin's The Precision Brow Pencil ($26) in Brunette on the brows. She finished the look with Make Up for Ever's Rouge Artist Intense Color Lipstick ($20) in 41 Satin Rust.
RELATED: Clean Slate: Meet the New Victoria Justice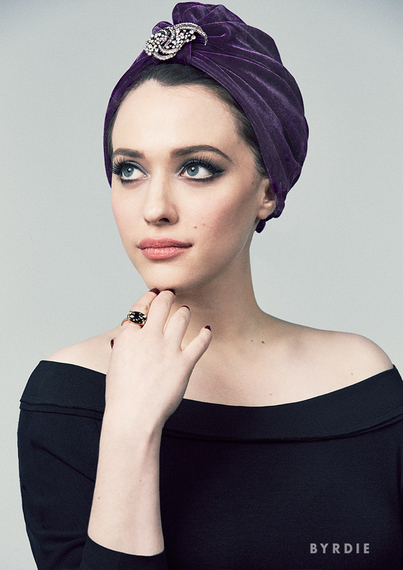 Sophia Loren
"She kind of epitomizes Old Hollywood babe glamour. She is just full-on feminine, an amazing actress, gorgeous face, and amazing body. I think, also, I am a formidable-shaped human body, so I really loved watching her films and feeling, you know, like I had somebody to dress towards, if that makes sense. Like I try to sort of get inspiration from her when I'm going to an event or something like that, just because I love her whole essence."
Makeup artist note: Goodwin used Chanel's Écriture de Chanel Eyeliner Pen Effortless Definition ($35) in #20 on Dennings's eyes.
RELATED: Portrait of a Lady: Krysten Ritter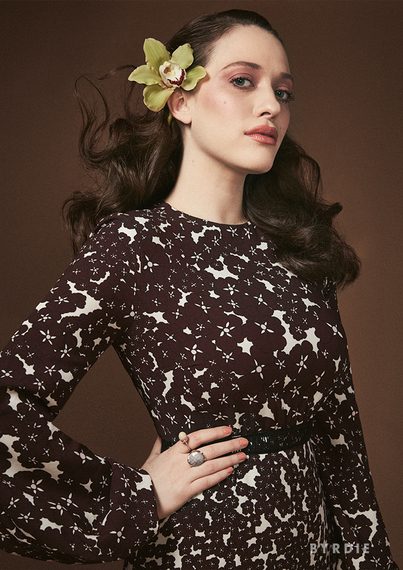 Anjelica Huston
"Anjelica Huston is another one of those amazing, classic beauties, classic actresses. And she's one of the actresses that I idolized. I grew up watching the Addams Family movies and ended up going through a major young-girl goth thing, and she had probably 99% to do with that. We did a cool version of Anjelica when she was a hot babe in the '70s, and I loved that. I kind of forgot that she was this gorgeous disco flower babe, so that was really fun too."
Makeup artist note: Goodwin used Make Up for Ever's Artist Shadow Matte Finish ($210) in Rosewood on the eyes and cheeks, Hourglass Cosmetics' Extreme Sheen High Shine Lip Gloss ($28) in Origami on the lips, and finished with Chanel's Le Volume de Chanel Mascara ($32).
RELATED: Behind the Scenes of Kristin Cavallari's MAJOR Hair Transformation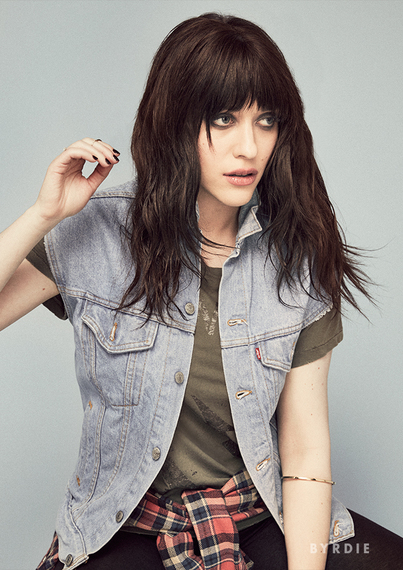 Eddie Vedder
"Well I'm sure Eddie Vedder would be horrified to see what I thought I was doing. He is a big inspiration to me, just because also his attitude about--I like people's attitudes more than fashion or beauty or whatever it is. Do you remember when Pearl Jam won I think it was a Grammy and he went up there he gave this insane, amazing speech like, 'I don't really know what this is or what it means,' and then he just left? It was great! He's just an artist and just a very inspirational person, and I respect him a lot. Furthermore, I notice when I'm at my most casual I look exactly like him when he was younger. I am a grunge kid a little bit, so I thought I would throw the Vedder hat in the mix, and I hope he doesn't hate me."
Makeup artist note: Goodwin prepped the face with Elizabeth Arden's Eight Hour Cream Skin Protectant ($21). For Dennings's smoky eye, Goodwin used Chanel's Illusion D'Ombre Long Wear Luminous Eyeshadow ($36) in Mirifique and finished the look with Kevyn Aucoin's The Precision Brow Pencil ($26) in Brunette.
Q&A
Byrdie: Who do you find inspiring in the beauty world today?
Kat Dennings: I mean there's so many actress and ladies around that always look amazing. I tend to look towards girls who have similar coloring as me, just so I can feel like I can pull it off, even though maybe I can't. I love Rachel Weisz. I think she is an incredible beauty, and I creepily look up what's she wearing and bask in her gorgeousness. I love Liv Tyler, she always looks very chic and beautiful, and also pale and brunette, so I look her up for makeup inspiration.
B: Let's talk about your current beauty routine.
KD: I love makeup! I have a pretty set daily routine when I'm actually trying to make an effort. I really like right now Dr. Hauschka's Rose Day Cream ($34). And then I've been using as my whole foundation Maybelline's Dream Lumi Touch Highlighting Concealer ($7). The Ivory is perfect for my color, and it never breaks me out--it's just really nice. I use a Real Techniques Foundation Brush ($6). I also sometimes like the Jouer Matte Moisture Tint SPF 15 ($40)--that's good stuff. I use NARS blush in the color, I think is Rita. And then I always do a black liquid line on my eyes. That's my thing. No matter what else, even if I forget mascara, dare I, at least I have some kind of dimension going on. I love em Michelle Phan. You know who she is, right? She is the YouTube star. She has her own makeup line called em Michelle Phan, and you can get it on Amazon. It's incredible. And she has an amazing liquid liner called Scribble ($18). The brush is really tiny and gets you shapes that are pretty amazing. I've practiced for years, so I can do a fast liquid liner. I love her products, and I love that one.
B: Do you have any tips for applying liquid eyeliner?
KD: Again, it took me a long time, and it's really hard. It's like one of those things that nobody really wants to even go do, because it's annoying. I watched videos, when I first wanted to master it, of geishas doing their makeup. They keep their eyes open, and that's actually my number one tip is try to keep a steady eye, like try not blink and go crazy, and try to keep your eye open. I start at the inner corner and I do midway to like three quarters of a line over both eyes, so they are both done except for the ends. Then I try to get the ends even so I don't happen to worry about the rest of it. Honestly, though, it's just practice. Just have your Q-tips ready.
B: In the spirit of Two Broke Girls, what are your favorite drugstore beauty buys?
KD: Well, honestly, most of my beauty routine is drugstore, because you can get that Maybelline thing, I think it's like $10 or something like that. I actually prefer drugstore things over fancy, because I tend to keep the fancy stuff for a "special occasion," and then it goes bad. I like to just use it and throw away and then buy more. And also Covergirl. I use their Lipstain crayons--they are fantastic. There's also Miss Manga mascara by L'Oréal. Despite the name, it's a fantastic mascara.
B: If you could give any beauty advice to your younger self, what would it be?
KD: Oh my god. Well, where would I start? I was a hot mess for a long time, because I loved trying everything and I thought I was kind of a genius with my look, which I was kind of, looking back. I used a very white powder all the time, I don't know why. It was this white, chalky powder all over my face, and I thought it was a good move, so I would caution against over-powdering to my younger self. But I did have a flair for the beauty products back then, and I wouldn't want to hinder it.
B: What are some of the best beauty tips you've learned from working in the industry?
KD: I've worked with some wonderful people, including Rachel Goodwin, who did the shoot with us. It's always easier to sit back and relax when a pro is doing your makeup, but one thing I do know is over time you learn what you feel most comfortable in, and it's actually good to share that, so you end up happy no matter what. And within that, you end up getting some really good tips. Now what I do is I apply lipstick to just my lower lip and then I smoosh it around to get it on the rest of my lips, and I learned that from Lauren Andersen. It's actually better for my lips, because I have larger, weird-shaped lips, but I usually apply to the top and then smoosh it to the bottom, but I switched and it looks much better. So maybe, for those reading, try experimenting which lip you do first. It makes a big difference.
B: You once dyed your hair with coffee. Are you a big fan of at-home beauty remedies? What are some of your favorites?
KD: Well, not anymore, not since that [laughs]. Here's the thing. So we're going into the fifth year of the show, and my whole life I've never died my hair, I've barely cut it, it always looks the same and you just get a little cabin fever-y within your own face. So as soon as we went on hiatus this year, I was like I need a change right now, like I don't care what it takes. I was on Pinterest, of course, it was late at night, and it was like, "Dye your hair with things you have in the house," and I was like, "I'm doing it!" Needless to say, there was no change at all; I felt like I was going to die, and there was coffee everywhere. It was a mess--do not try it.
Another Michelle Phan tip, but these are from earlier videos. You can get these rice sheets that you make those summer spring rolls out of and literally cut shapes out of them--shapes for your cheeks, your forehead, your nose, and chin. And then make some green tea, and put anything else in there you want for you skin, and then add the sheets, and it will soften them, and put them on your face and leave them there for like 15 minutes. And your skin will be really moisturized, because you have rice and green skin in your skin. It costs nothing.
Photographer: Olivia Malone
Hair: Gregory Russell
Makeup: Rachel Goodwin
Stylist: Christine Baker
Manicurist: Kait Mosh
More from Byrdie:
How I Learned To Fall Asleep In Under 1 Minute
How To Look 10 Years Younger, Instantly
How To Contour Your Face: A Celeb Makeup Artist Spills
3 DIY Masks to Target an Oily T-Zone
8 Braids That Look Amazing on Short Hair