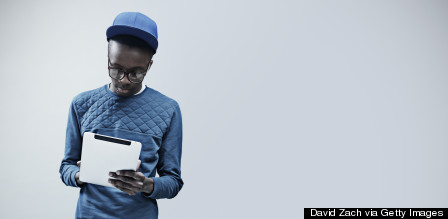 I am of a generation who came of age on the soundtracks of Prince, REM, Duran Duran and New Jack Swing, adjusting to the aftershock of Vietnam, the victories of the Civil Rights movement and seeing Reagan's optimism reinvigorate the United States as a muscular leader of nations.
Some of us have children who belong to a group known as millennials -- the last generation born in the 20th century. They are now either in high school, in college or are staggering into the workforce with tattoos, tablets and smart phones. But they have gained a reputation -- right or wrong -- of lacking leadership skills, being unmotivated and feeling entitled. I've seen the best and the worst of them. Researchers are culling their habits for all kinds of information, and for our future's sake, we need them to be successful.
A 2012 Pew Research study of society and demographic trends points to good news. Older millennials -- 18 to 24 year-olds -- are graduating from high school and attending college at record rates. This is good because employers will need 22 million new workers with post-secondary degrees by 2018, according to Georgetown University's Center on Education and the Workforce. Sadly, these employers are expected to fall short by about three million workers.
This is not just about seeding the workforce, however. It's also about equipping millennials with the kind of leadership skills that will allow them to be successful as they move about the globe and seek new opportunities.
The other day I chatted with Charles Knippen, President of the Hoboken, New Jersey-based National Society of Leadership and Success, whose organization has a bulls-eye on millennials and others. Knippen's group has chapters on more than 390 college campuses, helping students develop habits of leadership, form peer groups that hold one another accountable for leadership goals and gain exposure to global leaders and change makers, like former New York City mayor Rudolph Giuliani and Blake Mycoskie, the founder of TOMS; the shoe company that has given more than 10 million shoes to children in need around the globe.
"I feel like millennials have been stereotyped to be lazy and unmotivated, but they are not," Knippen said.
They are civic-minded and they want meaningful work. They want to be a part of something greater than themselves. With all we know about millennials, we want to supplement the education they are getting in the classroom with real-world experiences to help them become impactful leaders.
If any millennial fits the profile of an impactful leader, it is William Thomas, 27, of Cincinnati. Thomas is part of a team of students at Wittenberg University who founded BLOOM Africa, a non-profit that helps vulnerable children and AIDS orphans in tiny Lesotho, Africa by developing community learning centers with their Lesotho partners.
After several service-learning trips to Lesotho, Thomas said he was especially struck by the country's crushing poverty, and its 25 percent HIV/AIDS rate -- a crisis that has left hundreds of thousands of children orphaned in dire situations without support and without hope.
Thomas, understandably, is bullish on his peer group and intends to lead by example.
Thomas said:
I don't believe the negative stereotype of millennials. When I see over 20 young adults from all over the country step up and host events in their respective cities for BLOOM Africa with hundreds of attendees, I find it hard to believe that millennials are selfish. From what I've seen, millennials have an increased sense of purpose and connectedness with their community and the world. We do our work because we think we can make an impact in this world. I think we can transform this world. Seeing others believe the same and take action inspires me.
I share Thomas' optimism about his cohorts, and I can identify with Knippen's observations. Like every generation before it, millennials will take their place as leaders. In fact, they already have a leg up on previous generations because they will be better educated, more digitally connected and more open to new opportunities. If I were a betting man, I'd be willing to double-down on their success.
Byron McCauley, a former columnist and editorial page editor for Gannett and Advance publications, is senior director of external relations at KnowledgeWorks, a social enterprise in Cincinnati, Ohio that develops and implements innovative education initiatives. He is also founder and CEO of McCauley Communications, a PR consultancy.