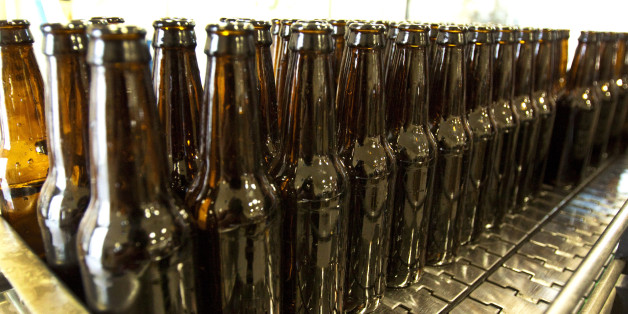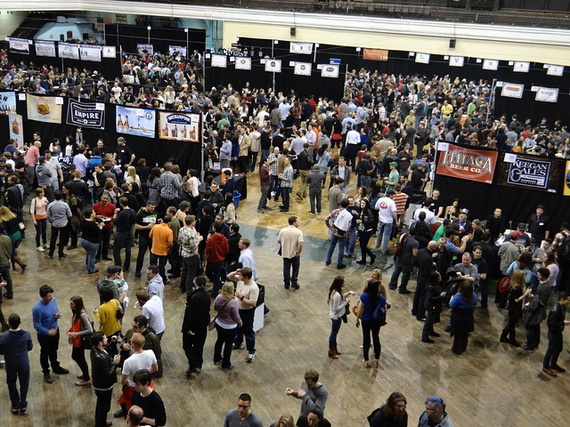 The New York City Craft Beer Festival is making its way back to the Lexington Armory by popular demand, with a stellar line up of craft brew for sipping and sampling. The festival will feature three sessions over two days on Saturday, November 23rd and Sunday, November 24th.
With a 15 percent growth spurt from 2012, the craft beer industry is vaster and more extensive than ever. Given the larger industry and higher demand, brewers are allotted room for creativity, and therefore are mastering the art of inventive beers for every occasion. To show for it, the NYC Craft Beer Festival will feature the winter releases from 75 of America's top craft breweries.
Aside from general admission tickets for the NYC Craft Beer Festival, which cost $55 each, beer lovers can choose to purchase a VIP pass -- allowing and advance hour of tasting -- or a connoisseur package that include the additional hour as well as access to a connoisseur lounge for rare beer tastings.
After touring New York breweries as research for their forthcoming book Beer Lover's New York: The Empire State's Best Breweries, Brewpubs and Bars, beer aficionados Sarah and Giancarlo Annese decided to hone in on New York local beers when curating the NYC Craft Beer Festival. I spoke to the married couple for a closer look inside the current state of craft brewing.
Imperial IPAs, a high alcohol strong ale, were once the fad amongst craft beer lovers, but over the summer there was an onset of session beers that saturated the market, for example the newly popular Founders All Day IPA that has a low ABV of 4.70 percent. What do you equate this new trend to?
Giancarlo: When someone first discovers craft beer -- ourselves included -- they want to investigate and taste the most different, most interesting beers out there. Until quite recently, those beers have been fairly high in alcohol, because the lower alcohol beers really didn't taste that great. When you start out the night with a 10 percent beer, it's probably not the best idea to drink too many more.
Sarah: We've been really excited about the lower alcohol, "sessionable" beer trend, because innovative craft brewers have started to shift their focus to brewing flavorful beers with low alcohol. It's really great to be able to enjoy an hours-long drinking session and still be able to carry on a coherent conversation.
In 2012 there were 2,403 breweries, the highest number since the 1880s, providing an estimated 103,585 jobs for Americans (American Brewers Association). Is it only upward from here on out?
S: In the craft beer industry, as is common in any industry that's trendy and exciting, there are breweries opening that are really awesome but then there are others that aren't so great. We think as the industry continues to grow, breweries that are creative and focused on quality will continue to thrive but those that don't keep up with the rest will struggle.
G: The more players there are, the more interesting and unique a brewery will have to be to get noticed in the industry.
How else has the craft beer industry positively impacted the economy?
S: We've seen so many breweries open up in and help to revitalize neighborhoods, towns or cities that were struggling. A really great example of this is Williamsburg, Brooklyn. The Brooklyn Brewery has consistently supported the growth of the neighborhood, when it opened up, Williamsburg was pretty much dead.
G: The number of breweries in the country has exploded even through the long recession. Craft beer has such a great impact on the local economy, it's a local product, it provides neighborhood jobs, and it's such a great way to put money back into the community.

Limited run brews are also quite popular this year, including Stone's "Enjoy By" or even Dogfish Head's "Firefly Ale," brewed specifically for the Firefly Music Festival. And those are only two examples out of many. What allows brewers to make such small batches?
G: Experimentation has been one of the hallmarks of craft beer. The process of brewing small, limited batches allows brewers to explore new ideas and experiment with new techniques. This creativity pushes them to make more interesting and flavorful beers. Some of these beers eventually make it into the regular line up for breweries. Limited releases also help generate interest in breweries and increase interactions between brewers and beer enthusiasts at events.

In 2012 over 13,00,000 barrels of craft beer was sold domestically versus over 11,000,000 barrels of craft beer sold in 2011. What is making America fall in love with craft beer?
S: Sometimes there's no better way to spend an afternoon or an evening than having conversations with friends over food and libations. Enthusiasm for craft beers has mirrored the increased focus on quality food; drinkers can find flavorful beers brewed close to home instead of mass produced beers that don't focus on quality. We also think the explosion of craft beer has a lot to do with people really wanting to support their local economies. Wanting to promote independent, passionate business owners and small businesses.
What are among your favorite beers of 2013?
S: 2013 was a really exciting year for us and beer because we had the opportunity to travel around New York State working on a book and tasting all the exciting beers New York has to offer, so really our favorite beers of 2013 are from small New York brewers. We'd have to put C.A.F.E sour from Newburgh brewing Company on the list, Simple Sour from Peekskill Brewery, Naysayer Pale Ale from Rushing Duck Brewing Company (all in the Hudson Valley), Peacock golden oat ale from Birdland Brewing Company in Horseheads, and The Whale from Community Beer Works in Buffalo.
G: New York State has so many experimental and exciting brewers, which is why when designing the list for the upcoming New York City Craft Beer Festival we tried to focus as much as we could on New York beers. You will have the opportunity to taste Ommegang's Take the Black stout, which is a collaboration "Game of Thrones" beer series with HBO. Sixpoint Global Warmer will be on hand to taste, you'll get beers from the Bronx Brewery, Southern Tier and Blue Point.

What are a few exciting things brewin' within the craft beer industry for 2014?
S: What we are most excited to see is incredible growth the country is going through in terms of craft beer. Breweries in New York City alone are expected to double by next year. So we're excited to see more and more people following their passion and making delicious beers.
G: As breweries take advantage of the new Farm Brewery license in New York we are excited to see what they can do with local hops and grain. We've already seen them turn to local hop farmers to brew wet hopped beers but there is potential for even more collaboration. We had the opportunity to try some great beers from Good Nature Brewing out of Hamilton New York where the focus is on creating a strong connection between local farms, brewers, and drinkers. More breweries like this can help distinguish New York as a beer destination.

Are there any new beers on the horizon you are looking forward to?
S: We're down to try any beer that you put in front of us!
G: We also look forward to seeing more session beers and sour or wild fermented brews. We are always impressed with beers from Crooked Stave, Founders, Greenport Harbor, and Barrier to name a few.

What state do you feel is "the one to look out for" within the craft beer industry in the U.S.?

S: There's no way we can't be biased when answering this question -- we think New York! Usually, when someone is asked to name a great beer state, they'll mention Oregon, California, Colorado, or North Carolina. New York often gets overlooked. But there are some amazing things going on here and there is a lot of room to grow.
G: Hudson Valley brewers in particular like Jeff O'Neill of Peekskill and Chris Basso of Newburgh are setting a standard for the state's brewing community and the agriculture is just starting to supply brewers with hops and grain. There are a lot of creative people who are experimenting with ingredients and styles to produce great beers.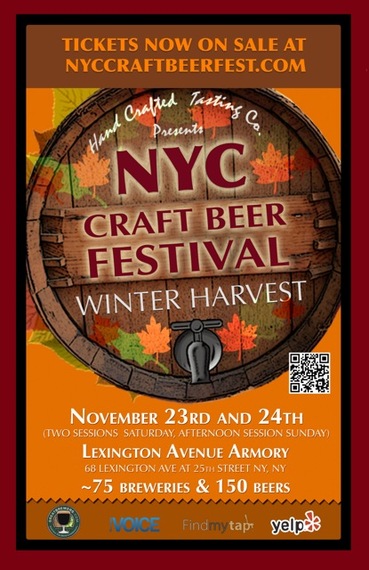 For more information for the NYC Craft Beer Festival taking place at the Lexington Avenue Armory on Saturday, November 23rd and Sunday, November 24th, please visit: http://nyccraftbeerfest.com