Every time I walk past a mirror I glance down at my t-shirt and chuckle to myself. The tee gifted in a goodie bag at the premiere of the Duplass Brothers' first studio film, Cyrus, showcases the phrase coined by Jonah Hill's title character.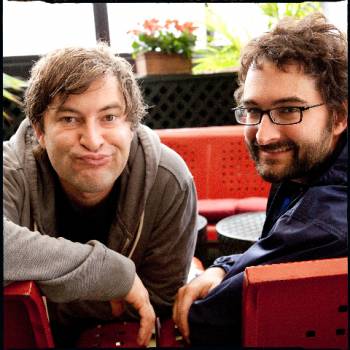 Bumper stickers are printed and awaiting sale with the quote, "Please don't f%#ck my mom," which the studio anticipates will become popular after Cyrus's theatrical release this Friday. The silly and dark mind of Jonah Hill came up with most puns and taglines that escaped his mouth, due to the use of the "Duplassian Method," an approach during filming the Duplass Brothers use allowing their actors to improvise conversations during long takes and loose shooting. "We approach the actors with the cameras and let them do something that is authentic and real," Mark Duplass stated sitting along his brother and co-director and co-writer Jay at The Gramercy Park Hotel.
Mark and Jay Duplass are co-founders of "mumblecore", a style of independent filmmaking which showcases human emotions and relationships through longer takes and actor improvisation. The Brothers' past films include Sundance smash hit "The Puffy Chair" and "Baghead." "We're obsessed with these uncomfortable moments in our lives and in our friends lives. When we're sitting on a bench watching two people arguing and they look absolutely ridiculous, we'll cringe at how painful it is and then we'll giggle about it.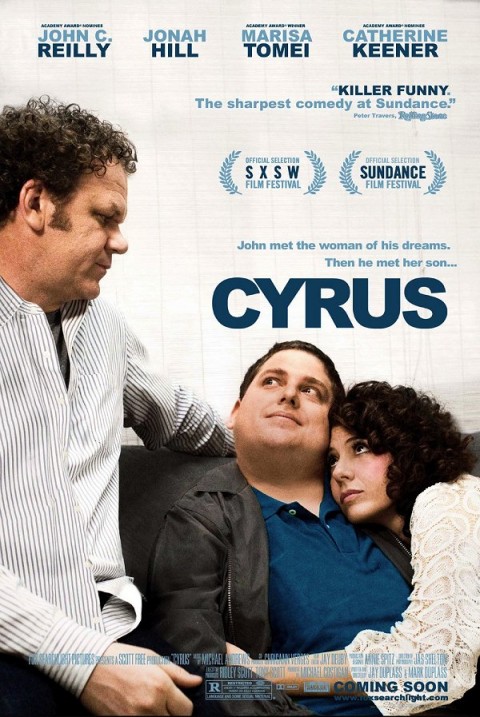 It wasn't until Mark and I started putting those moments in film where we started to gain a little bit of success," Jay explains.
Cyrus, also starring John C. Reilly and Marisa Tomei, revolves around a forty-something single male, Reilly, living the life of a young depressed bachelor. When Reilly's character John meets Molly (Tomei), life begins to look up until he's introduced to Molly's quirky and oddball twenty-two year old mama's boy, Cyrus. It is apparent throughout the ninety-minute flick that the Duplass Brothers had ever intention of casting John C. Reilly for the part of John (if the character name wasn't a give away in itself). With a big smile, Reilly proclaims, "My wife recommended the brothers to me after having seen 'The Puffy Chair.' I watched it, loved it and I got in contact with them and we agreed to work together. They called me up about Cyrus saying, 'We wrote the script with you in mind. If you're not going to do it then we'll find something else. We won't make this movie because you're the only person we had in mind while writing the script. Anyone else just wouldn't work.' So I said well I guess I'm doing it (laughs). And I'm glad I did. The improvisation was very satisfying."
Unlike "The Puffy Chair" and "Baghead," Cyrus starts out with howls of laughter from the audience. The Duplass Brothers chock it up to their genius actors. "It's a romance before it's a comedy, like all our films.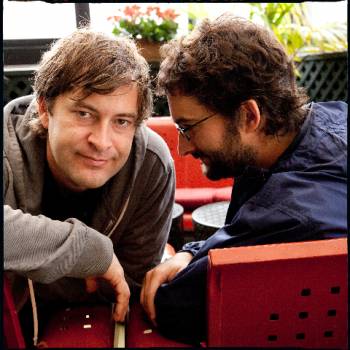 We didn't change that much at all, we did shoot with higher resolution cameras. We're shooting like documentarians, the actors are doing their things first and we're capturing it secondarily. For us, all we feel like we've done differently than our past films are put some famous people in the movie and used higher resolution cameras. That and we have people cook for us. We don't hang lights anymore and buy the wardrobe at Target and Wal Mart and return it when we're finished filming."
Cyrus is the definition of good filmmaking and a pure pleasure to watch. The Duplass Brothers take their time with each scene and every edit creating a concise, well thought out narrative, a rarity in Hollywood film's that screen during the Summer, where people are thrown a bunch of money and rush through a project to get to the next paycheck. The Brothers seem like they are in love with what they do, even before the pay bonus. I just hope it stays that way.
Portraits of The Duplass Brothers by Leslie Hassler