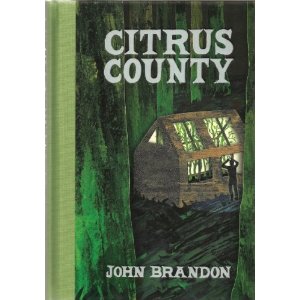 John Brandon enters McNally Jackson Bookstore and Café a bit meek, a bit timid, perhaps a bit excited. "I just got off the plane an hour ago," claims the soft-spoken Southern gentleman. After first pulling out my chair, Brandon sits down in a quiet corner of the bookstore, moments before his first New York City reading for his second novel Citrus County -- a captivating, moving tale that follows three noteworthy characters, Toby, Shelby, and Mr. Hibma, and their struggle and determination to subside loneliness. Brandon's love for redneck, Cola-drinking characters runs deep, as this is the second novel to explore the world of lower class Southern living, his first being Arkansas, also published by McSweeney's.
So why did Brandon choose these specific settings in particular? "I had the same feeling driving through Citrus County as I did with Arkansas. I didn't quite understand it, it was this diffused energy, a lot of places you can figure out, Citrus County wasn't one of them. It intrigued me." Perhaps sounding similar, Brandon's novels are actually quite different, which he claims to be unintentional. Arkansas is character heavy, with multiple issues and occurrences, whereas Citrus County focuses on one major plot, that being Toby's planned kidnapping of Shelby's little sister, Kaley.
While bathing Kaley of the soot, from the bunker he hides her in, Toby looks away, uninterested in perversion, proving his crime was the basis for pure self-destruction and the dire need to act out. Toby, a middle-school student, is the hero of this novel, disguised as the anti-hero. In a pathetic attempt to fit in Toby joins the track team at his middle school, and kisses Shelby, who has no idea what he's done, on the bleachers. Toby is a name that also appears in Arkansas: "I've had Toby for awhile. I had a young character that I wrote a story about. He used his angst and powers for good, is the only difference."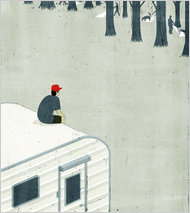 Murder, kidnapping, and suicide are recurring thoughts darkly touched upon within the confused and lonely minds of Mr. Hibma, Toby, and Uncle Neal, Toby's unloving uncle and caretaker. These contemplated thoughts are threatened but only two of the three are followed through with. The theme of loneliness is best described by the narrator's descriptions of the characters, being that they are "In search of disappointment..." and have an "...absence of a familiar feeling."
Mr. Hibma, a middle-school teacher in his late twenties, hates kiss-asses and loves Toby for his unconscious need to rebel. While reading the description of Hibma and the biography of Brandon, I couldn't help but notice the similarities. I pictured Brandon sitting at the desk throughout the 215 pages. Telling him about my vision, he laughed and nodded his head, "When I was 26 I taught a semester at a high school. It didn't go well, probably because I was terrible at it. Mr. Hibma gets away with a lot more. I suppose I was exploring what I wanted to do."
Citrus County is important. It is a read unlike any other. While reviews often contain comparisons to other authors, it is hard to parallel Brandon with any of his fellow literary craftsman. The similarities occur in other instances. Minus the alcohol, cigarettes and whores, Brandon's work ethic was much like Bukowski's. He worked labor and factory gigs while writing his first two novels, toiling away at mindless shifts to allow clarity for his writing and perhaps meeting a few 'characters' along the way. The second similarity is this, On the Road and Slaughterhouse-Five were not Jack Kerouac nor Kurt Vonnegut's first works; they were, however, early works that put them on the map, made you fall in love with them. Citrus County is just that for Brandon. Readers will realize how important this newcomer is. It will force you to go back to the bookstore and pick up Arkansas, simply to supply yourself with more of his writing. You will pre-order his book The Vigilers when a release date is announced, because the first two were not enough. You will share it with your friends and look out for Tobys and Hibmas alike. This book made me feel, if not just for Toby, but for the loneliness we all carry inside of us. Citrus County is my favorite book this year.