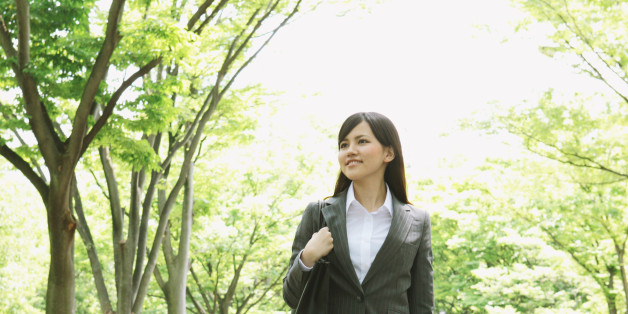 Starting this September, MBA students at the NYU Stern School of Business will have the opportunity to experience a new kind of education -- one with the potential to make a huge difference in their future success and happiness. It's not a Nobel prize-winning professor (though NYU has plenty of those) or a new financial modeling technique. It's the NYU Mindfulness in Business Initiative, a collaboration between the Stern School of Business and Global Spiritual Life at NYU, with support from the Lenz Foundation.
"Mindfulness" is the intentional, non-judgmental focus of attention on the present moment. While not a term that's historically been associated with business, recently, more and more business leaders are outing themselves as practitioners. These leaders recognize that in a world of increasingly fast-paced, dynamic leadership challenges, the ability to cut through the noise, focus clearly and make purposeful decisions is a powerful advantage.
The NYU Mindfulness in Business Initiative strives to transform business leadership in the 21st century on a national and global level by integrating mindfulness into the core of how business schools prepare their students. Research links mindfulness training to improved focus, better decision-making, increased empathy and more ethical decisions. The Initiative was born out of the desire to give Stern MBA students a solid foundation of these critical skills by exposing them to mindfulness techniques early on in their lives and careers.
Over the next few months, Stern students will have a chance to hear from industry leaders who practice mindfulness, and will learn practical strategies for applying these skills to their own lives. Our first event is hosted by Dan Harris, co-anchor for ABC's Nightline and the weekend edition of Good Morning America, and the author of the bestselling book 10% HAPPIER: How I Tamed the Voice in My Head, Reduced Stress Without Losing My Edge, and Found Self-Help That Actually Works -- A True Story. Dan will discuss the dramatic positive impact of mindfulness and meditation on his own life and career.
Mindfulness techniques can also go a long way in helping students manage the demands of pursuing an MBA at a top business school. While the rewards are clear, it can also be a stressful time of life. Stern students' days are packed with classes, team meetings, networking events, interviews and extracurricular activities.They get a few hours of sleep and do it all over again the next day. There is little time to calm a racing mind in order to prioritize during an overscheduled day, or to pause and reflect on important decisions about which industry to pursue, which job to take at graduation, or even which city or country to live in after the MBA experience. Carving out reflection time is one of the most powerful tools they can have at their disposal.
The Stern School believes in the tremendous potential of individuals to solve global problems through the power of business. As business students trained in mindfulness move into leadership positions, they will bring with them a new paradigm for leadership excellence that drives business results while focusing on compassion, self-awareness, courage and resilience personally, interpersonally and organizationally.
The Mindfulness in Business Initiative is a landmark collaboration between The Stern School of Business and Global Spiritual Life at NYU. The Initiative strives to transform business leadership in the 21st century on a national and global level by integrating mindfulness into the core of how business schools prepare their students. As business students trained in mindfulness move into leadership positions, they will bring with them a new paradigm for leadership excellence that drives business results while focusing on compassion, self-awareness, courage and resilience personally, interpersonally and organizationally. http://www.stern.nyu.edu/portal-partners/leadership-development/mindfulness